Brexit Bulletin: No Turning Back
May heads to Brussels with a hard message, while Hammond keeps hopes of a soft Brexit alive
By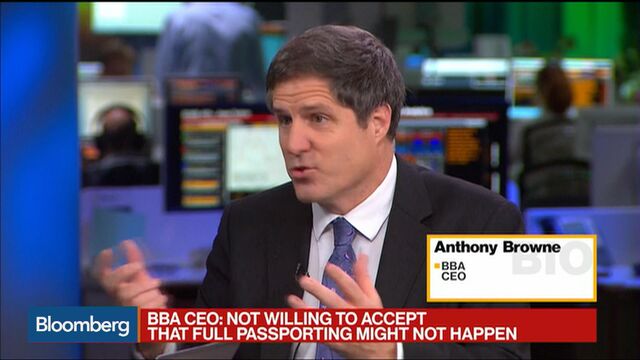 Sign up to receive the Brexit Bulletin in your inbox, and follow @Brexit on Twitter.
There's no turning back from Brexit.
That's the message U.K. Prime Minister Theresa May will deliver today as she attends her first summit of European Union leaders in Brussels.
Her underscoring of "Brexit means Brexit" will dash any lingering hope of a reversal, and fan speculation she's looking for a clean break from the region's single market and customs union. Bloomberg's Tim Ross and Ian Wishart have the full story.
Britain's counterparts are also set to take a hard line. Notably, German Chancellor Angela Merkel is refusing to engage in informal talks about a possible deal before May officially triggers Britain's withdrawal in early 2017. 
Finnish Prime Minister Juha Sipila helped set the tone by saying in an interview that the EU is united in resisting Britain's efforts to find loopholes in the bloc's sacred "four freedoms" – the movement of goods, capital, services and people.
European Commission President Jean-Claude Juncker today called it an introductory meeting and Italian European Affairs Minister Sandro Gozi said Italy doesn't want talks to begin before late-March.
At home, May also faces criticism today, with members of the House of Lords urging her to keep lawmakers abreast of her negotiations or risk striking a deal that's not supported by either Parliament or the public.
Take a Number, Mrs. May
May will have to wait in line in Brussels before making her case.
For the other 27 leaders, Britain's withdrawal is just one of several existential threats they must deal with, Ian Wishart reports. From Russian intimidation of eastern Europe to a migration crisis that's fraying Europe's social unity, leaders are keen to get on with finding solutions. They will do so as populist forces rising in their own nations pose more problems next year while Germany, France and the Netherlands hold elections. 
As  Manfred Weber, leader of Merkel's Christian Democrats in the European Parliament, said in an interview:
"We shouldn't be blocked by the British debate. The next 12 months will be really crucial for the European Union."
To show where their focus lies and perhaps hint at the EU's irritation with the U.K., May will probably be given only about 10-15 minutes over dinner on Thursday evening to talk Brexit.
Banks Bash Tax
With almost a month to go before Chancellor of the Exchequer sets out his fiscal plans, banks will today lobby him to lower their taxes to protect the finance industry against Brexit.
The U.K. should phase out its corporation tax surcharge on bank profits "as soon as possible," the British Bankers' Association will argue today at its annual meeting in London. Doing so would help support jobs and keep London as an attractive location for banks, its chief executive officer, Anthony Browne, will say.
"Banks are firmly committed to paying our fair share, but we are now at a tipping point that threatens U.K. jobs and growth... It is essential that the U.K. remains a competitive place to do business for international banks."
Hammond yesterday tried to reassure the financial sector that the government would make safeguarding it a "very high priority" in Brexit talks and is "acutely aware" of the industry's importance to the economy.
Others have expressed less enthusiasm in private, although Brexit Secretary David Davis said today that the U.K. is considering all options to help banks.
Banks fleeing London would also create trouble for the companies that rate their debt, Bloomberg's John Glover reports today. Today's Brexit explainer has more on the complex topic of "passporting."
Hammond Hits Back
Hammond also used Wednesday's testimony before lawmakers to hit back at accusations in newspapers that he's sabotaging the government's efforts to reach a deal:
"The best way to support this Brexit process and to get the right Brexit for Britain is to give the prime minister the maximum space for negotiation. Those that are undermining the effort are those seeking to undermine this negotiating space, who are seeking to arrive at a hard decision."
The chancellor also defended the Bank of England's independence and said there would be no fiscal "splurge" next month. He promised high-skilled foreign workers would still be welcome in Britain and backed off a pre-referendum report by the Treasury on the costs of Brexit. The pound rallied, though it didn't last.
Brexit Bullets
On the Markets
Pound forecasters are more bearish than they've ever been about the currency's year-end prospects, reports Charlotte Ryan. While the $1.25 median estimate in a Bloomberg survey is almost 2 percent higher than now, that reflects how difficult it's been for strategists to keep pace with the pound's slide since the Brexit vote.

The pound would have found no support today from data showing retail sales stagnated for a second month in September.
And the cheaper pound is causing changes along the Irish border, as Dara Doyle and Peter Flanagan report.
And Finally...
There's yet a new term to describe where people's views sit on the Brexit spectrum. Joining "Remoaners" and "Brexiteers" in the dictionary is "Sado-Brexitists." That was coined by Royal Bank of Scotland Chairman Howard Davies to describe those who are "really enthusiastic about hard Brexit."
"I made that one up, but I quite like it," Davies said during a London speech yesterday.
For more on Brexit follow Bloomberg on Twitter, Facebook and Instagram, and see our full coverage at Bloomberg.com
Before it's here, it's on the Bloomberg Terminal.
LEARN MORE