markets
Americans' Economic Expectations Rise to Highest in Nine Months
By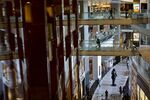 Americans' economic expectations rose to a nine-month high in October even as households' current assessments of the economy and buying climate dimmed last week, according to figures in the Bloomberg Consumer Comfort Index released Thursday.
Key Points
Economic expectations index rose to 45 this month from 41.5 in September
Weekly consumer comfort gauge fell to 41.3 in period ended Oct. 16, matching the lowest level since mid-December, from 42.1
Buying-climate gauge declined to one-month low of 37.4 from 38.9
Measure of personal finances at 54.3 versus 54.5
Weekly index of current views on the economy eases to 32.2 from 32.8
Big Picture
While consumers are less upbeat about current economic conditions, the pickup in expectations indicates sustained gains in household spending that have been the linchpin of economic growth. Twenty-seven percent say the economy is getting better, matching the highest share since January. At the same time, the percentage of those who say the economy is getting worse has exceeded the share saying the economy is improving since March of last year.
The Details
Comfort index among men fell to a five-month low
Sentiment among single adults was weakest since January

Confidence for those age 18 to 34 fell to its lowest since November 2014
Sentiment of consumers in the South was weakest in 10 months
Comfort of full-time workers lowest since November
Before it's here, it's on the Bloomberg Terminal.
LEARN MORE