Photographer: Pau Barrena/Bloomberg
markets
Vietnam Maps Out Plan to Keep a Tiger in the Economy's Tank
By
Government targets average annual expansion of as much as 7%

Debt could breach ceiling of 65% of GDP as borrowing rises
One of the few economies still enjoying old-fashioned export-propelled growth, Vietnam is drawing up policy plans for the next four years as threats to trade mount.
Lawmakers start a month-long session on Thursday to discuss policies that can help the government meet its goal of average annual expansion of as much as 7 percent until 2020. The National Assembly, composed of 496 members elected in May, will approve a number of targets for 2017, including on growth, inflation, exports, spending and the budget deficit. Here are some of the issues to watch.
2017 GDP Growth
The government is aiming for growth of 6.7 percent in 2017 -- the same pace as it originally targeted for this year -- which Prime Minister Nguyen Xuan Phuc said on Thursday will be missed. The economy will probably expand 6.3 percent to 6.5 percent this year, with export growth lower than the 10 percent initially estimated, he said.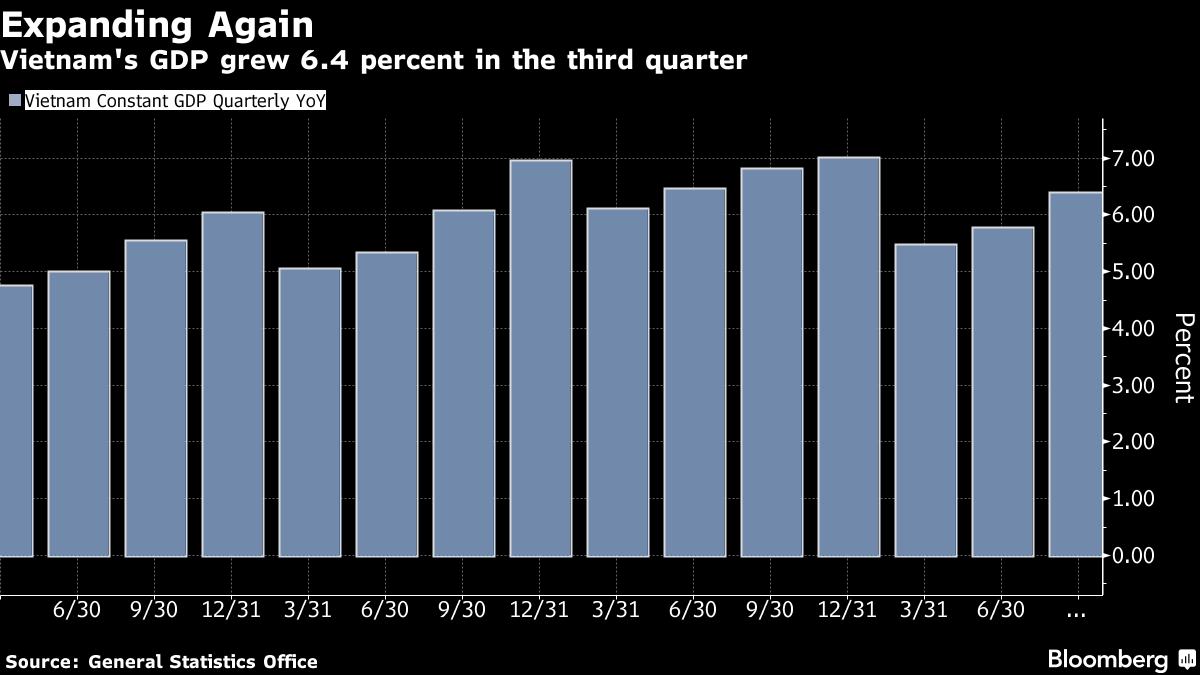 Export growth is estimated at 6 percent to 7 percent for next year, while inflation is set to reach 4 percent, the prime minister said. The government is forecasting a budget deficit of 3.5 percent of gross domestic product, he said.
Vietnam's outlook is clouded after Samsung Electronic Co. -- the biggest exporter accounting for 20 percent of Vietnam's $162 billion of shipments last year -- took the dramatic step this month to kill off its Galaxy Note 7 smartphone because of a malfunction with the battery. The move by the South Korean company will hurt the nation's exports, according to Vietnam's Association of Foreign Invested Enterprises. Shipments fell 4.2 percent in September from the previous month.
Samsung and other foreign producers have fueled a manufacturing boom in Vietnam's economy, offsetting a slump in farming output this year following a crippling drought. The economy grew 6.4 percent in the third quarter from a year earlier, among the fastest growing in the world. While the Asian Development Bank in September cut its growth forecasts for Vietnam this year and next, the lender is still estimating expansion of 6 percent or above.
Click here to read the impact of Samsung's decision on Vietnam's exports
"Although exports are below target, the country is the brightest spot in emerging Asia for exports," said Trinh Nguyen, a senior economist at Natixis SA in Hong Kong. "The issue for Vietnam is not the 2016 growth target or even 2017, but beyond this, when it exhausts its cheap labor and land yields lower returns."
Vietnam's stock exchange is Southeast Asia's best performer this year after surging about 19 percent to the highest level since February 2008. The dong has strengthened 0.8 percent this year after sliding about 5 percent in 2015.
Surging Debt
Fitch Ratings sees threats to Vietnam's BB- credit rating, the third-highest junk grade, after the National Assembly said public debt may breach its ceiling of 65 percent of gross domestic product in the second half of the year.
"Challenges to Vietnam's rating profile remain, and include a rapid re-acceleration in credit growth and rising public debt, which is already higher than the median of 'BB' Fitch-rated sovereigns," Andrew Fennell, a director at Fitch in Hong Kong, said earlier this month.

The government is facing the biggest fiscal strain among emerging markets in Southeast Asia. State debt is set to reach 64 percent of GDP this year, compared with 41 percent in Thailand and 56 percent in Malaysia, data from the World Bank in April showed.
For Vietnam, the debt level had risen from just 52 percent in 2010 as the government borrowed more to finance its spending. The State Treasury will sell an additional 31 trillion dong ($1.4 billion) of bonds in the domestic market in October to December, boosting the total to 281 trillion dong compared to 250 trillion dong it had planned at the start of the year.
Banks' Bad Debt
Vietnam has done much to overhaul its banking system since 2012 after a lending spree and weak controls led to a surge in bad debts. Non-performing loans, which was at 17 percent at the time, dropped to 2.7 percent as of August after the government set up the Vietnam Asset Management Company to buy the bad debts of banks.
Still, the underlying credit and associated capital impairment risks have not been fully eliminated, especially since less than 5 percent of the transferred bad debts have been resolved, the World Bank said in July. The banking system has about 200 trillion dong of unsolved bad debt, Saigon Times reported last week, citing the National Assembly's Hien.
Policy Reforms
The government is intensifying measures to help businesses, including steps to spur domestic demand, tourism and industries that provide inputs to manufacturers, Prime Minister Nguyen Xuan Phuc said at the legislature's previous meeting in July.
"Investors will want to see what concrete measures, break-through policies that law makers will come up with," said Do Ngoc Quynh, head of treasury at Bank for Investment & Development of Vietnam in Hanoi. "We would want to see what goals the government will prioritize this time. It's not necessary to pursue too many goals at the same time."
(
Updates with prime minister's comments in third paragraph.
)
Before it's here, it's on the Bloomberg Terminal.
LEARN MORE