U.S. ELECTION WRAP: Clinton Widens Arizona Lead Ahead of Debate
Tonight's final presidential debate could be Donald Trump's last chance to turnaround his struggling campaign as Hillary Clinton continues to make inroads in ``red'' state territory such as Arizona.
By and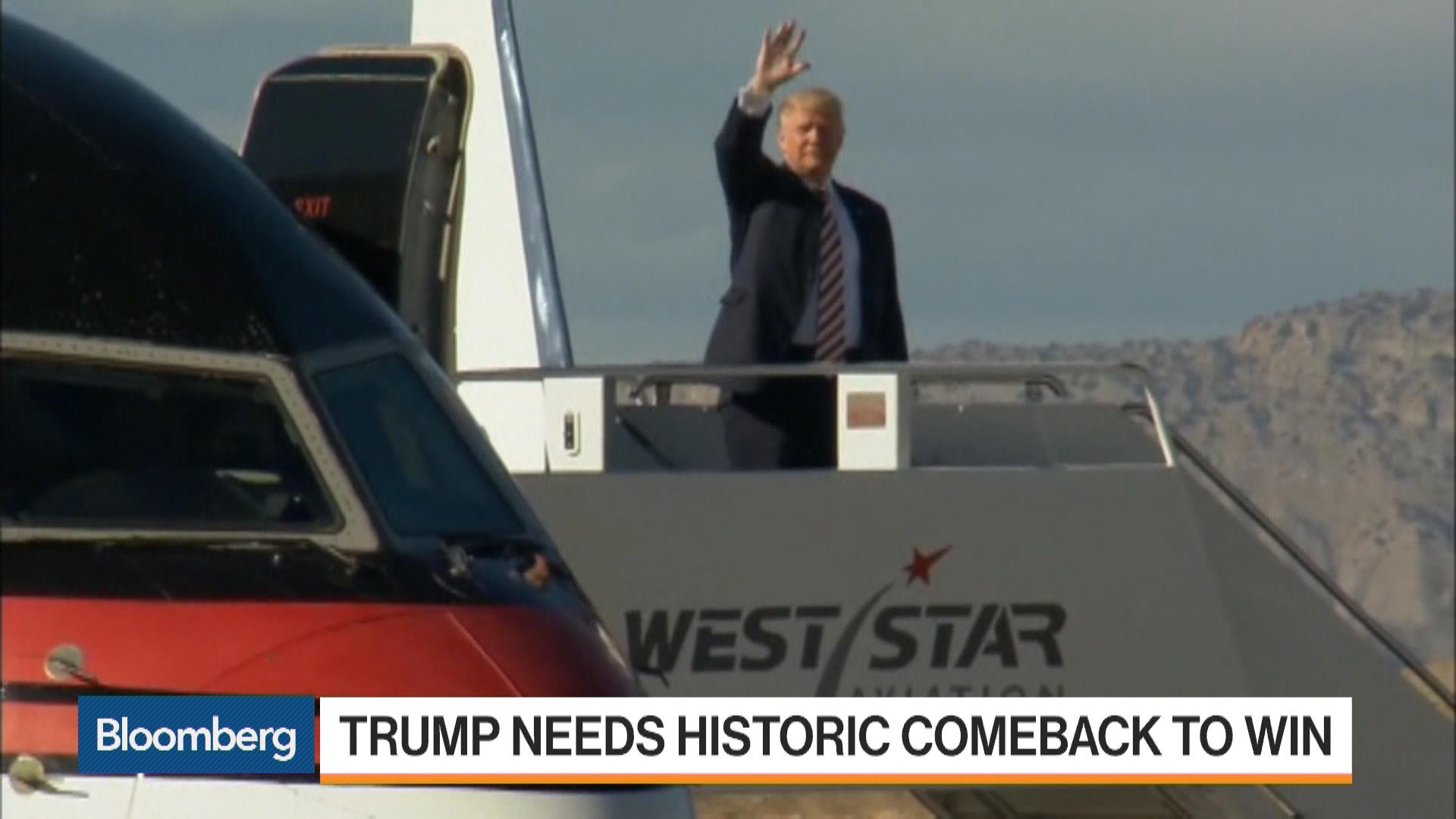 Hillary Clinton continues to grab long-held Republican political territory as a new poll shows her ahead of Republican rival Donald Trump by 5 points in Arizona, up from a lead of less than 2 percentage points in late August.
Clinton is backed by 39% of likely voters vs 33.9% for Trump, Arizona Republic/Morrison/Cronkite News survey finds; 20.7% are undecided

As Clinton and Trump prepare to face off Wednesday night in their final debate, the latest Bloomberg Politics national poll shows Trump needs to stage a historic comeback to win the White House; the presidential face-off in Las Vegas may be Trump's last chance to reverse his campaign's spiral and halt his Democratic opponent's rising electoral strength, Bloomberg's Mark Niquette and John McCormick write

Trump campaign manager Kellyanne Conway says she's not worried

"I don't feel sorry for us," she told CNN Tuesday. "I just think we're going to win this because people love a comeback story"

Meanwhile, with less than three weeks until Election Day, electoral map projections are in flux
CNN on Wednesday moved long-time GOP strongholds of Arizona and Utah into the "battleground" column (Arizona had been "lean Republican", Utah "solid Republican")

The Utah shift is due in part to third-party independent candidate Evan McMullin rising in several polls, CNN said
Florida and Nevada, previously viewed as too close to predict, are now "lean Democrat": CNN

If the election were held today, Clinton would get 307 of the 270 electoral votes needed to win the presidency vs 179 for Trump, according to CNN analysis
Trump "has to have his best debate ever tonight," veteran GOP debate coach Brett O'Donnell told the TV network

'INTERESTING' LAST DEBATE
Trump in Colorado on Tuesday predicted an "interesting" third debate
Clinton's camp would like a debate with "decorum" but will have to wait and see how the evening unfolds, Clinton campaign chair John Podesta told CNN

Podesta declined to respond to a New York Times report that the Democratic nominee's campaign won approval for the nominees' families to enter the debate hall in a way that will let them avoid crossing each others' paths on the way to their seats
That means Bill Clinton and Melania Trump won't shake hands as is the custom for candidates' spouses

President Obama's half-brother from Kenya, Malik Obama, will be among Trump's guests at the debate, according to his campaign; the first sibling has said he plans to vote for Trump

Trump campaign CEO Steve Bannon said there will be other surprise attendees at debate, according to CNN's Brian Stelter

Clinton guests include Hewlett Packard Enterprise CEO Meg Whitman, a longtime Republican fundraiser who is backing Clinton, and billionaire Trump nemesis Mark Cuban
The final debate comes as the topic of sexual assault is now at center stage in the campaign, Washington Post reported

It also takes place against the backdrop of the public disclosure of more hacked e-mails purported to be from the account of Clinton campaign chair Podesta

The e-mails include an alleged transcript of Clinton's closed-door speech to Goldman Sachs; Podesta earlier declined to confirm whether it's accurate

"We're not going to get into that," Podesta told CNN in Las Vegas while onlookers jeered loudly

The GOP nominee's son, Eric Trump, told Fox it's "sad" the media isn't more focused on revelations from the e-mails

Trump said his father will "prosecute the case" against Clinton during the debate

Bloomberg's Adam Tiouririne looks at what the earlier debates reveal about Trump and Clinton's final war of words; read here

POLLS
Trump told supporters in Colorado Tuesday that he doesn't believe in polls anymore

"You can't believe everything you see," he said
"We are going to have one of the greatest victories in political history if we get out and vote": Trump

Clinton leads Trump 47%-40% in new national Quinnipiac University poll
Evan McMullin, former Republican U.S. House staff member and independent presidential candidate, is now narrowly leading Trump in Utah, an Emerson poll found

McMullin is at 31% in Utah vs 27% for Trump, 24% for Clinton
NOTE: Utah has voted for Republicans each presidential election since 1964; the state was Republican Mitt Romney's best state in 2012 election

In Bloomberg Politics poll, 56% of respondents said Trump's issues with women, including the 2005 videotape and sexual-misconduct allegations he's denied -- are a concern; 40% said Trump has put the matter to rest

Asked if they were personally better or worse off than at the start of 2009, 49% said better, 28% said worse, 21% about the same
Voters split 31%-29% on whether unemployment rate would be better or worse under Clinton; 43% said jobless rate would be better under Trump, 33% worse

In Wisconsin, Clinton's 47%-40% lead over Trump is little changed from 43%-38% advantage in August, a Monmouth University Poll found

In New York, about 54% of likely voters said they back Clinton for president vs 30% who support Trump, according to Siena College Research Institute poll

ENDORSEMENTS/REJECTIONS
The college newspapers of Trump's and Clinton's alma maters issued a joint statement on their endorsement of the Democratic nominee for president
Goldman Sachs CEO Lloyd Blankfein rejected Trump rhetoric in an interview with CNBC; he said it's fruitless to respond to Trump's remarks about Clinton's ties to Wall Street
Hedge fund manager Kyle Bass said he plans to vote for Clinton; called Trump a "circus clown" during interview on CNBC
Seventy Nobel laureates from a variety of fields endorsed Clinton on Tuesday

'RIGGED' ELECTION REACTIONS
Trump claim that the election is being rigged is dangerous, CNN reported
Republican Ohio Gov. John Kasich told CBS: "To say that the elections are rigged and all these votes are stolen—that's like saying we never landed on the moon"

Such accusations are "silly" and not good for "our democracy": Kasich

Trump campaign manager Kellyanne Conway told MSNBC she doesn't believe there is widespread voter fraud
Bloomberg View's Stephen L. Carter, a Yale law professor, said the backlash against Trump's claim that the electoral process is rigged is overblown; the GOP nominee's critics are ignoring two centuries of disputed presidential races, he wrote

ETC
Violence across America is weighing on voters, Bloomberg's Esmé E Deprez wrote
Trump's family is keeping a low profile in the home stretch of the presidential campaign; read Bloomberg story here
There's been a year-long increase in anti-Semitic hate targeting journalists on Twitter, with data showing that the harassment has been fueled by rhetoric in the U.S. presidential campaign, according to report from the Anti-Defamation League Task Force on Harassment and Journalism
The report, the first of its kind, shows that ~68% of anti-Semitic tweets directed at journalists were sent by 1,600 Twitter accounts

"These aggressors are disproportionately likely to self-identify as Donald Trump supporters, conservatives or part of the 'alt-right,' a loosely connected group of extremists, some of whom are white supremacists": ADL

Trump "does not believe global warming is the most serious threat we face as a nation," his campaign said in response to questions from New York Times editorial board
Trump may not end up being Clinton's biggest problem, according to Bloomberg View columnist Albert R. Hunt

If Clinton wins the presidency she will face demands from both the Democratic left wing and a hostile Republican right, Hunt wrote

CONGRESSIONAL ELECTIONS
SENATE RACES (Republicans hold 54-46 majority):
FL: Republican Sen. Marco Rubio in Spanish-language TV ad highlighted his family, including father who was a bartender, and support for modernizing higher education and a $2,500 child tax credit

Democrats favoring Rep. Patrick Murphy have been curbing their TV ads as Rubio clings to small lead; pro-Rubio side accounted for 68% of broadcast TV ads in past 30 days compared with 32% for the pro-Murphy side, according to ad-tracker Kantar Media/CMAG
Rubio said if re-elected he's "going to serve for six years" and "the things I want to achieve, some may take longer than six years to achieve," according to CNN report on Rubio interview to Florida radio station
IL: Democratic Rep. Tammy Duckworth's decade in public service includes running a state veterans' affairs department where several of her initiatives "fell flat," a federal VA post that "mostly focused on public relations," and two House terms "marked by only a few legislative successes," Chicago Tribune reported in a lengthy examination

Duckworth, who's favored to unseat Republican Sen. Mark Kirk in the strongly Democratic state, "defended her record and said she made achievements where she could," according to newspaper
Duckworth said her priorities "weren't always in line" with those of Rod Blagojevich, the Ill. Democratic governor who appointed her to state VA position
IN: Democratic ex-Sen. Evan Bayh and Republican Rep. Todd Young "directly accused each other of not representing Hoosiers' interests" in their only debate yesterday, Indianapolis Star reported

Young emphasized his Marine Corps background and called attention to Bayh's vote for the Affordable Care Act in 2009 and his lucrative income after leaving the Senate in 2011; Bayh accused Young of voting to protect tax breaks for companies to outsource U.S. jobs abroad
Bayh's campaign released TV ad saying Young "broke the law" to "avoid paying property taxes," referring to 2014 CNN report about Young filing for homestead deduction he wasn't eligible for
Young's campaign released TV ad saying Bayh spent his last year in the Senate "lining up fat paychecks," referring to Oct. 8 AP report about Bayh's meeting and phone calls with headhunters in 2010
LA: The top five candidates for retiring Republican Sen. David Vitter's seat participated in a debate yesterday at which Republican state Treasurer John Kennedy "was a prime target, strengthening his case that he was in the lead," New Orleans Times-Picayune reported

Kennedy was joined by Republican Reps. John Fleming and Charles Boustany and Democrats Foster Campbell and Caroline Fayard
The Nov. 8 ballot includes 24 candidates of all parties; no one is favored to win a majority of the vote and a Dec. 10 runoff between the top two vote-getters seems inevitable
MO: Democratic Sec. of State Jason Kander's campaign released another TV ad highlighting lobbying background of Republican Sen. Roy Blunt's family, with a building supply company owner saying after 20 years in Congress, "maybe Roy Blunt should just become a lobbyist too"
NV: Both parties "see the road to Senate control running through Nevada," where Republican Rep. Joe Heck "went from narrow favorite to underdog" after Trump's 2005 comments about groping women surfaced and Heck rescinded his support, Bloomberg's Steven T. Dennis reported

According to Dennis, "the race has also at times sounded like a referendum on the legacy" of Senate Minority Leader Harry Reid, who's retiring and backing Democrat Catherine Cortez Masto, a former state Atty. Gen.
After repudiating Trump, Heck has been "getting absolutely eviscerated here on conservative talk radio," longtime Nevada political analyst Jon Ralston said on MSNBC yesterday
WI: Democratic ex-Sen. Russ Feingold led Republican Sen. Ron Johnson 52%-44% in Monmouth University Poll conducted Oct. 15-18 of 403 likely voters (+/- 4.9 ppts), according to release

Johnson and Feingold, in rematch of 2010 race Johnson won by 5 ppts, debated yesterday on WISN-TV


HOUSE RACES (Republicans hold 246-186 majority):
BALANCE OF POWER: Minority Leader Nancy Pelosi told reporters today Democrats are "in a good place" in House elections that will result in either Democrats or Republicans holding small majority in 115th Congress

"We will be within single digits either way," said Pelosi, who's helping lead Democratic campaign to make net gain of 30 seats for a majority
Republicans have expressed confidence they'll hold their majority, saying Democrats haven't put enough districts in play and voters distinguish between Trump and House Republicans
CA-07: Democratic Rep. Ami Bera and Republican Scott Jones used their only televised debate yesterday to "defend their character while painting the other as ethically suspect," Sacramento Bee reported

Jones, the Sacramento County Sheriff, said a sheriff's deputy who accused him of making unwelcome sexual advances "is lying"; Bera again said he had no knowledge of campaign-finance violations by his father, who's now in prison
Bera seeking third term in Sacramento County-centered district that voted 51%-47% for Obama in 2012 election
CA-21: House Majority PAC, a Democratic super-PAC, released TV ad attacking Trump's comments on women and captured military veterans, saying he and Republican Rep. David Valadao ''are not for us" and "we need" Democratic challenger Emilio Huerta, son of labor icon Dolores Huerta

House Majority PAC also released Spanish-language ad attacking Trump on his immigration views and linking him to Valadao
Valadao released Spanish-language TV ad linking Huerta to real estate scandals and portraying him as another politician who only cares about himself
Valadao re-elected 58%-42% in 2014 in Hispanic-majority district that includes Hanford, Delano, part of Bakersfield
CO-06: Democratic Congressional Campaign Cmte released TV ad linking Trump to Republican Rep. Mike Coffman on abortion and alleging "Coffman's bill" would redefine rape as "forcible rape" and exclude victims of drugging or statutory rape

Ad refers to a 2011 bill to prevent the use of certain taxpayer funds in paying for abortions; Coffman joined more than 220 other House members in co-sponsoring the bill, which all House Republicans and 16 Democrats backed
Politifact in Feb. analyzed similar claims against Coffman by Emily's List, a group that backs challenger Morgan Carroll and other Democratic women who support abortion rights
ME-02: Republican Rep. Bruce Poliquin and Democratic ex-state Sen. Emily Cain will debate tonight at 7pm eastern time on WAGM-TV in Presque Isle; watch the debate here

Poliquin and Cain in rematch of 2014 race that Poliquin won by 5 ppts
MN-03: Democratic state Sen. Terri Bonoff, "facing a tough climb to unseat Republican Rep. Erik Paulsen," is getting help in the form of an endorsement video from Obama, the Associated Press reported

Obama said Bonoff's son "is one of my closest aides, and he and his mom are both amazing," then praised Bonoff's bipartisan accomplishments in legislature
Paulsen seeking fifth term in suburban Twin Cities district Obama carried by <1 ppt in 2012 election
MN-08: Republican Stewart Mills's campaign released TV ad saying Democratic Rep. Rick Nolan supports Clinton's "war on coal" and "voted for anti-mining regulations that are destroying Minnesota jobs"

Ad cites Nolan's 2013 vote against Republican bill that would have barred EPA from finalizing energy-related rules costing more than $1b if energy secretary determined they would significantly affect economy
Ad uses footage of Clinton saying in March that "we're going to put a lot of coal miners and coal companies out of business"; Clinton said at same event ''we don't want to forget those people" and wants to "bring economic opportunity using clean renewable energy as the key into coal country"
NV-03: House Majority PAC released TV ad of man portraying Republican Rep. Danny Tarkanian digging hole in desert outside Las Vegas, as a narrator refers to Tarkanian as a "con man who can't bury the truth"

Tarkanian and Democrat Jacky Rosen, a local synagogue president, are seeking competitive Clark County district that Heck is giving up to run for Senate
NY-22: Democrat Kim Myers, Republican Claudia Tenney, and third-party candidate Martin Babinec will debate tomorrow night at Colgate University in Hamilton, Oneida Daily Dispatch reported

It's their first debate since U.S. Chamber of Commerce endorsed Babinec, who's self-financing his campaign and is being targeted in Democratic and Republican ads
Winner will succeed retiring Rep. Richard Hanna, who defeated the more conservative Tenney in 2014 primary and isn't endorsing her in this race
Before it's here, it's on the Bloomberg Terminal.
LEARN MORE