U.S. Ambassador Tells Swiss Banks to Open Doors to Americans
by and
Suzan LeVine asks bank executives to discuss improving access

Regulation, tax probes deter banks from accepting U.S. clients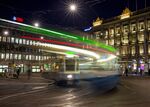 The U.S. ambassador to Switzerland wants more of the country's 266 banks to accept American clients after onerous regulations and tax-evasion probes prompted many financial firms to shun them.
Top banks UBS Group AG and Credit Suisse Group AG, along with Corner Banca SA, from the Italian-speaking southern part of Switzerland, have introduced procedures for U.S. citizens. Still, it's a challenge for many of the 20,000 American expatriates living in the country to open or keep an account, Ambassador Suzan LeVine said in a statement from the U.S. embassy in Bern on Wednesday.
"I invited the executives to meet with me so we can identify solutions together that will benefit Swiss banks and enable American citizens to do business," LeVine said in the statement. The embassy declined to provide a copy of a letter she sent to bank executives, but Bloomberg BNA obtained a copy of it.
"Some U.S. persons who have lived in Switzerland and held accounts at a Swiss financial institution for decades have reported that they have received notices of account closure and that Swiss citizen family members have had their accounts closed because of their relationship to a U.S. person," LeVine wrote in the September letter. The copy was redacted to omit the name of the recipient and the exact date; the letter hasn't been verified by the U.S. embassy in Switzerland.
'Important Contribution'
U.S. citizens residing in Switzerland "make an important contribution to the Swiss economy and form part of the robust trade and investment relationship between our two countries," LeVine said in the letter.
The U.S. is the only Organization for Economic Cooperation and Development nation that taxes citizens wherever they reside. U.S. expatriates have objected to jumping through hoops for banks' compliance departments and paying costly lawyers' fees to meet reporting requirements. Thousands of Americans living abroad have given up their passports in favor of other nationalities in protest of the U.S. stance on citizenship-based taxation.
Asset-disclosure rules under the Foreign Account Tax Compliance Act, or Fatca, require banks to disclose information on U.S. account holders or impose withholding taxes. Swiss banks have suffered from a U.S. Justice Department investigation that's reaped more than $5.5 billion in fines related to tax evasion by wealthy Americans with cross-border accounts.
UBS paid $780 million and turned over client account details in a landmark deal in 2009 that presaged settlements with dozens of other Swiss banks. Credit Suisse paid $2.6 billion and pleaded guilty in a U.S. court in 2014, while Corner Bank paid $5.1 million in exchange for a non-prosecution agreement in 2015. Wealth managers such as HSBC Holdings Plc's Swiss unit and Pictet & Cie. Group SCA have yet to declare a resolution to U.S. probes.
The Swiss Bankers Association, a trade group, said it was aware of LeVine's letter but hadn't received a copy. A spokeswoman for the group said Swiss banks can choose their clients. "U.S. citizens still find banks to serve them," an SBA spokeswoman said in an e-mail. "However, some of our member banks decided to be reluctant to do business with U.S. clients due to complex U.S. regulation."
Handelszeitung newspaper reported the Ambassador's letter earlier.
Before it's here, it's on the Bloomberg Terminal.
LEARN MORE