business
U.K. Banks Seek Tax Breaks in Latest Push for Brexit Concessions
By
British Bankers' Association asks for removal of tax surcharge

CEO Anthony Browne says U.K. at 'tipping point,' risking jobs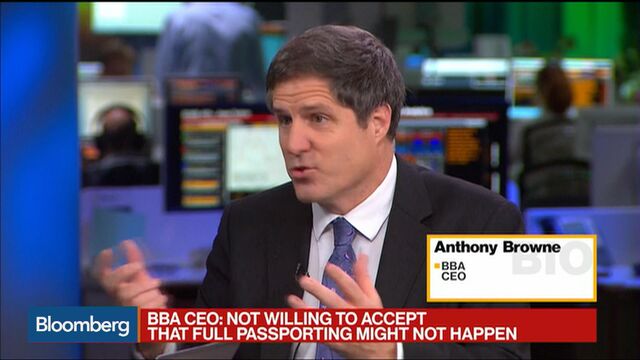 Britain's largest banks are pressing Prime Minister Theresa May to lower their taxes as they ramp up efforts to win concessions to protect against the potential impact from Brexit.
The U.K. should phase out its corporation tax surcharge on bank profits "as soon as possible," the British Bankers' Association said in a statement. The request, from the lobby group for domestic lenders like Lloyds Banking Group Plc and global firms in the country, comes as Chancellor of the Exchequer Philip Hammond strives to fill a ballooning budget deficit following the June 23 referendum on European Union membership.
"Banks are firmly committed to paying our fair share, but we are now at a tipping point that threatens U.K. jobs and growth," BBA Chief Executive Officer Anthony Browne said in the prepared text of a speech in London on Thursday. "It is essential that the U.K. remains a competitive place to do business for international banks."
Tax breaks could help persuade global lenders to keep their operations in London as Britain prepares to exit the trading bloc, although they may prove politically unpalatable amid lingering public resentment toward banks following the financial crisis and taxpayer bailouts. The pressure from the BBA precedes Hammond's Autumn Statement on the state of the U.K. economy next month.
Move Jobs?
"We hope that the chancellor will take competitiveness into account," Browne will say. Hammond should make a "commitment to the normalization of banking taxes in the U.K. and the removal of sector specific tax measures" after gleaning about 40 billion pounds ($49.2 billion) from five separate levies in recent years, according to the BBA.
Banks are already planning for a so-called hard Brexit -- an outcome where they lose the ability to sell services freely around the EU from London -- and may start relocating jobs after the start of formal talks over the U.K.'s withdrawal, expected in March. A report from consultants Oliver Wyman on behalf of TheCityUK lobby group earlier this month warns that almost 70,000 jobs and 10 billion pounds of tax revenue are at risk from such an outcome.
This isn't the first time the BBA has urged the government to remove the additional 8 percent charge on banks' profits on top of their regular corporate tax, which was introduced by former Chancellor George Osborne last year. The BBA said in March the surcharge should be temporary and "phased out in the longer term."
For more background on U.K. bank levies and lobbying, click here.
Before it's here, it's on the Bloomberg Terminal.
LEARN MORE