Tesla Is About to Unveil the Next Phase of the Model 3
Is "Model 3 part 2" a self-driving car?
by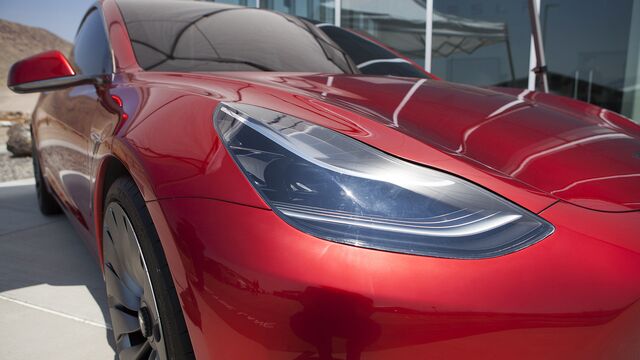 Tesla Motors Inc. is about to make a major announcement about features for its upcoming Model 3, according to Chief Executive Officer Elon Musk.
Musk said on Twitter that the company will be making an announcement at 5 p.m. Pacific time (8 p.m. Eastern), followed by a 30-minute conference call with reporters. The announcement will be about "Model 3 part 2," he wrote in a follow-up tweet. 
Before first unveiling the Model 3 in March, Musk said there would be a second revelation coming later. "Part 2, which takes things to another level, will be closer to production," he said in a March 30 tweet.  
The timing and format of the announcement is unusual. It's scheduled for less than an hour before the final U.S. presidential debate, which will likely dominate news coverage Wednesday night and Thursday. It's also being done in the absence of one of the parties that typically accompany the company's big product news.  
Wednesday's event had initially been scheduled for Monday, but Musk delayed the announcement, writing that it still needed "a few more days of refinement."
Analysts and reporters have speculated that the announcement may include additional Autopilot features and hardware. Tesla also has yet to unveil its "steering controls and system," which "feels like a spaceship," Musk wrote on April 3. 
Is "part 2" a self-driving car? 
In January, Musk said that in about two years, a person should be able to summon his or her Tesla from across the country, representing full-vehicle autonomy.
That's roughly in line with the expected timing of the Model 3 rollout in late 2017. Even if full-vehicle autonomy isn't yet road-ready then, it's likely that Tesla will at least bring the Model 3 a few steps closer. Tesla's current Autopilot mode can already follow speed-limit signs, change lanes, avoid collisions, and parallel park, mostly by itself. 
In a barrage of tweets in April following the unveiling of the Model 3, Musk repeatedly referred to a "part 2" unveiling. These exchanges prompted speculation on Twitter about whether the Model 3 may even be a fully self-driving car. In response to a question about the lack of a dashboard, he said, "It will make sense after part 2." 
Before it's here, it's on the Bloomberg Terminal.
LEARN MORE