business
Scotland Drafts New Independence Vote in Bid to Beat Brexit
By
Draft consultation bill published on Thursday to speed process

Government in Edinburgh wants option of another referendum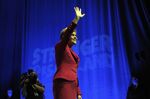 Scotland is taking a step toward another referendum on independence by preparing legislation that could be enacted should the semi-autonomous government in Edinburgh decide Brexit is undermining its political and economic interests.
The draft bill on a vote was published for consultation on Thursday, a week after Scottish First Minister Nicola Sturgeon warned British Prime Minister Theresa May she wasn't bluffing about seeking to withdraw from the three-centuries-old U.K. if Brexit negotiations don't take into account Scotland's position. The bill doesn't mean an imminent vote, but it would speed the process should Sturgeon decide to pursue one.
Follow @Brexit for the latest news, and sign up to our Brexit Bulletin for a daily roundup.
"This government was elected on a specific manifesto pledge that the Scottish Parliament should be able to consider an independence referendum if there was a material change in circumstances, such as Scotland being taken out of the European Union against its will," Sturgeon said in a statement ahead of the publication. "The country now faces exactly that prospect, including the likelihood of it being a hard Brexit with all the additional damage that will do to Scotland's economy and jobs."
Sturgeon acknowledged at her Scottish National Party conference last week that she's under constant pressure from members to call a second referendum and capitalize on the popularity of the party and the questions over Brexit. Scotland voted overwhelmingly to remain in the EU but there's still skepticism among the electorate about the merits of breaking away from England, Wales and Northern Ireland and going it alone, not least because of concerns about trade and the currency.
For analysis of Scotland's drive for independence, click here
The SNP is in the process of canvassing Scottish residents on how they voted in the last independence referendum and on EU membership. They are being asked how they might vote if there were a fresh referendum and to rank issues such as feeling British, feeling Scottish, economic stability and remaining in the EU by importance. The deadline is Nov. 30, Scotland's national St. Andrew's day.
In an interview on a trip to Reykjavik on Oct. 7, Sturgeon urged patience over the U.K.'s plan to leave the EU and over another referendum. In the immediate aftermath of the June 23 Brexit decision, she had said another vote was "highly likely." The previous one was in September 2014, when 55 percent of voters decided to remain in the U.K.
The draft bill essentially mirrors the legislation enacted for the 2014 vote and doesn't include any planning for timing. The initial consultation runs until Jan. 11.
Sturgeon is due to meet May on Monday as part of talks to discuss how Scotland's interests can be protected during the U.K.'s negotiations with the EU, the Scottish government said.
(
Updates with publication of bill in second paragraph, national survey in fifth.
)
Before it's here, it's on the Bloomberg Terminal.
LEARN MORE