Saudi Arabia Starts Contractor Repayments After Long Delays
Matthew Martin and Alaa Shahine
Payments said to have begun in construction and other sectors

Some companies said to be told 30%-40% of debt settled in '16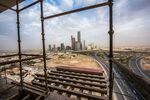 Saudi Arabia is repaying debts to contractors after long delays that squeezed company finances and hurt investor sentiment.
QuickTake Saudi Arabia's Strains
Stocks gained after Finance Minister Ibrahim Al-Assaf, speaking in a televised interview late on Wednesday, said payments have been "regularized and will rise in the coming period." While he didn't offer details, three people familiar with the matter said the government has started paying some major builders as well as companies outside the construction industry.
Some companies were told 30 percent to 40 percent of the outstanding dues will be paid before the end of the year, with the remainder to be settled in 2017, two people said. They spoke on condition of anonymity because they're not authorized to speak publicly.
The world's biggest oil exporter started delaying payments to contractors last year as it sought to rein in a budget deficit that reached about 15 percent of gross domestic product. The austerity drive caused the non-oil economy to shrink in the fine three months of 2015 and the first quarter of this year.
Bond Sale
The announcement capped a week during which the kingdom raised $17.5 billion from its first international bond sale, a record for emerging market. The sale, along with news that contractors were getting paid, helped the benchmark Tadawul All Share Index climb 2.3 percent at 3 p.m. in Riyadh.
"With domestic funding sources stretched, it should deliver some short-term respite from the tightening liquidity conditions," Monica Malik, chief economist at Abu Dhabi Commercial Bank, said in a report released on Thursday, referring to the bond sale. "On the growth front, there is likely to be an increase in the government's payment of arrears, supported by this issuance."
Real-estate development company Jabal Omar jumped 6.2 percent., while the banking index gained 3.5 percent.
Saudi daily Okaz reported last month that the government had started to pay dues owed to Saudi Binladin Group, the kingdom's biggest construction company, citing Abdullah Basodan, adviser to company Chairman Bakr bin Mohammed Binladin.
The kingdom is undergoing the biggest economic shakeup in its history in an attempt to reduce its reliance on oil. The government aims to generate more than $100 billion in non-oil revenue a year by 2020 through measures including value-added taxation.
The IMF said on Tuesday the pace of austerity could ease "a little" next year, helping non-oil growth recover to 2.6 percent from 0.3 percent in 2016.
The fiscal consolidation, however, "needs to continue over the next five years," Masood Ahmed, head of the IMF Middle East and Central Asia department, said in an interview in Dubai on Wednesday.
— With assistance by Vivian Nereim, and Dana El Baltaji
Before it's here, it's on the Bloomberg Terminal.
LEARN MORE