Renzi Might Hang On for Months Even If He Loses Italian Vote
by
Polls suggest Renzi risks losing battle for reform of Senate

Obama honors Italian premier with White House state dinner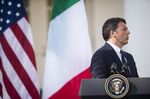 Matteo Renzi's time as Italian leader might not quite be up, even if he does lose a referendum on constitutional reform next month.
President Sergio Mattarella would probably ask Renzi to stay on to oversee the aftermath of the vote, according to two senior officials from the premier's Democratic Party, or PD, who asked not to be named because they aren't authorized to speak publicly on the matter. Mattarella would likely want Renzi to steer through an electoral reform at the head of a multi-party, caretaker administration in Rome before calling an early general election in the first months of 2017, they said.
Although he has fudged his political future in recent interviews, Renzi is likely to respect his promise to resign if he loses the Dec. 4 vote, the officials said. Most recent polls have shown the prime minister's "Yes" campaign trailing. Still, if Mattarella wants a period of stability after the referendum before plunging into the turmoil of an election, he has few options beyond the current prime minister.
"There is no alternative to Renzi," said Sergio Fabbrini, director of the school of government at Luiss University in Rome. "The opposition to him is very divided, from the party of ex-premier Silvio Berlusconi to dissidents in the PD -- what do they have in common? There is no possibility that the opposition could unite to form a government."
Growth Slows
Renzi's attempts to fix the economy are running into trouble as growth slows and the populists of the Five Star Movement narrow the gap to his PD in opinion polls. The anti-establishment party is poised to take advantage of any stumble, insisting a referendum defeat should end Renzi's government.
"We want to avoid it being taken hostage by a focus on Renzi's future," said Sandro Gozi, the premier's junior minister for European affairs. "We need to show people the reform will make Italian democracy more efficient, more transparent, fairer."
Renzi won warm endorsement from President Barack Obama who invited the premier for the final state dinner of the Obama White House on Tuesday, a meal prepared by celebrity chef Mario Batali.
"The upcoming referendum to modernize Italy's political institutions is something that the United States strongly supports," Obama told a joint news conference. "I think you should hang around no matter what." Renzi himself said a "No" win would not be a "cataclysm."
There is "too much emphasis on the Italian referendum," probably because people didn't pay enough attention to the chances for a pro-Brexit vote in the U.K., Atlantia SpA CEO Giovanni Castellucci said in an interview on Bloomberg Television Wednesday.
Even after a referendum defeat, Renzi would still be leader of the biggest party in parliament. The question, one of the officials said, is whether he would accept a mandate to form a caretaker administration because his party risks being torn apart by a "No" win. Renzi is already fighting to contain a rebellion by leftist PD lawmakers who are campaigning against him in the referendum.
Right now, his own future is the last thing Renzi wants to talk about. A spokesman for Renzi declined to comment on possible scenarios. In an Oct. 11 interview on state-owned RAI television, Renzi said he had made his promise to quit because politicians have an "absolutely sacrosanct" duty to take responsibility for their actions. "I've stopped talking about my future because I've understood it unites all the gentlemen of the 'No' camp," Renzi said.
'Consistent' Renzi
Renzi's entourage is similarly tight-lipped when asked about his pledge. "Matteo Renzi is a consistent person," Ettore Rosato, head of PD lawmakers in the lower house, said in an interview in his Rome office. "It's obvious that the opposition sees this referendum as an opportunity it has never had before, to really weaken Renzi and his government."
The premier's pledge has been seized on by his opponents in the referendum campaign. It has also fueled speculation over his possible successor, with Culture Minister Dario Franceschini, a former PD leader, Finance Minister Pier Carlo Padoan and Senate Speaker Pietro Grasso among those tipped by Italian newspapers.
The constitutional reform would shrink the Senate and end its power to bring down governments with a vote of no confidence. Renzi's camp argues this will make for stable government in a country which has seen 63 administrations since the end of World War II. Critics say it will make the premier too powerful and legislating chaotic.
Looking further ahead, Fabbrini is pessimistic about prospects for the outcome of 2017 elections: a coalition government with "no clear majority," he says. "We risk a division between the center-left and the center-right on one side, and the populist, anti-Europe parties from the Five Star Movement to the Northern League on the other."
Before it's here, it's on the Bloomberg Terminal.
LEARN MORE