Putin Arrives in Berlin as EU Dangles Threat of Syria Sanctions
by , , and
Merkel hosts talks over Ukraine that will include Syrian war

France's Hollande, Ukraine's Poroshenko will join meeting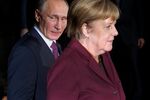 President Vladimir Putin arrived in Berlin Wednesday as European leaders dangle the threat of fresh sanctions over Russia's role in the bombardment of the Syrian city of Aleppo and raise pressure to revive efforts for peace in eastern Ukraine.
German Chancellor Angela Merkel is presiding over a summit with Putin, Ukrainian President Petro Poroshenko and French President Francois Hollande to push for progress implementing a peace agreement in Ukraine. Merkel and Hollande will then confront him over Russia's intervention in Syria a day after the Kremlin announced a temporary moratorium.
"I will do everything with Chancellor Merkel to convince Vladimir Putin to continue with this cease-fire," Hollande told reporters earlier in Paris. Merkel's chief spokesman, Steffen Seibert, said the two leaders would raise the Aleppo siege "and who is responsible for them will be clearly pointed out."
As Syria eclipses the Ukraine conflict as a diplomatic priority, Merkel will seek any leverage possible with Putin to report to European Union leaders meeting for a two-day summit starting Thursday. Putin, a German-speaking former KGB agent who served in East Germany, and Merkel, a self-proclaimed Russophile who grew up in the communist east, have a mutual affinity, though not one that so far has produced a diplomatic breakthrough.
No Miracle
The Russian leader's visit to the German capital is the first since Russia annexed Crimea and fighting broke out in Ukraine's Donbas region between Russian-backed separatists and Ukrainian forces in 2014. Merkel, Europe's strongest conduit to the Kremlin throughout the rounds of crises, warned Tuesday not to expect a "miracle" on either issue.
The Kremlin has also signaled not to expect much from the Berlin meeting as Russian relations with Europe and the U.S. plumb depths last seen in the Cold War. Alexei Chesnakov, a former Kremlin aide, said that Putin chose to attend so as "not to be accused of unwillingness to have dialogue."
Putin scrapped a visit to Paris after Hollande and other leaders took Russia to task over its support for the assault by Syrian President Bashar Al-Assad on eastern Aleppo. Merkel's government on Monday cited the "continued escalation of these war atrocities, as well as war crimes." U.K. Foreign Minister Boris Johnson this month has said Russia should be investigated for war crimes in Aleppo.
Click here, for the case for more sanctions on Russia Over Syria bombing: Q&A
Merkel has raised the prospect of sanctions, which requires the unanimous approval of all 28 members states. But new punitive measures aren't welcomed by all, starting with Italian Prime Minister Matteo Renzi. Finnish Prime Minister Juha Sipila ruled out a new round for now, citing the Ukraine-related measures currently in place.
"I think the conclusion in the European Union is that we don't believe in new sanctions at this phase because we already have sanctions and these run until the end of January," Sipila said in an interview Wednesday in Helsinki.
Before it's here, it's on the Bloomberg Terminal.
LEARN MORE