Morgan Stanley Beats Estimates on Surge in Bond Trading
by
Fixed-income revenue almost triples in third quarter

Equities-trading business posts 5.6% revenue increase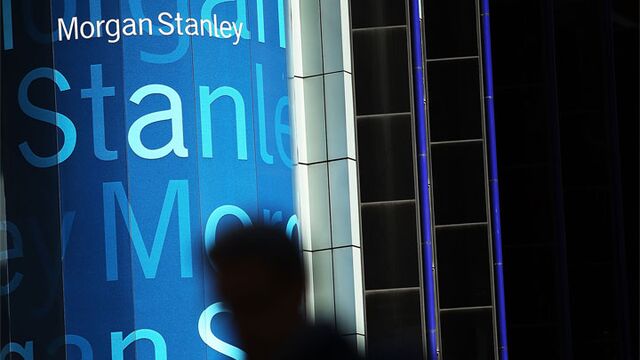 Morgan Stanley reported a 57 percent increase in third-quarter profit as fixed-income trading revenue almost tripled, the biggest surge for that business on Wall Street.
Net income rose to $1.6 billion, or 81 cents a share, from $1.02 billion, or 48 cents, a year earlier, the New York-based company said Wednesday in a statement. The 2015 figure includes 14 cents a share from an accounting adjustment that was discontinued after a rule change. Profit from continuing operations was 80 cents a share, beating the 63-cent average estimate of 22 analysts in a Bloomberg survey.

Chief Executive Officer James Gorman, 58, has sought to convince investors he can lower costs while steadying profit from bond trading, a business that weighed on returns in the past. Gorman said in June that the fixed-income and commodities business can generate $4 billion in annual revenue even after his decision to cut a quarter of the division's staff last year.
"We had a better quarter," Gorman said on a conference call with analysts. "What I'm pleased about is we did it with 25 percent less people."
Fixed-income trading revenue rose to $1.5 billion, exceeding analysts' estimates of $1 billion. Equity trading climbed 5.6 percent to $1.9 billion, compared with the estimate of $1.83 billion.
"Fixed income was quite strong this quarter," Chief Financial Officer Jonathan Pruzan said in an interview. "It was a better trading environment for us, particularly given our skew toward credit. The credit environment was quite good in terms of tightening spreads" and bond purchases by the European Central Bank, he said.
Return on equity was 8.7 percent in the third quarter. The firm's target is 9 percent to 11 percent by the end of 2017.
Morgan Stanley climbed 0.7 percent to $32.55 at 10:20 a.m. in New York. The shares are up 2.3 percent this year, outpacing the 1.1 percent gain for the 64-company S&P 500 Financials Index.
Companywide revenue rose 15 percent to $8.91 billion, exceeding the $8.14 billion estimate of 18 analysts surveyed by Bloomberg.
Compensation Costs
Compensation, the firm's biggest expense, climbed 19 percent to $4.1 billion, driven by the jump in revenue. The ratio of compensation to revenue was 46 percent, compared with the 46.5 percent estimate of David Konrad, an analyst at Macquarie Securities USA Inc. Within the investment bank, the ratio was 36 percent, up from 34 percent a year earlier.
Investment-banking revenue declined 7 percent to $1.1 billion from a year earlier, compared with the $1.08 billion average estimate of seven analysts surveyed by Bloomberg.
Wealth-management revenue increased 2 percent to $3.88 billion, compared with the $3.84 billion estimate of Jason Goldberg, an analyst at Barclays Plc.
Morgan Stanley is the last of the six biggest U.S. banks to report results. Goldman Sachs Group Inc. on Tuesday posted earnings that beat analysts' estimates on a 49 percent surge in fixed-income trading revenue. JPMorgan Chase & Co. on Friday topped estimates on a 48 percent jump in revenue from the same business.
Citigroup Inc. and Bank of America Corp. surpassed predictions, too, as fixed-income revenue increased 35 percent and 39 percent, respectively. Wells Fargo & Co., contending with a scandal in its consumer business, also beat estimates.
Before it's here, it's on the Bloomberg Terminal.
LEARN MORE