Merkel Says Putin Slapped With Blunt Language on Syria Role
by , , and
Leaders of Russia, Germany, France and Ukraine met in Berlin

Putin offers conditional extension of Aleppo cease-fire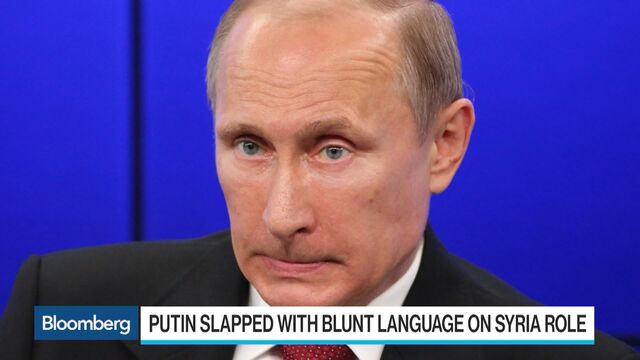 Russian President Vladimir Putin floated a possible extension of an Aleppo cease-fire as German Chancellor Angela Merkel and French President Francois Hollande confronted him with "blunt language" over what she described as an "inhumane" onslaught in Syria.
Speaking after a meeting in Berlin, Putin said Russia would halt its bombing as long as "terrorist forces" aren't active. At a separate news conference alongside Merkel, Hollande said Putin didn't specify how long such a cease-fire might last. "We hope it's as long as possible" to allow for humanitarian aid to reach the besieged Syrian city, he said.
European foreign ministers will work on getting aid to the area, which would "at least be a first step that we haven't seen in a long time," Merkel said. "It was right to use this blunt language" in the talks with Putin because "Russia bears a clear responsibility in Syria, including exerting influence over" President Bashar al-Assad, the German leader said.

The meetings dragged on for almost seven hours and finished after midnight. Going in, European leaders had dangled the threat of sanctions against Russia over its actions in Syria. But both Merkel and Hollande seemed to walk back the prospect of more punitive measures, stressing that the focus had to be on trying to help the civilian population.
Hollande said that at best the European Union could target individuals while Merkel limited herself to saying that "you can't deny yourself the option." Either way, any sanctions would require the approval of all 28 member states and the most ardent support for such an approach came from the U.K, which has voted to leave the bloc.
"The conclusion in the European Union is that we don't believe in new sanctions at this phase because we already have sanctions and these run until the end of January," Finnish Prime Minister Juha Sipila said in an interview in Helsinki on Wednesday. "In December or January we will have a discussion about the future of sanctions.''
Minsk Accord
The Syria talks followed an earlier discussion on Ukraine that was also attended by Ukrainian President Petro Poroshenko. Merkel and Poroshenko said the four leaders agreed to work on a "road map" of measures to advance last year's Minsk accords for ending the conflict in eastern Ukraine between government forces and Russian-backed separatists.
While signaling some advancement, "this will surely be an arduous process," Merkel said.
Putin, for his part, played down the discussion on Ukraine, saying humanitarian progress had been "the most minimal." He spoke to reporters at the airport for five minutes and declined to take questions before boarding his flight back to Moscow.
Before it's here, it's on the Bloomberg Terminal.
LEARN MORE