Madrid's Brexit Pitch to U.K. Firms Vaunts Latin America Access
by
Spanish companies are major investors in Brazil, Mexico

Office space is cheaper than rivals including Paris, Frankfurt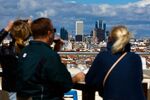 Madrid is seeking to lure companies from the U.K. as it prepares to leave the European Union by highlighting Spanish links to Latin America as well as cheaper real estate and living costs than rivals such as Paris.
Major investors in Latin America including Telefonica SA, Repsol SA and Banco Santander SA have their headquarters in Madrid, which can help companies tap into the growth in those markets, Daniel Lacalle, who leads the Madrid region's marketing effort, said in an interview at the offices of Tressis Gestion where he is chief investment officer. Office space is less than half the price of Paris and one third lower than in Frankfurt, he said citing data from real estate adviser CBRE.
Follow @Brexit for the latest news, and sign up to our Brexit Bulletin for a daily roundup.
"There are aren't many cities with such a good mix of costs and quality of life," said Lacalle, who was based in London for 12 years where he worked for firms including Pacific Investment Management Co. "We are a center of investment attracting capital both for the European Union as well as Latin America."
Madrid is presenting its strategy to attract U.K.-based firm as executives weigh up their options amid concern that Prime Minister Theresa May's plans for severing ties with the EU will damage British industry. If negotiations result in a so-called hard Brexit, U.K. financial services firms in the City of London could be left without clear access to EU customers.
"I don't think the City will disappear by any means, what I think is that it will be an opportunity for companies to spread out their hubs," said Lacalle. "Brexit won't be a zero-game sum, in fact it can seen as an opportunity and now it's time to make the most of it for everybody."
Madrid's quality of life is similar to Frankfurt's while higher than in Dublin, Milan or Paris, according to an index produced by Numbeo, a data company, that weights criteria including safety, salary levels, cost of living, weather and access to basic services such as health and transport.
While Madrid has a good pool of skilled workers, that will expand further as the job opportunities increase, said Lacalle. Madrid already has campuses for three business schools ranked among the top 20 in Europe.
"This will be like when the people in the City thought that everyone was moving to Singapore and Hong Kong," said Lacalle. "In the end what happened was that the City continued but Singapore and Hong Kong experienced a significant expansion as financial centers."
Before it's here, it's on the Bloomberg Terminal.
LEARN MORE