markets
Lower for Longer Now Applies to Canada's Exports, Not Just Rates
By
Central bank says global demographics have domestic impact

Poloz cites 'permanent shortfall' on trade in standing pat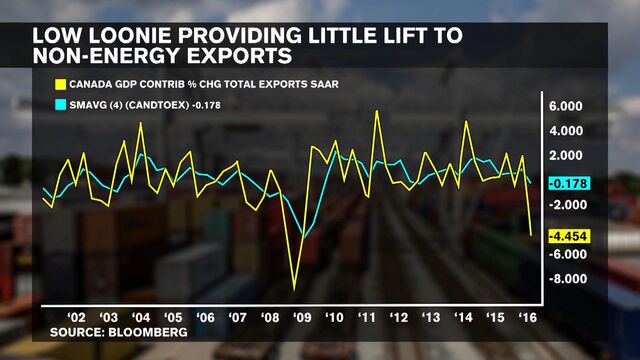 The Bank of Canada has spent more than two years warning anyone who would listen -- households, pension funds, governments -- that it's time to adapt to a new normal of slower growth and persistently lower interest rates.
Now, the bank has accepted that these same demographic factors suppressing global growth in advanced economies, including the U.S., also entail a slower rise in Canadian exports.
Wednesday's monetary policy report, along with recent speeches, suggests the Bank of Canada has made significant progress in resolving what Governor Stephen Poloz had referred to as its "exports puzzle." The picture, however, doesn't look nearly as pretty as the image on the front of the box.
"Our latest projections incorporate a permanent shortfall in exports relative to our understanding of fundamentals," the governor said Wednesday in the opening statement of the bank's press conference.
Export Wedge
An unfavorable composition of post-recession economic activity, Canadian firms' persistent competitiveness challenges, rising trade integration and the growth of Canadian affiliates abroad all lower the ceiling on how much exports can be expected to rise.
These recent developments offer a disappointing answer to the wedge between the growth of Canadian non-energy exports and foreign demand that Poloz identified in an April 2014 speech, which was expected to persist to some degree even as the global economy regains strength.
Importantly, the bank cut its estimate for U.S. business investment growth -- a crucial source of demand of Canadian exports -- by 1 percentage point to 3 percent over 2017-2018.
"Demographic factors are weighing on labor input and growth in productivity has been relatively slow," the Governing Council wrote in its report. "These trends imply weaker future demand and less need for businesses to invest ."
The extent to which the attractiveness of Canadian exports has been improved by the depreciation in the loonie, linked to the oil price downturn, has been overwhelmed by the relative drop of the currencies of the nation's competitors, especially Mexico.

These competitiveness challenges "will be more pronounced than previously anticipated," according to the report, dimming the outlook for non-commodity shipments.
Rising trade integration, meanwhile, entails that net exports are less sensitive to changes in the exchange rate -- as these outward-bound shipments also contain a higher portion of imported materials, Poloz said in a Bellingham, Washington speech last month.
"Governor Poloz's emphasis that more of the weakness in exports is structural than previously believed was the most important comment in today's communication," Frances Donald, senior economist at Manulife Asset Management Ltd., said by e-mail.

"By explicitly stating that productivity and wage differentials are driving a lower path for exports than previously assumed, Poloz is also implying that a weaker Canadian dollar is no panacea for either non-energy exports or Canadian growth," Donald said.
And while Canadian companies have diversified their customer bases -- finding buyers in faster-growing emerging markets -- they've also diversified their operations.
"Sales by Canadian-owned foreign affiliates now exceed total exports from Canada, approaching 30 percent of GDP," the governor said in April.
'Softer Path'
"These are all factors that point towards a softer path, though still positive, for export growth," Brian DePratto, an economist at Toronto-Dominion Bank, said in a phone interview.
The unhappy resolution to the bank's export puzzle is "reflected here at least implicitly, and consistent with the communication leading up to this decision," he added.
Only three months ago, Poloz and Senior Deputy Governor Carolyn Wilkins expressed confidence that real export growth would continue on its post-financial crisis positive trajectory, often pointing to the infamous "Chart 6" of the July monetary policy report.
Now, the bank seems resigned to the fact that "lower for longer" doesn't just apply to the outlook for interest rates, but also Canadian export growth.
"If we get lucky" some of this shortfall might not be permanent, Poloz said in the press conference, "but at this stage we can't really predict that."
— With assistance by Erik Hertzberg
Before it's here, it's on the Bloomberg Terminal.
LEARN MORE