Korean Prosecutors Indict Lotte Chairman Shin for Corruption
by
Indictment means Chairman Shin Dong-bin poised to stand trial

Move is latest setback for group facing back-to-back crises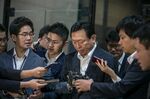 South Korean prosecutors indicted the head of Lotte Group for alleged embezzlement and breach of fiduciary duty, escalating the crisis at the retail giant, after investigators conducted one of the country's biggest corruption probes in years.
Chairman Shin Dong-bin's actions cost Lotte more than 175 billion won ($156 million), the prosecutors' office said in a statement in Seoul on Wednesday. They also indicted Shin's older brother and his father, who founded the group, for alleged financial crimes.
The move puts Shin, 61, in position to be the most prominent Korean businessman to face trial since SK Group Chairman Chey Tae-won was jailed in 2013 for embezzlement. It's the latest setback for Lotte, a conglomerate that's been battling crisis after crisis for more than a year, and putting in doubt as to who will be in charge of a sprawling empire generating more than 100 trillion won in annual revenue.
The group said that most of the allegations against the chairman aren't directly linked to him as they involve events during the time his father was running the group. Lotte also said it will explain itself in trial and will continue to strive to become a good enterprise.
To see a timeline of events about Lotte's turmoil, click here
After a four-month investigation into Lotte, prosecutors announced charges against 24 parties, including five members of the founding family, and accused the Shin clan of engaging in financial crimes amounting to almost 280 billion won, according to the statement.
'Dirt Cheap'
In one example, the chairman is accused of colluding with family members to sell the rights to operate snack bars at Lotte's movie theaters for "dirt cheap" to his kin, resulting in more than 77 billion won in losses for Lotte Shopping Co.
Lotte's turmoil began last year, when a family feud erupted into public view after the chairman's older brother led a failed boardroom coup. Since then, Lotte has faced intensifying regulatory scrutiny and investigations, which took a toll on the group's business. The conglomerate canceled a potential $4.5 billion initial public offering of a unit and derailed Lotte's bid for chemicals-maker Axiall Corp. this year.
In July, Korean authorities arrested Shin's elder half sister and indicted her of bribery and embezzlement -- charges that local media reported she denied. Shin Young-ja, who has been in jail since the arrest, has since resigned from her board seat at Hotel Lotte and Busan Hotel Lotte, according to Lotte Group.
Shin Dong-joo, the chairman's older brother, was accused of embezzling 39.1 billion won through illicit compensation -- charges that he denied. The money he received was approved by all related Lotte Group companies and was in no way illegal, which will be proved in court, the elder Shin said in a statement.
The investigation into allegations of corruption at Lotte was temporarily halted in August after the group's vice chairman, who was Shin's close aide, was found dead hours before he was scheduled to be questioned. Several analysts predicted at the time prosecutors would wind down the probe.
Chaebol No. 5
Lotte, whose business range from theme parks to chemicals, is the fifth largest of the nation's family-run conglomerates, known locally as the chaebol, which dominate Korea's business landscape.
The chaebol is seeking to move on. Lotte is preparing to unveil a group-wide reform plan by as soon as next week, a company official said, asking not to be identified because the plan hasn't been made public. It's also willing to revive the Hotel Lotte IPO, according to the official.
Though chaebol heads convicted of financial crimes rarely serve jail time, there are precedents. SK Group's Chey was jailed in 2013 for embezzling corporate funds before he was pardoned last year by President Park Geun-hye. CJ Group's chairman was jailed in 2013 for embezzling corporate funds and tax evasion, though he was freed in August after receiving a presidential pardon.
Before it's here, it's on the Bloomberg Terminal.
LEARN MORE