It's a Trump-Free Zone as Ryan Stumps for Fellow Republicans
By
Speaker campaigns in Florida for GOP congressional candidates

Ryan won't defend Trump but hasn't taken back endorsement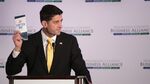 House Speaker Paul Ryan is hitting the campaign trail to help keep the U.S. House in Republican hands, but he is carefully scripting his appearances to avoid any mention of Donald Trump.
Reporters were invited to a Miami school tour Wednesday where Ryan appeared with freshman Representative Carlos Curbelo, but the candidates took no questions. He also attended a closed-door fundraising event and staged a rally-like visit to Curbelo's Miami campaign office.
Earlier in the day, Ryan scheduled no public availability as he joined Republican Brian Mast, who is running for an open seat in a nearby congressional district. When Ryan was in Texas for campaign events Tuesday, none of those were open to the news media.
In a normal election year, Ryan would be courting media attention and harnessing his star power to boost Republican candidates. But Ryan's highly publicized break with Trump has ignited a civil war within the party, one stoked by Trump's frequent Twitter attacks on Ryan.
'Better Way'
The fracas has left Ryan trying to stay on message about a policy agenda being pushed by House Republicans. He discussed the GOP's "Better Way" agenda to fight poverty, improve national security and the economy while in Florida.
"So, I always tell people, especially if you're just getting started in politics, if you're new to voting, forget about what you see in Twitter and TV, and think about the ideas of the campaign," Ryan said at Curbelo's campaign office. "Take a look at the issues. Go to better.gop and look at the solutions."
"There are big issues at play in this election," he added, never mentioning Trump by name. "Don't forget about that." Ryan ignored shouted questions from local reporters.
Curbelo is locked in a tight re-election battle with Democrat Joe Garcia, whom he defeated in 2014 when Garcia was the incumbent congressman. Curbelo has been seeking to keep some distance from his party's standard-bearer and has said he won't vote for Trump.
Garcia and Democrats were trying to link Curbelo with Trump at a rally Tuesday afternoon outside of the congressman's headquarters, in anticipation of the speaker's visit there.
The tension between Trump and Ryan has complicated electoral prospects for the presidential nominee, who is denying accusations that he groped multiple women, and for congressional Republicans, who worry that Trump's unpopularity could endanger their control of the House and Senate.
Intra-Party Turmoil
Ryan is planning to spend October campaigning in 17 states and 42 cities to defend the House Republican majority.
Some Republicans need the speaker's help, particularly when it comes to fundraising, but not necessarily the added focus on the intra-party turmoil over Trump that comes with Ryan's visits.
Ryan is trying to reassure Republicans he isn't undermining their chances -- or Trump's -- without making a case for the presidential nominee. The speaker told lawmakers earlier this month that he wouldn't defend or campaign for Trump after the release of a 2005 audiotape on which the billionaire bragged about groping women. He rescinded an invitation to Trump to appear on stage with Ryan at an event in Wisconsin, but the speaker didn't formally withdraw his endorsement of Trump.
Some Republicans have openly rejected Trump, while others are angry at Ryan for, in their view, aiding the Democrats by so publicly abandoning the presidential nominee. Trump said in an interview with Fox News's Bill O'Reilly that he "wouldn't want to be in a foxhole" with many of his fellow Republicans, "especially Ryan."
On Sunday, Trump tweeted, "Paul Ryan, a man who doesn't know how to win (including failed run four years ago), must start focusing on the budget, military, vets etc."