Indonesia's New Monetary Weapon Is Already Blunted by Bad Loans
By
Banks 'not in a position' to lend more as NPLs keep climbing

Economists almost evenly split on rate decision Thursday
Bank Indonesia's shift to a new benchmark interest rate was designed to boost transmission of monetary policy via more bank lending. One problem: getting the banks on board.
Rising bad loans are curbing the effectiveness of rate cuts, with risk-averse lenders passing on about half of the 100 basis points of easing carried out this year through August, according to Bank Indonesia. Economists are almost evenly split on whether the central bank -- which announced in April it was adopting the seven-day reverse repurchase rate -- will cut for a sixth time this year at its meeting Thursday.
The new benchmark, which replaced the 12-month reference rate in August, is having some impact: deposit rates and corporate bond yields have declined almost in line with central bank easing. But lenders saddled with souring debt aren't hurrying to follow suit after their non-performing loan ratios climbed to 3.2 percent at the end of July from 2.7 percent a year earlier, according to Indonesia Financial Services Authority.
"Transmission isn't the issue here, it's risk," said Doddy Zulverdi, executive director for monetary management at Bank Indonesia. "Banks are trying to rein in non-performing loans, so they're not in a position to bravely lower rates to give out more and more loans."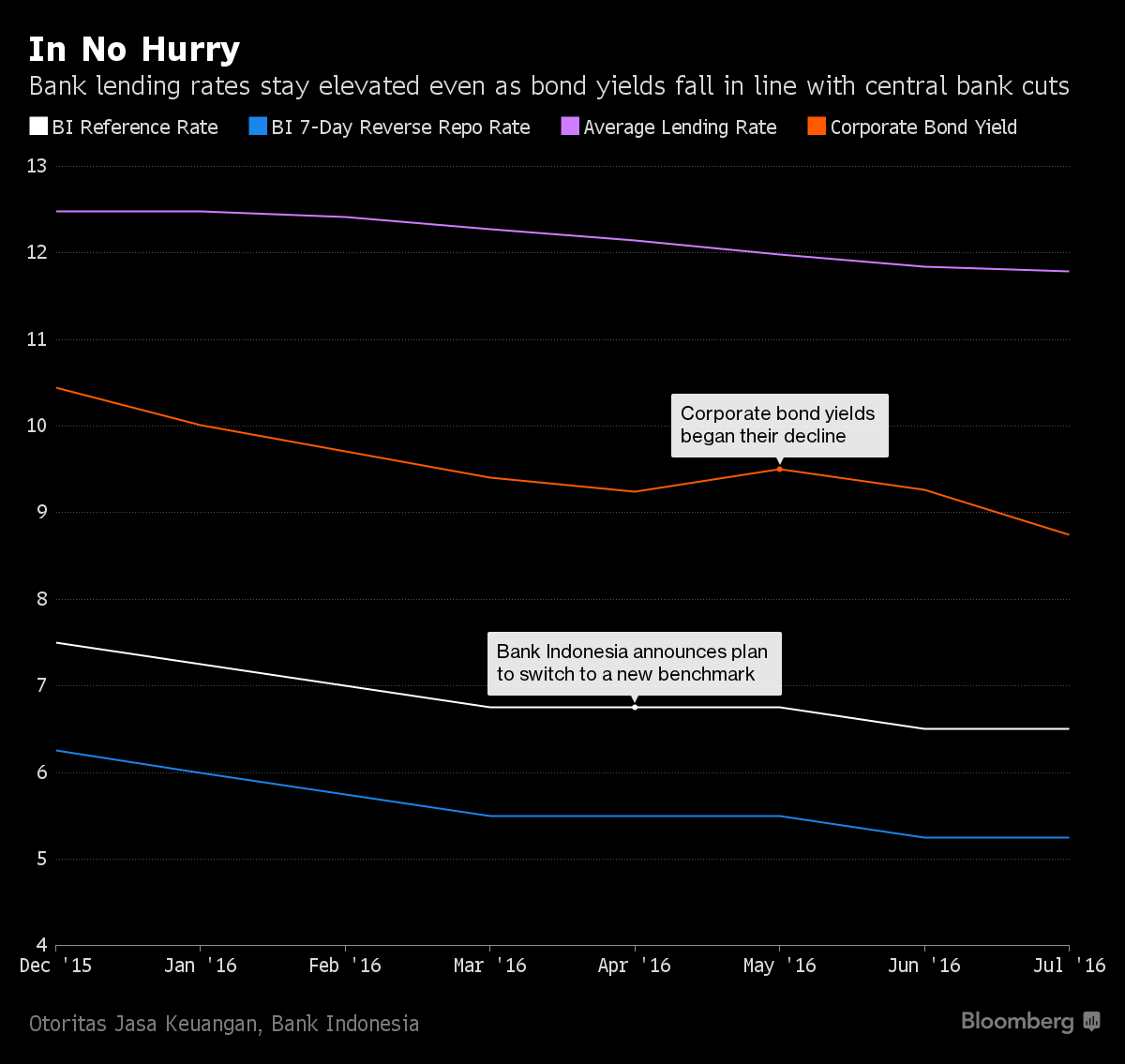 Average bank lending rates in Indonesia have fallen by 52 basis points this year through August, according to Zulverdi. In that period, the central bank made four cuts of 25 basis points each. During Bank Indonesia's last bout of easing when rates were lowered by 100 basis points over five months through February 2012, lending rates only declined 26 basis points. 
Central bank easing always takes time to filter through to the economy, said Wellian Wiranto, an economist at Oversea-Chinese Banking Corp. in Singapore. Indonesian lenders have long memories too, and many are probably wary after being burned in past periods of volatility, including spikes in inflation that came "out of the blue", he said.
"The policy rate suddenly goes up like crazy as well and banks that have positions for a low-rate environment suddenly get whacked," said Wiranto. "They have seen quite a few cycles."
Wiranto cited Bank Indonesia's decision to raise its reference rate at an unscheduled meeting in November 2014 to counter inflation triggered by a government decision to trim fuel subsidies. The central bank was also forced to raise rates in 2013 when the rupiah tanked amid tapering talks by the U.S. Federal Reserve, and five years earlier it hiked because of oil-price movements, he said.
Fed Hike?
External factors are again on the minds of Indonesian central bank officials as they prepare to meet: investors are pricing in about a two-thirds chance of a U.S. rate hike in December. The Federal Open Market Committee voted 7-3 for no change in September, with minutes released last week describing the decision as a close call and several members saying a hike was needed "relatively soon."
Indonesia's Finance Minister Sri Mulyani Indrawati said in an interview earlier this month that central bank decisions are "always driven by the evidence, the data," when asked whether her meetings with Fed Chair Janet Yellen conveyed a greater sense of urgency among U.S. officials.
"Many central banks in emerging countries, developing countries are already anticipating that this is going to come," Indrawati said, referring to tighter U.S. monetary policy.
Thursday's Decision
Fourteen of 26 economists surveyed by Bloomberg expect Indonesia's central bank to keep the benchmark rate at 5 percent on Thursday, while the rest predict a 25 basis-point cut.
Coordinating Minister for Economic Affairs Darmin Nasution said there was no reason to refrain from lowering the rate for a second straight month, with inflation at the lower end of the target band of 3-5 percent, local newspaper Kontan reported.
"We expect Bank Indonesia to give time for the effective transmission of monetary policy in the domestic financial markets after the interest rate cut last month," Juniman, chief economist at PT Bank Maybank Indonesia, who uses one name, said by e-mail. He expects the central bank will pause after cutting for a fifth time in September.
OCBC's Wiranto, on the other hand, said Bank Indonesia was likely not done cutting rates this year and wanted to make one more, probably before the U.S. election in November and the Fed decision in December.
"This month is the most likely candidate," he said.
Before it's here, it's on the Bloomberg Terminal.
LEARN MORE