business
Hilary Benn to Head U.K. Parliament Committee Studying Brexit
By and
'Remain' supporter defeats Brexit campaigner Kate Hoey

Yvette Cooper elected chair of Home Affairs Committee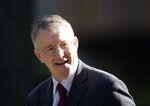 The U.K. opposition Labour Party's Hilary Benn was elected by fellow lawmakers to head a key parliamentary committee that will scrutinize the work of the government's Department for Exiting the European Union.
Benn, the party's former spokesman on foreign affairs and a campaigner for "Remain" in the June 23 referendum, defeated Kate Hoey, one of a handful of Labour members of Parliament who campaigned for Brexit, by 330 votes to 209, the U.K. Parliament said in an e-mailed statement on Wednesday.
Benn made clear in a statement before the vote that while he backed "Remain," he believes the "Leave" vote must be respected, and his goal will be to help ensure Britain gets the best possible deal in divorce negotiations with the EU's other 27 members. He was fired as Labour's foreign-affairs spokesman for criticizing party leader Jeremy Corbyn's lackluster performance in the referendum campaign.
The new Committee on Exiting the European Union moves to the head of a growing list of parliamentary inquiries into Brexit. A report from the Institute for Government published Wednesday noted that there were already 31 different investigations going on into different aspects of Britain's separation from the EU.
Uncoordinated Probes
This weight of uncoordinated probes could, paradoxically, harm scrutiny as turf wars break out on different issues and the same witnesses find themselves repeatedly called before different committees. The unusual size of the Brexit Committee -- 21 members, rather than the more usual 11 -- risks hampering its effectiveness, the IfG warned.
"Scrutiny of Brexit risks becoming a chaotic competition for the limelight, diverting huge amounts of ministerial and official time which might have been better spent elsewhere," report author Hannah White said.
Lawmakers also elected the following new committee chairs:
Culture, Media and Sport: Damian Collins
Home Affairs: Yvette Cooper
Science and Technology: Stephen Metcalfe
International Trade: Angus MacNeil
Before it's here, it's on the Bloomberg Terminal.
LEARN MORE