Hammond Says BOE's Policy Independence Isn't Under Threat
By and
Says monetary policy will continue to be set independently

Government has tools to remedy distributional impacts: Hammond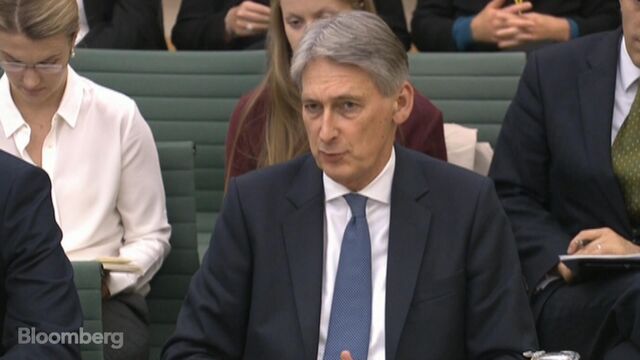 Chancellor of the Exchequer Philip Hammond said the U.K. government has no plans to change how the Bank of England operates.
Appearing before fellow lawmakers on Parliament's Treasury Committee, Hammond was asked about Prime Minister Theresa May's comments that monetary policy can have negative side effects and a "change has got to come." He said the remarks didn't presage an overturn of central bank independence.
"Monetary policy is the responsibility of the Monetary Policy Committee, which is independent," he said. "We have no plans to change the way monetary policy is delivered or managed in this country."
The issue of central bank independence has rumbled on since May's comments at the Conservative Party conference at the start of the month, with BOE Governor Mark Carney saying last week he wouldn't take instruction from politicians. William Hague, the former Foreign Secretary and Conservative leader, weighed in this week in a newspaper article, saying central banks' failure to reverse ultra-loose policy could cost them their independence.
Hammond rebuffed that idea, saying that "there will be no change in monetary policy. It is independently determined. That will continue to be the case."
Distributional Impact
Hammond said his understanding of the prime minister's comments on Oct. 5 was that the government recognizes that "monetary policy, which is an important tool of macroeconomic policy, has a distributional impact" and "to the extent that the government believes that distributional impact needs to be addressed or corrected, we also have tools available to us."
The BOE has faced criticism for undermining savers, disproportionately benefiting owners of assets, weakening banks and widening pension deficits with its loose monetary policy. It cut rates to a fresh record low and restarted bond buying in the wake of the U.K.'s vote to leave the European Union.
Follow @Brexit for the latest news, and sign up to our Brexit Bulletin for a daily roundup.
"There's been a great deal of focus on the impact of monetary policy easing on asset prices," Hammond said. "But an easier monetary policy has also delivered us 2.7 million jobs and there are a lot of people out there who may not own assets but do have a job."
Asked if he had seen May's speech before it was delivered, Hammond said these were internal party decisions. "I'm not going to comment on the internal arrangements that we have for coordinating and clearing speeches before party conferences," he said.
Pressed by Andrew Tyrie, who chairs the Treasury Committee, he repeated his answer. That's "blisteringly clear in its lack of clarity," Tyrie said.
— With assistance by Svenja O'Donnell, and John Ainger
Before it's here, it's on the Bloomberg Terminal.
LEARN MORE