Typhoon Kills at Least 8 in Philippines, Displaces Thousands
By
Haima, a Category 5 super typhoon, weakened when it hit land

Several provinces are still without power, phone lines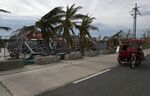 Typhoon Haima killed at least eight people with more than 90,000 evacuated as the strongest typhoon to hit the Philippines this year heads toward China after leaving vast areas flooded without electricity and communication lines.
Haima, a Category 5 super typhoon before it reached land, has moved back over water as a weaker typhoon with winds of up to 150 kilometers (93 miles) and gusts of up to 185 kilometers per hour as of 11 a.m. Manila time.
The storm is moving toward the coast of Guangdong, said the Hong Kong Observatory, which said it will consider issuing a strong wind signal 3. The U.S. military's Joint Typhoon Warning Center estimates that the storm will be 70 nautical miles from Hong Kong by Friday.
Four people were buried in separate landslides in the provinces of Ifugao and Benguet, while one is missing after being swept away by strong water currents, the Cordillera region's civil defense office said. At least eight people were dead and two missing, said Interior Department director Edgar Allan Tabell, warning of the possibility of more flooding and landslides as water runs down from the mountains.
Tens of thousands of people were evacuated to safer ground, the National Disaster Risk Reduction and Management Council said. In Pampanga province, north of Manila, more than 51,000 people were affected as 37 villages were submerged in flood water. Three dams in the region were opened, while three rivers had reached at a critical level. Power is out in six provinces, while the storm disrupted PLDT Inc. and Globe Telecom Inc.'s communication network.

"The government is preparing for road reconnaissance for initial assessment of the damages," Ricardo Jalad, chief of the Office of Civil Defense, said in a statement. The government had no immediate statistics regarding deaths or injuries, but local media reported that several people had drowned.
The second storm to hit the Philippines's main Luzon island in a week, Haima is nearly as powerful as Super Typhoon Haiyan, one of the strongest tropical cyclones ever recorded and which killed more than 6,000 people in 2013, state weather forecasters said.
About 3,500 people, 300 rolling cargoes and 33 vessels have been left stranded in various ports in Luzon, the coast guard said, and more than a dozen domestic flights were canceled, with seven airports in the provinces remaining closed. With the storm disrupting communications in some parts of northern Luzon, provider Globe Telecom Inc. said it was preparing to restore services.
Flooding is the biggest concern in areas already saturated by Typhoon Sarika last weekend, said Weather Underground. The United Nations Global Disaster Alert and Coordination said before the storm hit that Haima may have a "high humanitarian impact" and could affect as many as 11.6 million people.
The Philippines is among the world's most disaster-prone countries, experiencing an average of 20 cyclones a year that form over the Pacific Ocean.

— With assistance by Siegfrid Alegado
Before it's here, it's on the Bloomberg Terminal.
LEARN MORE