Wall Street Is Doing Just Fine With Fewer Workers
by and
Morgan Stanley revenue surges after axing 25% of unit's staff

Goldman fixed-income revenue jumps 49% after firm cut jobs too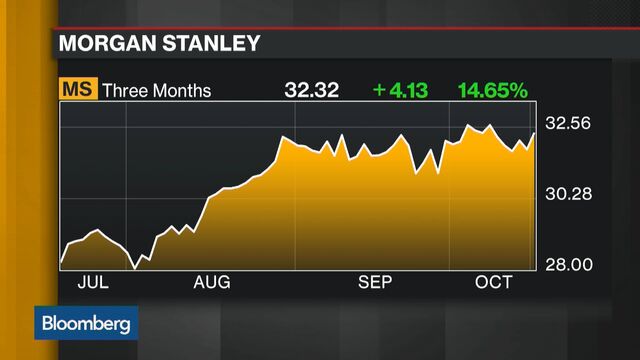 To the thousands of traders and salespeople who've lost their jobs since the financial crisis, Wall Street has a message: We're doing OK without you.
The five biggest U.S. investment banks reaped $20.7 billion in revenue from bond and stock trading in the third quarter, the most for the typically slow summer period since 2009. The gains came even after the world's 10 biggest firms, including European banks that haven't yet reported third-quarter results, sliced more than 5,000 front-office trading and investment-banking jobs in the past seven years, according to Coalition Ltd.

Investment banks have been eliminating workers as new regulations and low interest rates crimp profit and as widespread adoption of electronic trading makes some jobs obsolete. Alarmed at a particularly weak third quarter last year, Morgan Stanley slashed 470 jobs, or about a quarter of its fixed-income division. The result? Third-quarter bond-trading revenue almost tripled to $1.5 billion, the New York-based company said Wednesday.
"We had a better quarter," Morgan Stanley Chief Executive Officer James Gorman told analysts. "What I'm pleased about is, we did it with 25 percent less people."
The five firms -- JPMorgan Chase & Co., Bank of America Corp., Citigroup Inc., Goldman Sachs Group Inc. and Morgan Stanley -- posted a 26 percent jump in combined quarterly trading revenue from the previous year, according to Bloomberg Intelligence. All of the banks exceeded analysts' expectations for bond trading, spurred by the surprise U.K. referendum to leave the European Union, divergent views on the direction of central-bank rates and changes in money-market regulations. JPMorgan held the top spot in fixed income, reaping $4.3 billion in revenue, while Morgan Stanley remained No. 1 in equities, taking in $1.9 billion.
Net income climbed 47 percent at Goldman Sachs, the Wall Street firm most dependent on trading. It was up 57 percent at Morgan Stanley. And investment bank divisions within JPMorgan, Bank of America and Citigroup also boosted profits.
Goldman cut roughly 10 percent of its fixed-income staff this year, double the company's usual rate. About 250 people were affected, the Wall Street Journal said in January, suggesting the New York-based company had about 2,500 employees in the division at the beginning of the year. The slimmed-down operation pulled in $1.96 billion in third-quarter revenue, a 49 percent increase.
"We had excess on Wall Street for quite a while relative to the business that was being done," Charles Peabody, an analyst at Compass Point Research and Trading, said in a phone interview. Banks "are serious about the expense discipline and the potential for positive operating leverage once these markets return on a sustainable basis."
Some of the gains may be due to Deutsche Bank AG's woes, according to John Gerspach, Citigroup's chief financial officer. The Frankfurt-based lender has said it's losing out on business as it battles to retain confidence amid mounting legal charges. The firm might scale back its U.S. presence as part of a restructuring, people familiar with the matter said this week.
Questions Remain
A lingering question is whether the recent gains signal a long-awaited rebound in fixed income. Momentum has continued in the first two weeks of the fourth quarter, which should benefit from the U.S. election and an expected Federal Reserve rate increase, JPMorgan Chief Financial Officer Marianne Lake said last week. Still, it's too early to say whether the market's improvement will last, bank executives said.
"One quarter doesn't make a trend, and we're pretty comfortable with the decision we made" last year to dismiss traders, Morgan Stanley Chief Financial Officer Jonathan Pruzan said in an interview. "We're not changing our strategy."
Should the rise in trading convince executives the market has returned, it's unlikely they'd go on a massive hiring spree, according to Shannon Stemm, an analyst at Edward Jones & Co.
"They've gotten more efficient as a result of the restructuring of the last few years," Stemm said. "Some of these businesses are scalable, so you don't need to hire a lot more people if volumes return."
Before it's here, it's on the Bloomberg Terminal.
LEARN MORE