FIFA TV Dealmaker to Leave as Blatter-Era Clearout Continues
by
Niclas Ericson was responsible for World Cup TV-rights sales

Finance, marketing, travel department leaders have departed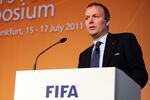 FIFA's top media dealmaker has agreed to leave the global soccer organization, two weeks after the exit of long-term marketing director Thierry Weil.
Niclas Ericson, FIFA's director of TV, will leave at the end of the year, according to a spokeswoman at the Zurich-based governing body. She had no further comment late Wednesday.
The personnel moves mark a continued erosion of FIFA's old guard, longtime employees who worked closely during the scandal-plagued reign of former president Joseph "Sepp" Blatter. Since his surprise election victory in February, FIFA's new president, Gianni Infantino, has replaced several senior executives at the organization, which is trying to emerge from a sweeping 2015 corruption investigation.
The divisions led by Weil and Ericson were responsible for almost all of FIFA's revenue. FIFA made $2.4 billion from the sale of TV rights to the last World Cup in Brazil, and $1.6 billion came from marketing rights to the tournament held in 2014.
FIFA recently appointed  Philippe Le Floc'h as its first chief commercial officer, leading both the television and marketing divisions.
The new president, Infantino, last week unveiled a blueprint outlining his vision for the future, which includes proposed changes to the way FIFA sells rights to the $5 billion World Cup. Earlier in his career Le Floc'h was the marketing director at UEFA, the governing body of soccer in Europe, where Infantino served as general secretary.
Before it's here, it's on the Bloomberg Terminal.
LEARN MORE