EON, Peers Start Counting Cost of $26 Billion Nuclear Exit
By and
Waste storage law clarifies utilities' clean-up obligations

EON sees 10 billion-euro cost, in line with estimate
EON SE and Vattenfall AB were the first two companies to provide details on the extent of utilities' nuclear liabilities after the German government on Wednesday approved a draft law on waste storage costs.
EON estimates it will pay about 10 billion euros ($11 billion) in total based on its preliminary assessment of the law, a figure in line with previous expectations, according to Carsten Thomsen-Bendixen, a spokesman for the Essen-based company. Swedish state-owned Vattenfall said it must pay 1.75 billion euros. RWE AG declined to provide a breakdown.
The draft law brings closer an end to talks on who funds the country's exit from atomic power, particularly the cost of storing the radioactive fuel, which has weighed on the companies' shares. German reactor owners have to pay 23.6 billion euros into a fund to free them from their atomic waste storage liabilities under the legislation that includes an option to make installments until 2026.
The law means nuclear clean-up costs won't be "carried one-sidedly by society and won't endanger the economic situation of utilities," German Economy and Energy Minister Sigmar Gabriel said by e-mail.
The legislation will pass to the lower house of parliament for three readings in coming weeks before a final vote. The government and utilities have said they want the law on the statute books by the end of the year.
Closing the Book on Nuclear Power Isn't Easy: QuickTake Q&A
The law guarantees funding for the shutdown, demolition and waste storage of nuclear reactors five years after the Fukushima disaster prompted Chancellor Angela Merkel to pull the plug on the nation's atomic industry. Nuclear power accounts for about 14 percent of Germany's electricity production, down from as much as 31 percent in 1999.
Under the draft, utilities can choose to pay in installments after a first payment of 20 percent in January. The total liability includes 17.4 billion euros that utilities have already set aside for nuclear waste storage, plus a 6.2 billion-euro "risk premium" to cover unexpected costs.
Risk Premium
EON's estimated liability includes 2 billion euros for the risk premium, which it has said it may fund through capital measures.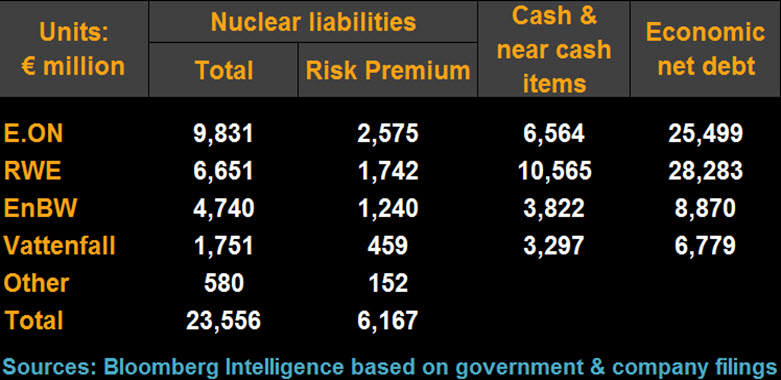 "The range of options includes everything from a traditional rights issue, to perhaps a mix of a smaller placement, small hybrid and some renewable asset sales," according to Sam Arie, an analyst at UBS Group AG.
RWE doesn't expect surprises on its payments to the fund, based on past draft versions of the law, spokesman Lothar Lambertz said by e-mail.
Energie Baden-Wuerttemberg AG officials weren't available to comment.
EON rose 0.3 percent to close at 6.801 euros in Frankfurt, paring the year's decline of 14 percent. RWE was little changed at 14.23 euros.
Before it's here, it's on the Bloomberg Terminal.
LEARN MORE