Draghi Seen Keeping Up Suspense on Future of ECB Stimulus Plan
By
ECB announces policy decision at 1:45 p.m. Frankfurt time

Economists expect extension of asset-purchase plan in December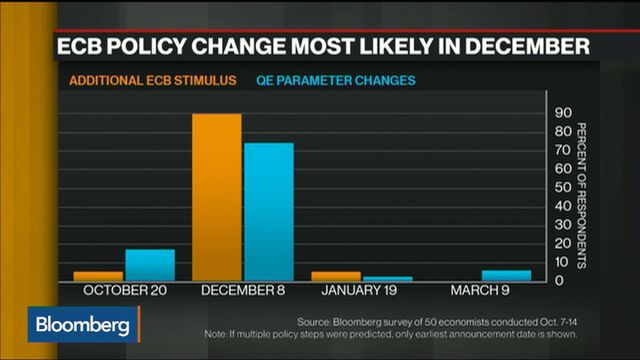 Instead of expanding stimulus just now, Mario Draghi might settle for keeping up the suspense surrounding it.
QuickTake Europe's QE Quandary
Quantitative easing is currently scheduled to end in March, stoking scrutiny of the European Central Bank president for any guidance about the future path of monetary policy. Economists surveyed by Bloomberg predict he is unlikely to announce fresh measures before December, even though growth remains feeble and consumer prices still closer to zero than the ECB's goal.
Click here to set a reminder to watch Draghi's news conference live.
In the run-up to Thursday's Governing Council meeting in Frankfurt, policy makers signaled that they're willing to extend the program before gradually phasing it out once inflation approaches 2 percent. In the meantime, ECB committees are working on strategies to redesign the facility to ensure that purchases can continue, after concerns emerged that eligible assets might be running low.
"Draghi will probably give a rendezvous to December," said Frederik Ducrozet, an economist at Pictet & Cie in Geneva. "A six-month QE extension would make sense. But on balance, it's too early and he may just say that all options are on the table."
To follow our TOPLive blog on the ECB's announcement and press conference, click here.
The central bank will announce its policy decision at 1:45 p.m. Frankfurt time, and Draghi will speak to reporters 45 minutes later. All economists surveyed by Bloomberg predict the ECB will keep interest rates and the pace of monthly asset purchases unchanged. A separate poll showed they also predict QE will eventually be extended.
The euro traded near its lowest level in almost three months against the dollar. The single currency was little changed at $1.0979 at 10:44 a.m.

Inflation -- the benchmark for the ECB's future course of policy -- is only slowly picking up. While Draghi said this month that price growth, currently at 0.4 percent, will be in line with the central bank's target by early 2019 at the latest, economists are less convinced. Only two-thirds predict the rate will reach such levels before his term expires in October of that year.

The ECB's current projections are built on expectations of "additional monetary policy measures," according to an account of last month's council meeting. Policy makers may draw on updated forecasts due in December to decide exactly how much more stimulus is needed. 
Any extension of QE will probably require a change in the rules governing the program. ECB Executive Board member Benoit Coeure told officials in September that purchases were leaving an increasing "footprint" in financial markets and some bonds were getting scarce.
While a sell-off in euro-area bonds has eased some of the pressure for the moment, the U.K.'s decision to exit the European Union and troubles at Deutsche Bank AG have shown that spikes in demand for safer assets have the potential to reduce the pool of eligible debt by pushing yields below a self-imposed requirement.

Draghi will probably face questions over reports that some policy makers have started to think about how to slow stimulus when the time comes. The Governing Council hasn't formally discussed the topic but officials have signaled that QE will eventually be tapered -- a process the majority of economists predicts will start in the second half of 2017 or later.
Other topics that may come up during the press conference include European banks, many of which are struggling with non-performing loans, mounting regulatory hurdles, and low profitability as a result of the ECB's negative-rate policy. The region's bank stocks have lost more than 23 percent of their value this year, sparking concern among officials that a drop in equity prices risks hampering lending.

"There's been a lot of discussion recently among central banks about the impact of negative rates and low yields on bank profitability, which the ECB so far has sold as a success," said Kristian Toedtmann, an economist at Dekabank in Frankfurt. "If Draghi can go into what some of the negative side effects are and how to avoid them, that could help set the stage for more stimulus in December if it is needed."
— With assistance by Anooja Debnath
Before it's here, it's on the Bloomberg Terminal.
LEARN MORE