technology
LinkedIn Says Arrested Russian Hacker Tied to 2012 Cyber Breach
By , , and
Suspect is wanted by the FBI and may be extradited to U.S.

U.S. official says suspect not tied to recent political hacks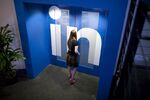 LinkedIn Corp. said a Russian man arrested by Czech police for alleged hacking was probably involved in the 2012 breach of its professional networking site that compromised more than 6 million users' passwords.
Czech police said they arrested a Russian citizen suspected by the Federal Bureau of Investigation of hacking targets in the U.S. Officers alerted by a so-called Red Notice from Interpol detained the Russian man at a hotel in Prague, the police said in a statement on their website published late Tuesday. They said the man, whom officials didn't name, had been moving around the country in a luxury car with his girlfriend.
"We are thankful for the hard work and dedication of the FBI in its efforts to locate and capture the parties believed to be responsible for this criminal activity," LinkedIn, the professional social-networking site being purchased by Microsoft Corp., said Wednesday in an e-mailed statement.
The Prague city court ordered the suspect to remain in custody as authorities decide whether to extradite him to the U.S., according to the police statement.
"The suspect was so surprised by the police action that he put up no resistance," the police said. "Immediately after the detention, the man exhibited signs of collapse and police had to provide first aid and, in the end, he was hospitalized."
'Actively Involved'
LinkedIn said in its statement that it has "remained actively involved with the FBI's case" since the 2012 breach.
The Mountain View, California-based company said in May that it was investigating whether the 2012 breach was bigger than originally thought, after a hacker's attempt to sell what was purported to be login codes for 117 million accounts. Like many internet companies that have been breached, LinkedIn had only required a reset of passwords that it believed were part of the breach at the earlier time, which amounted to 6.5 million users.
Political Hacks
A U.S. law enforcement official, who spoke on condition of anonymity because the investigation is continuing, said the man arrested wasn't connected to more recent political hacks in the U.S. and that he wasn't detained as part of a reprisal against Russia, which President Barack Obama's administration and intelligence officials have blamed for security breaches aimed at affecting the presidential campaign.
Democratic presidential nominee Hillary Clinton has also blamed Russian President Vladimir Putin for leaks of hacked e-mails that have hit her campaign. The Russian leader has scoffed at the charges as "hysteria" and said Obama's government wants to distract the attention of Americans from the substance of the hacked material.
The FBI declined on Wednesday to provide additional details on the arrest by the Czech police, citing the continuing investigation. In an e-mailed statement, the bureau cited the arrest as an example of the "the collaboration that exists between US law enforcement and our international partners."
Before it's here, it's on the Bloomberg Terminal.
LEARN MORE