politics
Christie's Circle Knew of Bridge Plot, Lawyer Seeks to Show
By
Christie spokesman says he didn't ask boss about traffic jams

Kelly's lawyer claims governor's inner circle scapegoated her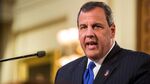 New Jersey Governor Chris Christie's former press secretary said he never asked his boss if he was aware of the George Washington Bridge lane closings in 2013, even though a reporter asked that question within days of them ending.
Michael Drewniak, the former spokesman, testified Wednesday at the trial of two former Christie allies accused of closing access lanes to the bridge. Prosecutors say they created gridlock to punish the mayor of Fort Lee, for not endorsing the governor's re-election 2013.
Drewniak told jurors that a Wall Street Journal reporter asked about the governor's knowledge of the lane closings on Sept. 17, 2013, four days after the gridlock ended.
"Did you go to the governor and say, 'Governor, were you aware of these closures?' " an attorney for defendant Bridget Anne Kelly, a former deputy chief of staff for Christie, asked in federal court in Newark. Drewniak said he did not, and Critchley asked why.
"I didn't see any reason to bother the governor with this," said Drewniak, who now works at NJ Transit.
For more information on the bridge scandal, click here
Kelly's attorney, Michael Critchley, has spent considerable time at the trial, which is now in its fifth week, trying to show that Christie's inner circle knew about the traffic plot and never wanted to investigate it afterward, for fear it would damage the governor's political ambitions. Critchley has tried to cast Kelly as a convenient scapegoat for Christie's close allies.
Kelly is on trial with Bill Baroni, the former deputy executive director of the Port Authority, which runs the bridge. Drewniak appeared after Baroni finished his third day of testimony, saying that David Wildstein, a former Christie appointee at the Port Authority who admitted to dreaming up the traffic plot, duped him by saying the gridlock was a traffic study.
Lane Closings
Drewniak testified that he learned about the lane closings from Wildstein, who told him it was part of traffic study. Wildstein also told him Kelly and Bill Stepian, Christie's campaign manager, knew about the lane closings. Drewniak said he relayed that information on Oct. 18, 2013, to Charles McKenna, the former chief counsel, who has previously denied such a conversation took place.
On the same day, Drewniak said he sent an e-mail to Christie's then-chief of staff, Kevin O'Dowd, warning of the creation of a legislative committee with subpoena power to investigate the scandal.
Drewniak also recounted a steak dinner he shared with Wildstein on Dec. 4, 2013, just before Wildstein resigned under pressure. He said Wildstein told him again that Kelly and Stepien were aware of the lane closings, and that he had told Christie about them at a Sept. 11 memorial service at the World Trade Center.
The next day, Drewniak said, he told Christie what Wildstein had said at the dinner. Christie, he said, didn't respond. In his earlier testimony, Wildstein said he and Baroni bragged to Christie at the ceremony about the traffic, and the governor laughed. Christie and Stepien have denied knowledge of the plot.
Kelly is expected to take the witness stand by the end of the week.
The case is U.S. v. Baroni, 15-cr-00193, U.S. District Court, District of New Jersey (Newark).
Before it's here, it's on the Bloomberg Terminal.
LEARN MORE