Donald Trump's China Rants Are Ten Years Out of Date
by
GDP data underscore China shift away from reliance on exports

Trump's proposed 45% tariff on China would slam both economies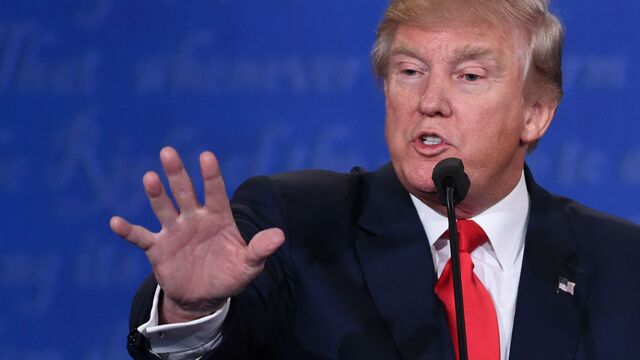 Donald Trump has fired up his base of supporters with the accusation that China's stealing American jobs and gaming its currency to stoke exports.
"They are a manipulator, grand master level," the Republican U.S. presidential candidate said in a speech at the New York Economic Club last month. He vows to impose punishing trade tariffs of up to 45 percent if China doesn't change the predatory practices he sees.
Such fiery rhetoric is powerful, but the characterizations are dated -- by about a decade.
This year shows the U.S. now has far more to fear from an economically hobbled China, where growth is the weakest in decades. In January, the prospect of a Chinese hard landing contributed to a sell-off in stocks in America and around the world. China's stabilization, through pumping up domestic demand and shifting away from its historic reliance on exports, put a floor under the global economy and markets.
For more on China's latest economic indicators, click here.
China's efforts to wean itself off of exports were visible in the latest data released on Wednesday, which showed public investment and consumption were key pillars to the country's stable 6.7 percent growth last quarter. China's services sector now accounts for more than half of its $11-trillion economy, while exports are shrinking.
"Donald Trump's views on China do seem stuck in a time warp," said David Loevinger, a former China specialist at the U.S. Department of the Treasury and now an analyst at fund manager TCW Group.

China no longer appears the mercantile superpower that Trump represents. That was more applicable back in 2005, when the country's current-account surplus was still swelling and before it loosened a long-held currency peg to the dollar. The surplus is now less than 3 percent of gross domestic product, compared with the peak of near-10 percent in 2007. The IMF predicts a continued drop to just 0.8 percent by 2021. And rather than actively drive down its currency, China has drawn down foreign exchange reserves to stem its slide and limit destabilizing capital outflows.
Currency Policy
Western trading partners, including the U.S., have abundant evidence for criticizing China over dumping steel on the global market, its glacial financial-market reforms and corporate-debt binge. It's tougher to characterize China as a currency manipulator. True, its currency has weakened 3.7 percent this year. Yet the yuan has appreciated by more than 22 percent since China abolished its currency peg in 2005.
In the increasingly unlikely event of a Trump administration that slapped punitive tariffs on China, the move would court a devastating trade war that would hurt both economies, TCW's Loevinger said.
While the U.S. continues to have a gaping goods-trade deficit with China, its exports of services to the country are growing rapidly, reaching $42 billion in 2014 and making it the U.S. fourth-largest services export market, according to the U.S. China Business Council. Between 2006 and 2014, services exports to China grew more than 300 percent.

China is also an increasing source of investment capital for the U.S., as its companies and households seek to diversify their holdings at least in part to the world's No. 1 economy. As No. 2 -- and No. 1 when it comes to global growth contribution -- the damage from Trump-style tariffs to China would cause pain felt round the world. It would be highly contractionary, deflationary and wipe hundreds of billions off China's GDP, according to Kevin Lai, chief economist for Asia excluding Japan at Daiwa Capital Markets in Hong Kong.
Doubling Up
A trade war with China could hamper U.S. access to an economy that's increasingly consumer driven. Retail sales in the country climbed 10.4 percent in the year through September compared with 2015, a pace that would see them more than doubling by 2023. The gains are vastly outpacing manufacturing, which rose 6 percent by the same measure.
"His remarks about the yuan being undervalued and the Chinese stealing U.S. manufacturing jobs were headlines from the long past," Cao Heping, a professor at Peking University's school of economics, said of Trump.
Debate Mention
The China issue featured in the first Trump debate with Democratic rival Hillary Clinton, though wasn't a focus of their final encounter on Wednesday night at the University of Nevada-Las Vegas. Trump in the first tete-a-tete accused China of manipulating its currency. 
A separate area where the China question has been environmental policy. The Trump campaign criticized Clinton for a climate plan that would put costs on the U.S. even as China keeps increasing emissions, the New York Times reported Wednesday.
Trump hasn't been alone in criticizing trade with China. Former Democratic candidate Bernie Sanders repeatedly highlighted his opposition in congressional votes to trade deals that ended up, in his view, enabling an exodus of U.S. manufacturing jobs to China among other countries.
Clinton has said she will take tougher action against "unfair trade practices like when China dumps cheap steel in our markets." At the same time, she drew a contrast in June with Trump, whom she said "wants to start a trade war with China." She went on: "We went down that road in the 1930s. It made the Great Depression longer and more painful."
Xi Worries
The candidates' would-be counterpart, President Xi Jinping, continues to grapple with domestic economic challenges. His government is still relying on cheap credit to keep economic activity moving forward, as private companies limit their investment. Surging house prices in the biggest cities are casting a long shadow.
And China's policy makers have work to do to prove they're committed to opening the economy more to private and foreign competition. There have been tensions over restrictions on foreign investment -- so much so that China is considered the most closed of major economies by the Organization for Economic Cooperation and Development.
Few dispute that China's cheap manufacturing base has over time hurt employment and wages at America's factories. In the first eight months of 2016, the U.S. ran up a $225 billion trade gap with China.
It's also true that China needs to get a grip on its growing debt pile and unproductive state-dominated industries. Researchers at the International Monetary Fund this week said authorities in Beijing need to urgently rein in corporate debt.
Yet unlike the mid-2000s, when China grew at double-digit rates thanks primarily to export-fueled growth, the current Chinese economy is far more balanced.
"Trump's ideas about China sound old to me," said Alicia Garcia Herrero, chief economist for Asia Pacific at Natixis SA in Hong Kong. "But it is also in the world's interest that China resolves its long-standing issues to lift productivity even at the cost of lower growth. That is healthier for the world in the medium run."
Before it's here, it's on the Bloomberg Terminal.
LEARN MORE