Canada Stocks Rise to Highest Since June 2015 as Resources Surge
By and
Governor Poloz says Bank of Canada actively discussed stimulus

Crude rises to highest in 15 months as U.S. inventories fell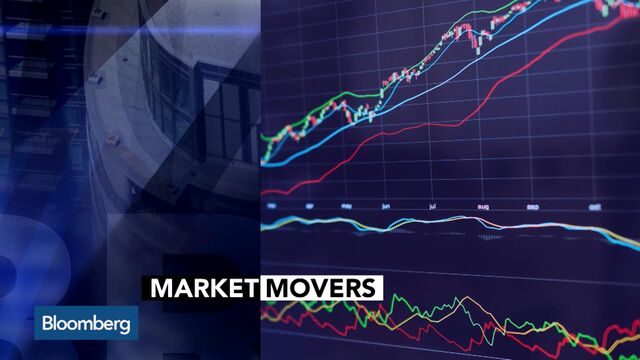 Canadian stocks jumped to a 15-month high as the nation's resource-rich equity index advanced with oil and gold prices. Shares also got a boost from the prospect for additional stimulus as the Bank of Canada dimmed its outlook for the domestic economy.
The S&P/TSX Composite Index rose 0.6 percent to 14,840.49 at 4 p.m. in Toronto, as a third day of gains pushed its advance in October to 0.8 percent. The Canadian equity benchmark is up 14 percent this year amid rallies in miners and energy producers that make up one-third of the index, making it the top performing developed equity market in the world ahead of the U.K. and New Zealand.

"You've got oil and gold up, that's really fueling Toronto right now," said Norman Levine, a fund manager with Portfolio Management Corp. in Toronto. The firm manages about C$550 million and has recently begun positioning its portfolios for a higher interest rate environment and stimulative infrastructure spending in Canada, including adding a position in Edmonton engineering firm Stantec Inc., Levine said.
Raw-materials and energy producers paced gains Wednesday, jumping at least 1.3 percent as crude prices surged to the highest levels in 15 months. Crude has rallied as OPEC members look set to enact a production cut that would reduce supply. Oil got a boost Wednesday amid a decline in U.S. stockpiles, according to weekly industry data that showed inventories dropped by 3.8 million barrels.
Raw-materials producers surged as gold advanced to its highest in two weeks. The metal's appeal improved as the dollar weakened amid speculation the Federal Reserve will gradually tighten monetary policy. Gold had its first back-to-back gains in almost a month on Tuesday. Barrick Gold Corp. soared 7.5 percent for the biggest gain in a month.
While the Fed considers the timing for higher interest rates, the Bank of Canada maintained its benchmark lending rate and reduced the nation's growth profile on weakness in exports and new housing rules. Governor Stephen Poloz said the central bank "actively" discussed the possibility of adding more stimulus to jump-start the economy. However, the increased amount of uncertainty stayed his hand.
While the prospect for more stimulus would underpin Canadian equity gains because lower rates would boost the economy, adding to corporate profits, tighter monetary policy in the U.S. would signal growth there, bolstering prospects for Canada's exporters Levine said. America is Canada's largest trading partner.
"As the U.S. economy improves the Canadian economy will improve," he said. "You'd be surprised how soon we will raise rates. We will eventually follow what the Fed does because our countries are so tied."
Corporate results continue to show a mixed picture for the nation's largest companies. Canadian Pacific Railway declined 1.87 percent as it reduced its full-year profit target amid a 9 percent revenue decline. Canada's second-largest railroad has reduced staff and parked locomotives amid falling revenue.
Canadian stock valuations are 17 percent higher than their U.S. peers, with the S&P/TSX carrying a price-earnings ratio of 23.6 compared with 20.1 for the the S&P 500 Index, according to data compiled by Bloomberg.
Before it's here, it's on the Bloomberg Terminal.
LEARN MORE