Calstrs CIO Ailman Sees Reduced Returns After Asset Prices Jump
By
'There's nothing that's really cheap in the world,' he says

Pension fell shy of target with 1.4% gain in last fiscal year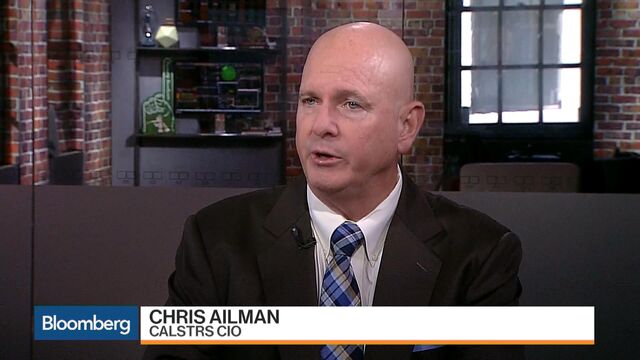 Chris Ailman of the California State Teachers' Retirement System is bracing for low returns in years to come after the sharp rise in prices for stocks, bonds and privately traded assets.
"We think you're going to see returns in a lot of asset classes continue to compress," Ailman, the chief investment officer of the $193 billion retirement system, said in a Bloomberg Television interview that aired Wednesday. "There's nothing that's really cheap in the world."
Calstrs, the second-largest U.S. pension fund, is pulling money from outside firms, joining retirement systems in New Jersey and New York in seeking to reduce high management fees. Calstrs investments earned 1.4 percent in the fiscal year through June 30, the second-consecutive year it missed its annual target of 7.5 percent. Recent returns, even with many markets up in 2016, haven't raised prospects of beating the goal, according to Ailman.
"It's still going to be a tough year," he said. "Two to three years is going to be a challenge."
Private equity, hedge fund, real estate and infrastructure investments may outperform publicly traded securities but the spread is likely to decline, Ailman said. Private equity now earns about 3 percentage points net of fees more than public equities, he said, down from historic averages of 5 percentage points. Emerging markets still offer select opportunities.
Internal Managers
"It's not one big asset class," he said. "It's a whole bunch of individual markets."
Calstrs is seeking to improve returns by moving about $20 billion to internal managers rather than paying fees to outside firms under a strategic goal approved two years ago. U.S. equities cost about one-tenth to manage internally compared with external managers, according to spokesman Ricardo Duran.
Calstrs is hiring as many as six investment managers with backgrounds in environmental, social and governance issues, according to an announcement this week. Considering those three factors in investing can yield better long-term results, Ailman said in the interview.
"If you cut corners to make us money this year, it doesn't help me," he said. "I need money to be made over the next 10 and 20 and 30 years. We need them to make money in a more sustainable fashion."
— With assistance by Jason Kelly
Before it's here, it's on the Bloomberg Terminal.
LEARN MORE