Brexit Bulletin: Merkel Says 'Nein' to May
The Iron Chancellor takes a tough line.
By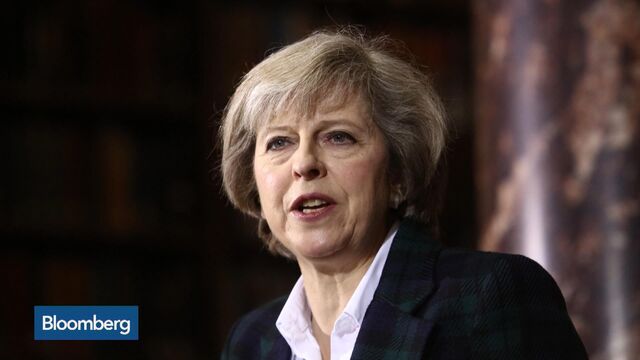 Sign up to receive the Brexit Bulletin in your inbox, and follow @Brexit on Twitter.
German Chancellor Angela Merkel is going on the offensive over Brexit, telling officials to avoid any back-door contacts that could give the U.K. a negotiating advantage.
Merkel's chancellery is receiving U.K. diplomats but politely refusing to grant Britain any favors in advance of the official negotiations, according to two people familiar with the matter. Officials at some ministries have been instructed to shun formal contacts with U.K. counterparts that could reveal negotiating positions, another person said. 
The pound erased a gain versus the dollar as Merkel kept her focus on maintaining a united EU front against the U.K., even at the risk of curbing economic ties. It may disappoint Prime Minister Theresa May, who had hoped by promising to start the official talks by April that EU governments would be willing to engage informally beforehand. 
"We're waiting for the U.K. to trigger its exit from the European Union first," Merkel said during a party meeting last weekend.
The Trials of Theresa May
The trial over whether May can unilaterally begin Brexit talks ended Tuesday with the three judges promising to make a decision quickly.
At stake is whether Parliament should be allowed a role in deciding when to trigger Article 50 of the Lisbon Treaty, which starts the process of withdrawing from the European Union. May and her lawyers say that is her prerogative. 

While the judges didn't express strong opinions, one lawyer who sat through the hearings said the court might be "sympathetic" to the arguments calling for greater parliamentary scrutiny.
"The court does see a proper question of law at the heart of the dispute and does want to resolve the question," said Jolyon Maugham, a lawyer at London's Devereux Chambers.
If the lawsuit succeeds, May would have to face down pro-EU lawmakers in her own party, as well as a majority of the opposition Labour Party and all the Scottish National Party. 
The pound rose on Tuesday after government attorney James Eadie said any treaty from negotiations will "very likely" go to both houses of Parliament for ratification. Sterling would likely rise again if May loses, although she would be expected to appeal. 
Trade Ties Take Time
Economists are warning the U.K. it will take a while to strike a a new post-Brexit free trade agreement with the EU. 
Fifty-five percent of respondents to a Bloomberg survey say it will take between two and five years. Twenty-four percent foresee it taking longer than five years.
"It's highly unlikely that we can negotiate an FTA with the EU within two years," Luis Garcia, Matrix Chambers international trade lawyer and a former Mexican trade negotiator, told Bloomberg Television. "There are many complexities and external factors, political factors that will make it a bit more complicated."

Such timeframes risk exposing the U.K. to tariffs from the World Trade Organization, which average 5 percent across exports. HSBC economist Doug Lippoldt told clients in a report yesterday that the real pain would come via non-tariff barriers and regulatory impediments, the cost of which could be two to three times higher than duties.
The Bank of England yesterday published "cartograms" showing which countries trade the most with the U.K.
No Brexit Regrets
A renewable-energy boom in northern England is providing some insulation against Brexit.
Denmark's Dong Energy, the world's biggest installer of offshore wind turbines, last month announced a new servicing hub for at least three offshore wind farms as part of its plan to invest £6 billion ($7.4 billion) in Grimsby and the Humber by 2019.
"I don't think Brexit changes anything because we've got projects in the pipeline and we've got our funds committed up to 2020," Brent Cheshire, U.K. chairman for Dong Energy, told Bloomberg's Jessica Shankleman.

Brexit Bullets
On the Markets
Exporters and tourists are rejoicing as the pound sticks around 30-year lows, while British consumers are feeling the pinch. Today we have a complete guide to the winners and losers from sterling's slide.

Currency-market operator LMAX Exchange said Tuesday it will file with Irish regulators in January unless U.K. politicians ensure continued access to Europe's markets.
And Finally...
How will Brexit affect your football club? The makers of "Football Manager" have introduced a simulator of Britain's withdrawal from the EU into a version that hits the shops next month, according to the Daily Telegraph. Among the scenarios gamers will have to address is an announcement that their players from the EU will need work permits, according to Miles Jacobson of developer Sports Interactive.
"If we already had these rules in place, players such as N'Golo Kante and Dimitri Payet would not have been able to gain work permits to move to the Premier League. That's two of last season's three best players."
For more on Brexit follow Bloomberg on Twitter, Facebook and Instagram, and see our full coverage at Bloomberg.com
Before it's here, it's on the Bloomberg Terminal.
LEARN MORE