Brazil Central Bank on Verge of Turning Point as Inflation Eases
by and
Inflation expectations are closer to central bank's target

Cut signals start of recovery from Brazil's deepest recession
For six years, Brazil's central bank failed to achieve its mandate of ensuring price stability, damaging its credibility and eroding Brazilians' purchasing power. Even as the nation's economy nose-dived into the worst recession on record, policy makers had little choice but to stick with one of the highest interest rates among G-20 nations.
But now, with central-bank inflation projections finally on target, a highly experienced economic team in place and a government committed to fiscal discipline, Brazil is on the verge of monetary easing for the first time since 2012.
All but two of the 58 analysts Bloomberg surveyed ahead of the bank's decision on Wednesday expect a cut in Brazil's benchmark rate, currently at 14.25 percent. But even if the committee, led by President Ilan Goldfajn, decides to delay monetary easing, the meeting marks a watershed in Brazil's economic cycle.
"Inflation is starting to abate, interest rates could become less restrictive and everything begins to head towards normalcy," said Alberto Ramos, chief Latin America economist at Goldman Sachs Group Inc. in New York. The meeting represents "the point at which the recession begins to ease."
Since taking office in June, Goldfajn has had little room to cut the Selic. Annual inflation in the 12 months through September was 8.48 percent, well above the bank's target of 4.5 percent. But September's monthly price appreciation of 0.08 percent was the slowest in more than two years. The bank's latest survey of economists shows inflation expectations around the 5 percent mark by the end of 2017.
Last week, state-owned oil company Petroleo Brasileiro SA announced plans to reduce fuel prices. Following the announcement, more analysts forecast a larger rate cut by the end of this year, according to the bank's survey.
Even before the improved outlook, Goldfajn's new and more transparent communications strategy caused volatility in interest-rate swaps to subside and inflation expectations to drop.
"Ilan's credibility is assured," said Bruno Rovai, an economist at Barclays Plc in New York. "Inflation expectations are anchored from 2018 onward."
Traders also are betting on a rate cut at Wednesday's meeting; swap rates fell by midday but still showed them divided between expectations of 25 and 50 basis points.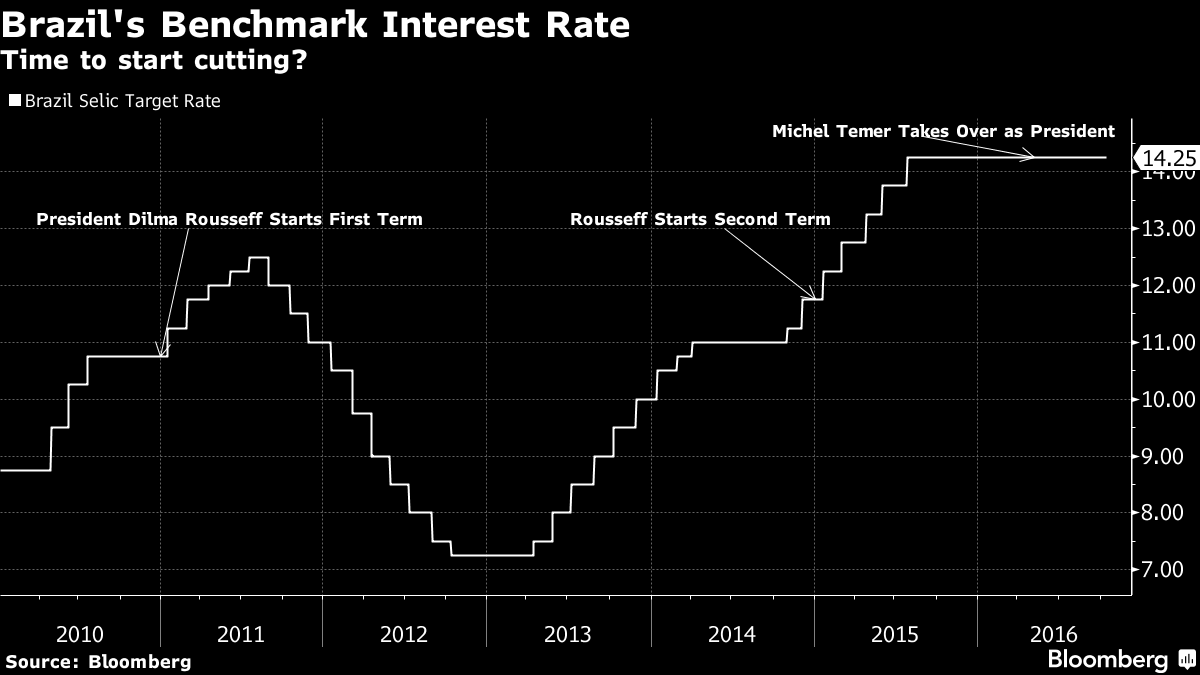 Goldfajn is a key member of what Goldman Sachs dubbed a "dream team" of economic experts Michel Temer appointed to the cabinet when he became president on an interim basis in May. He was confirmed in office at the end of August after Brazil's Senate voted to impeach Dilma Rousseff for bypassing Congress to finance government spending. Other new cabinet members include Finance Minister Henrique Meirelles, a former central bank chief who succeeded in slashing inflation during his eight years in office, and Mansueto Almeida, an expert on public finances.
Carlos Kawall, the chief economist at Banco Safra SA and former head of the national treasury, credits the rate-cutting conditions to greater "consistency" in the Temer government's policies. Business confidence was starting to recover even before Goldfajn was confirmed in office, but the circumstances leading to a new cycle of monetary easing was "90 percent consistent macroeconomic work and 10 percent luck," Kawall said.
For a QuickTake explainer on Brazil's economic slump and political turmoil, click here.
Since Temer took over, he has repeatedly stressed his commitment to fiscal discipline following three years of primary fiscal deficits under Rousseff. So far, the strategy appears to be paying off. The real has strengthened 23 percent this year, and the nation's benchmark equity gauge, the Ibovespa, has risen 47 percent on investor perception that he has the political capital to push through structural changes in Brazil's economy.
Temer passed the first test of his legislative strength in early October, when the lower house approved a constitutional amendment to freeze public spending in inflation-adjusted terms for the next 20 years. Despite impassioned opposition in Congress, the government secured the support of well over the necessary three-fifths majority.
The legislation requires a second vote in the lower house before another two votes in the Senate, but the margin of the government's victory suggests the measure probably will be adopted.
Helping Companies Deleverage
For Andre Perfeito, chief economist at the brokerage firm Gradual Cctvm SA, the spending cap makes sense alongside a "strong cycle" of rate-cutting.
"All the demand-side indicators continue to fall, there's still a lot of slack, so an interest-rate cut helps families and companies to deleverage," he said.
The spending cap isn't the only painful measure the Brazilian government plans to adopt. A controversial proposal to change the country's pension system is also imminent. If that fails, the government's plans of shoring up Brazil's public finances probably won't succeed, according to Almeida, the Finance Ministry's secretary of economic monitoring.
Even if Wednesday's central-bank decision marks the start of a period of monetary loosening, the path to recovery promises to be long and arduous, according to Goldman Sach's Ramos, pointing to Brazil's significant output gap and persistent slack in its labor market.
"It's going to take several years and it's going to be very costly to solve Brazil's problems," he said. "There's no David Copperfield who can solve overnight the damage that has been done over the past few years."
Before it's here, it's on the Bloomberg Terminal.
LEARN MORE