Belichick's Rant About Surface Tablets Does Little to Ease Seattle-New England Rancor
Seattle and New England are at it, again
By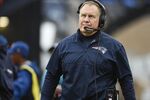 New England is raising hackles in Seattle yet again.

Less than two years after the NFL's Patriots defeated the Seahawks in Super Bowl XLIX -- ending in a last-minute interception that broke Seattle fans' hearts -- the New England team continues to arouse the ire of folks in the Pacific Northwest, with local company Microsoft firing back after Patriots Coach Bill Belichick publicly trashed its Surface tablets Tuesday.
"We respect Coach Belichick's decision, but stand behind the reliability of Surface,'' the Redmond, Washington-based company said in a statement Wednesday. Microsoft was responding to the coach's declaration that he's had it with using the devices, saying they are unreliable on the sidelines during NFL games. "We continue to receive positive feedback on having Surface devices on the sidelines from coaches, players and team personnel across the league. In the instances where sideline issues are reported in NFL games, we work closely with the NFL to quickly address and resolve," Microsoft said. 
In a rant timed at over five minutes, Belichick told reporters he's "done with the tablets. I've given them as much time as I can give them. They're just too undependable for me." Earlier this month, he smashed his Surface on the sidelines of a game -- though that may have been because his team was losing to the Buffalo Bills.


The software maker has a $400 million deal with the National Football League to let teams use the tablets on the sidelines for the past three seasons, and Belichick's tirade isn't the first time the brand has taken a beating. Last fall, Green Bay quarterback Aaron Rodgers threw a Surface in frustration, and Johnny Manziel, then Cleveland's quarterback, smashed one against his head repeatedly after throwing an interception.

It also wasn't the first time Microsoft was pulled into a skirmish with the Pats. Last January, the tablets stopping working in front of 50 million viewers during the Patriots AFC Championship game, a clip that was replayed endlessly on social media and that Microsoft blamed on network issues in the stadium.
Often, particularly in the early days, commentators referred to them as iPads -- rival Apple's far more successful tablet brand. Of course, when the device fails, everyone remembers it's a Microsoft Surface. 
Before it's here, it's on the Bloomberg Terminal.
LEARN MORE