Wanda Unveils Studio Rebates, Says Lions Gate to Use Qingdao
by and
Chinese group to offer more than $150 million in rebates

Conglomerate will provide discounts of 40 percent for studio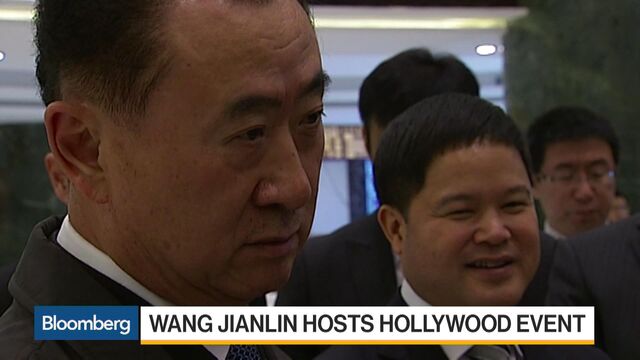 Billionaire Wang Jianlin's Dalian Wanda Group Co. unveiled subsidies worth more than $150 million a year to lure film makers to his new studio complex in China's coastal city of Qingdao. 
Wanda, the flagship of Wang's entertainment, real estate and finance conglomerate, will provide as much as a 40 percent rebate for some production costs at Qingdao Oriental Movie Metropolis, Senior Vice President Jack Gao said Monday in Los Angeles. Companies including Lions Gate Entertainment Corp., Arclight Films and Wanda's own Legendary Entertainment have agreed to use the Qingdao facility, Wanda said.
"It is certainly going to be attractive to film makers to look at that high of a percentage back," said Steve Weizenecker, a partner at Barnes & Thornburg, specializing in tax incentives for film and television. "For the big studios that number is big and can certainly be something that moves the needle for them."
Wang, 61, is in Los Angeles to promote a growing entertainment empire that agreed last month to collaborate on movie projects with Sony Pictures and this year acquired independent film producer Legendary Entertainment for $3.5 billion. Wanda's U.S. theater chain, AMC Entertainment Holdings Inc., has agreed to buy Carmike Cinemas Inc., which would make it the biggest domestic cinema operator, and is also buying Odeon & UCI Cinemas in the U.K.
"China will be half of the global market," Wang said. "If you want to make money in this market, you will have to understand and please Chinese audiences."
The 200-hectare (494 acre) Qingdao complex, is set to fully begin operations in 2018, Wanda said. The grounds will include an underwater studio, animation facility and film lots reflecting Europe and Chinese capitals in the Ming and Qing Dynasties. Plans for the 50 billion yuan ($7.4 billion) development also include movie-oriented museums, resort hotels, a yacht club and a hospital at the site about 340 miles (550 kilometers) north of Shanghai. 
Costs eligible for the rebate include Qingdao-based production spending, including for the sound stage, backlot, and on location, said Gao, who heads international investments at Wanda's cultural division. Extras, meals, accommodations, transportation during shooting, costumes, props rental, and even post-production are all eligible, he said.
Legendary will shoot the next "Pacific Rim" and "Godzilla" monster movies at the studio. Lions Gate, Infinity Pictures, Arad Productions, Arclight Films, Kylin Pictures, Base Media, Beijing Dirty Monkey Culture Industry Development and Juben Pictures have also agreed to make movies using the Qingdao facilities, according to Wanda.
Wanda held a high profile groundbreaking event in 2013, inviting some of Hollywood's biggest stars to the Chinese coastal city of Qingdao, including Nicole Kidman, Leonardo DiCaprio, John Travolta, Catherine Zeta-Jones, Ewan McGregor and Kate Beckinsale.
Before it's here, it's on the Bloomberg Terminal.
LEARN MORE