Venezuela's Latest Cruelty Is Full Shelves of Unaffordable Goods
by and
Government withdraws inspectors in unspoken policy change

Store shelves restocked with food after years of shortages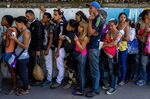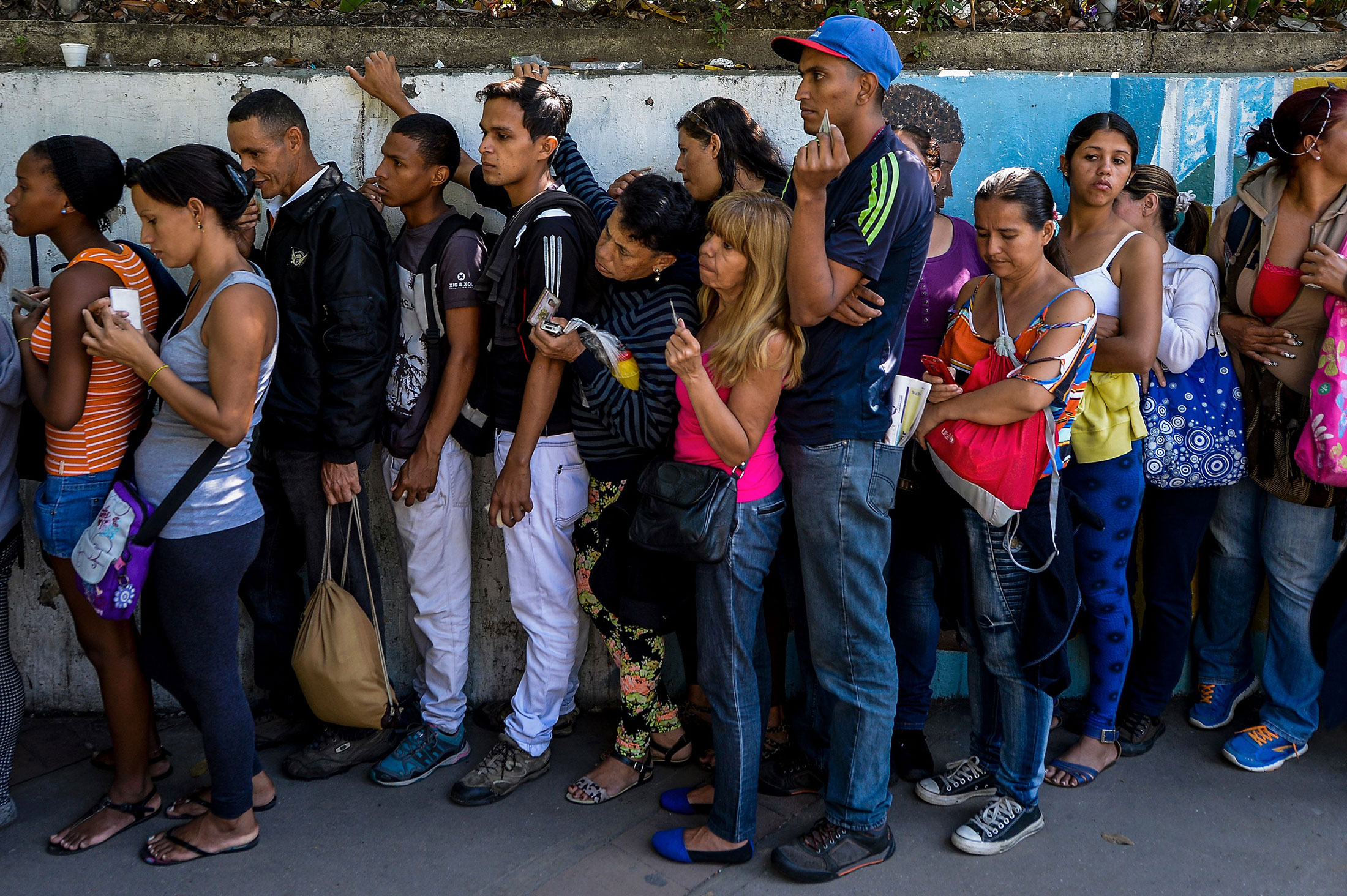 Something strange has started to appear in Venezuelan grocery stores -- food.
After years of shortages of even the most basic items, shelves are once again heaving under the weight of imported goods such as Brazilian mayonnaise and margarine, or Colombian coffee and rice. This new-found abundance has come at a price though. Many shoppers can't afford to buy the goods.
"There is oil and bread, but it's impossible to afford the prices," said Veronica Parra, a teacher shopping in the eastern area of Caracas. "I earn more than the minimum wage, but I will still have to limit what I buy."
Without announcing any formal change in policy, Venezuela's government has started to give up on imposing price controls at private stores, with shop owners reporting that they haven't seen any inspectors since July. Instead, the government has ordered suppliers to sell half of their products to the state-distribution system known as CLAP that delivers subsidized food to the country's poor. The rest can be sold at whatever price they want.
To read about the CLAP food distribution network, click here.
"There's been a price correction through a dirty adjustment being carried out by the government," said Asdrubal Oliveros, director of Caracas-based economic consultancy Ecoanalitica. "Dirty in the sense that there have not been any actual economic reforms, but the government has been ignoring the controls previously applied to the import of non-essential items."
Dual System
There is a dual shopping system, with the government supplying the CLAP network and regulated government stores with products acquired using a preferential exchange rate of only 10 bolivars per dollar. At the same time, the private sector is stocking its shelves using dollars acquired at a secondary exchange rate, known as Simadi, of about 660 bolivars per dollar or the even more expensive black market rate, Oliveros said.

The relief at seeing goods back in the stores may not last long as prices spiral higher, said Jose Antonio Gil, director of the polling agency Datanalisis.
"It will be a short-lived policy because less than 20 percent of the population can buy at international prices," Gil said. For the government, it means "another loss of popularity, more pressure to change the president and more impoverishment."
In the Santa Cruz del Este suburb in southeastern Caracas, Carmen Hurtado, a 72-year-old housewife, was pleased to find insecticide back on the shelves of a store, and concerned.
"It's very expensive, but I need it," she said as she compared prices. Still, "I am having to cut spending on food. I'm not eating like before."
Venezuela's Information Ministry did not respond when contacted by telephone and asked about the government's policy of enforcing price controls.
Heinz Ketchup
At an upscale butcher's in eastern Caracas, the owner said his prices have pretty much become dollarized after the government stopped inspecting prices over the past couple of months. He asked not to be named for fear of attracting government attention.
In many cases though, prices haven't just reached international levels, they have gone way above them, as importers and producers compensate for losses on sales to the state-run system by charging extra-high prices to other consumers.
A bottle of imported Heinz Ketchup at a shop in the upscale Chacao neighborhood in Caracas is selling for 6,670 bolivars, almost $7 at the illegal street exchange rate, compared with $2.50 in the U.S. on Amazon.com. That is 10 percent of the monthly minimum wage of about 65,000 bolivars, and out of reach for most Venezuelans.
A small bottle of Nescafe instant coffee can be found for about 16,000 bolivars, while the same bottle sells in the U.S. for $9.45 on Amazon. In Caracas, the regulated price for coffee, if you can find it, is only 694 bolivars for a kilogram.
Read Next: My Venezuela Nightmare: A 30-Day Hunt for Food in a Starving Land

Regulated Prices
These new prices aren't just for Venezuela's wealthy elite.
Since the government started delivering CLAP bags containing products including corn flour, pasta, sugar and coffee earlier this year, deliveries have been irregular at best, and the opposition has alleged that political opponents of the unpopular socialist government are excluded from the system. Bags have also turned up on the black market, available for purchase at higher prices.
For most Venezuelans, prices are rising, even in dollar terms. A gourmet grocery store in the Altamira neighborhood of eastern Caracas is selling an hallaca, a traditional corn tamal stuffed with beef, olives and raisins, for 5,200 bolivars, or around $5.20 at the street exchange rate. A year ago it cost just 1,320 bolivars, which at the time was about $1.67 at the black market rate.
The cost of a basket of goods needed to feed an average family of five in Venezuela rose to 262,664 bolivars in August, up 658 percent from the same month last year, according to the Caracas-based workers group CENDA that tracks prices. The annual inflation rate for some foods has surpassed 2,000 percent, said Ylva Mora, the group's director.
With no official statistics on inflation -- the central bank hasn't published consumer price data this year -- private economists estimate that inflation will be anywhere from 220 percent to 1,500 percent this year, according to a survey conducted by Bloomberg.
"This new supply isn't available to those most in need," said Marco Ponce, director of the Venezuela Observatory of Social Conflicts. "The food insecurity situation remains, because Venezuela hasn't solved its basic problem -- the paralysis of domestic production."
Before it's here, it's on the Bloomberg Terminal.
LEARN MORE