U.S. ELECTION WRAP: Senate Up for Grabs With 21 Days to Go
Three weeks until Election Day and control of the Senate is too close to predict. A slim majority for Democrats or Republicans likely would mean more Washington gridlock.
By and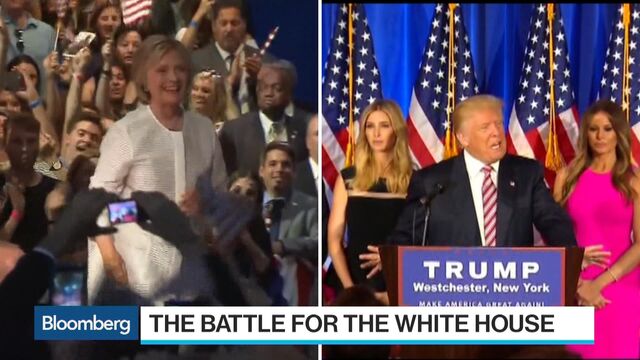 Hillary Clinton may have moved into a more-decisive lead in the race for the White House, but Democrats can't count on control of the U.S. Senate, which Bloomberg Intelligence analyst Brian Rye says can't be predicted.
With just three weeks until Election Day, Rye sees at least some potential for 50-50 control of the chamber, citing RealClearPolitics data that sees eight Senate races as too close to predict, and each political party with a firm hold on 46 seats

A closely divided Senate could be particularly irksome for the new president when it comes to getting Senate approval on nominations to administration posts and the Supreme Court
A 50-50 Senate would be "partisanship on nitroglycerin," Ron Bonjean, a Republican strategist and former aide for Senate and House leaders, told CNN

A Clinton presidency would set the stage for a potential 2018 Democratic headache, Rye wrote
If Clinton wins on Nov. 8, Sen. Tim Kaine, D-Va., would give up his Senate seat to be her VP. While Virginia's Democratic governor would appoint a temporary replacement, a Nov. 2017 special election would put Kaine's former seat in play

"One side effect of such a scenario is that you might see Democrats try to accelerate their legislative initiatives quickly in 2017, fearful of potentially seeing control flip back to the Republicans in either 2017 or 2018," Rye said
That could possibly accelerate movement of Clinton-backed initiatives, such as establishing risk fees on big banks or curbing high drug prices: Rye

Even if Democrats protected Kaine's vacated seat, the party would face more pressure in the Senate in 2018; Republicans are defending 24 of 34 seats this year, but Democrats will defend 25 of 33 seats in 2018, including states such as North Dakota and Montana that tend to favor Republicans

NOTE: Democrats now control 46 of the Senate's 100 seats, meaning the party needs a net gain of four if Clinton wins and five if Trump becomes president; vice president can cast tie-breaking vote in Senate
Republicans, increasingly nervous about Trump's declining poll numbers in key Senate battlegrounds, have started looking for ticket-splitters, or those voters who can't abide the GOP presidential nominee but will back Republicans further down the ballot; see full Bloomberg story here

The GOP still projected to keep control of the House, with RealClearPolitics showing 232 districts favoring Republicans, 192 going Democratic and 11 too close to predict

NEVADA WATCH
Clinton leads Trump 47%-40% in Nevada after trailing the Republican nominee by 2 percentage points in mid-Sept., according to Monmouth University Poll

RealClearPolitics poll average shows Clinton ahead of Trump in a two-way race by 2.7 points

Until the decade-old video of Trump boasting about groping women surfaced 10 days ago, Nevada Republicans smelled victory in the fight to take retiring Senate Democratic leader Harry Reid's seat and save their endangered Senate majority, Bloomberg's Steven T. Dennis wrote

GOP Senate candidate Joe Heck, who denounced Trump a day after the tape came out, is now seen as the underdog in his race against Democrat Catherine Cortez Masto; read full story here

Both parties see the road to Senate control running through Nevada

Clinton and Trump will face off in the state Wednesday night for the third and final presidential debate

TEXAS TOSS-UP?
Texas, which last sided with a Democratic presidential candidate in 1976, is among four states that could go either way when it comes to the Clinton-Trump White House race, Washington Post reported, citing a new SurveyMonkey poll of 15 battleground states conducted with the newspaper

Arizona, Florida and Ohio also are in the "toss-up" column; along with Texas, they represent 96 electoral votes of the 270 needed to win the presidency
Clinton holds the clear edge over Trump in the electoral college, with leads of four points or more among likely voters in states that add up to 304 electoral votes, according to the newspaper
Trump has the advantage in states with an estimated electoral vote total of 138

DEBATE #3
Hewlett Packard Enterprise CEO Meg Whitman, a longtime Republican fundraiser and former candidate for governor of California who is backing Clinton, will attend the debate Wednesday in Las Vegas, as will billionaire and Trump nemesis Mark Cuban, according to Clinton spokeswoman Jennifer Palmieri
Pat Smith, whose son was killed in the 2012 Benghazi attack, will attend the debate as a VIP guest of Trump, New York Post reported
Climate change needs to be discussed at the final debate as the issue was conspicuously absent from the first two, Bloomberg View editors wrote

ON THE TRAIL
Clinton flew to Nevada Tuesday for the debate; she has no scheduled public events as husband Bill Clinton campaigns for her in Pennsylvania and Sen. Bernie Sanders works to rally voters in Arizona

Hillary Clinton will campaign in Cleveland on Friday and appear with running-mate Tim Kaine in Pittsburgh and Philadelphia areas Saturday, spokeswoman Jennifer Palmieri told reporters

Trump is stumping in Colorado while his running mate Mike Pence is in N.C., where he condemned the firebombing of a local Republican office as an act of "political terrorism"

OBAMA JABS TRUMP
At a White House joint news conference with Italian Prime Minister Matteo Renzi, President Obama blasted Trump's claims that the election will be "rigged" and voter fraud will be rampant

"I'd advise Mr. Trump to stop whining and go try to make his case to get votes," the president said
See Bloomberg story here on Trump's history of crying "rigged" when he's losing
Obama also criticized Trump for his "continued flattery" of Russian President Vladimir Putin
The degree to which Trump "appears to model" many of Putin's policies and politics is "unprecedented" in American politics: Obama

Trump on Monday said, if elected, he might meet with Putin prior to the start of his administration; he also said U.S. leaders insult Putin too much
"It's unclear why Donald Trump needs to meet with Vladimir Putin on November 9th since he's already repeating all his talking points, pushing his policy agenda and taking advantage of his espionage operation," Clinton spokesperson Glen Caplin said in a statement Wednesday

"Rest assured that as president, Hillary Clinton will stand up to Putin in the face of his unacceptable behavior, not coddle him": Caplin

CAMPAIGN TUNES
Clinton's campaign plans concerts by performers including Jon Bon Jovi, Jennifer Lopez and Katy Perry to get out vote in battleground states before election
Separately, musicians including R.E.M. and Thao Nguyen are part of writer Dave Eggers' project "30 Days, 30 Songs," which is touted as written and recorded by artists who seek a "Trump-free America," according to Entertainment Weekly
Musician Aimee Mann's song about Trump, "Can't You Tell," is critical of the GOP nominee while also considering what it might feel like to be him, Slate's Culture Blog said

ETC
Bloomberg's Greg Stohr looks at the Supreme Court questions Trump and Clinton haven't answered; read story here
GOP Sen. John McCain vows that Republican dysfunction will continue
Clinton's list of potential running mates included the founder of Microsoft, the CEOs of Apple, Starbucks and Coca-Cola, and Bernie Sanders, according to hacked emails published by WikiLeaks
Wall Street Journal looked at what's been revealed so far from the ongoing release by WikiLeaks of Clinton campaign e-mails
Vogue magazine endorsed Clinton for president
Trump suggested that House Speaker Paul Ryan does not want him to win because of his own political ambitions in 2020, ABC News reported
Meanwhile, Ryan has a new plan for how to deal with Trump: Ignore him, according to CNN
As Trump urges his supporters to be on the look out for voting fraud, a new new poll found that 73% of Republicans think the election could be stolen from him, Washington Post reported
Millennials back Clinton over Trump by more than 3-1, a new USA Today/Rock the Vote Poll found, though enthusiasm about voting is dipping as a sharply negative campaign enters its final weeks
Trump supporter Peter Thiel, co-founder of PayPal and Palantir Technologies, is planning to donate $1.25 million to the GOP nominee's campaign, according to a person familiar with the matter; read full Bloomberg story here
Bernie Sanders' backers are considering what "might have been" had the Democratic primary gone differently, New York Times reported
CONGRESSIONAL ELECTIONS
SENATE RACES (Republicans hold 54-46 majority)
FUNDRAISING: A political fund for N.Y. Democratic Sen. Chuck Schumer transferred >$1.1m to the Democratic Senatorial Campaign Cmte and 14 candidates, according to Federal Election Commission filing

The political fund, Schumer Committee for the Majority, sent $528k to DSCC and between $35k and $50k apiece to Democratic Senate candidates in Arizona, California, Florida, Iowa, Illinois, Indiana, Maryland, Missouri, North Carolina, New Hampshire, Nevada, Ohio, Pennsylvania and Wisconsin
The fund raised in Q3 from donors including Facebook co-founder Dustin Moskovitz, ex-NBA commissioner David Stern, Evercore Partners Inc. chairman Roger Altman
Schumer, the incoming Democratic Senate leader, would become Majority Leader if Democrats take chamber control
FL: Democratic Rep. Patrick Murphy "repeatedly attacked" Republican Sen. Marco Rubio "for his absenteeism during his first term" while Rubio said Murphy has a "record of doing absolutely nothing," according to Miami Herald report on their debate yesterday

Rubio and Republicans have accounted for 68% of the 19,647 broadcast TV ads in the past 30 days, compared with 32% for Murphy and Democrats, according to ad-tracker Kantar Media/CMAG
Rubio had 49% to 47% for Murphy in Quinnipiac University poll conducted Oct. 10-16 of 660 likely voters (+/- 3.8 ppts); including that survey, Rubio has 47.4% to Murphy's 43.2% in RealClearPolitics average of polls
IL: Republican Sen. Mark Kirk's campaign released TV ad attacking Democratic Rep. Tammy Duckworth's tenure leading the state veterans' affairs department, saying she "put political ambition before our veterans"
IN: Democratic ex-Sen. Evan Bayh and Republican Rep. Todd Young will debate at 7 p.m. eastern time in Indianapolis

Bayh and Young are in a close race for the seat of retiring Republican Sen. Dan Coats; Bayh preceded Coats in the Senate, serving from 1999 to 2011
LA: The top five candidates seeking to succeed retiring Republican Sen. David Vitter will debate at 8 p.m. Eastern time and 7 p.m. Louisiana time on Louisiana Public Broadcasting

Participants include Republican Reps. Charles Boustany and John Fleming, Republican state Treasurer John Kennedy, Democratic public service commissioner Foster Campbell, and Democratic lawyer Caroline Fayard
A Dec. 10 runoff would be held if no candidate wins a majority of all votes in the single-ballot, 24-candidate election Nov. 8
MO: Republican Sen. Roy Blunt's campaign in TV ad referred to Democratic Sec. of State Jason Kander as "too liberal for Missouri" and another "lying liberal politician" as it shows images of Kander and Clinton
NV: Republican Rep. Joe Heck had 45% to 42% for Democrat Catherine Cortez Masto in Monmouth University Poll conducted Oct. 14-17 of 413 likely voters (+/- 4.8 ppts)

LCV Victory Fund & Sierra Club in TV ad accused Heck of voting "against Nevada solar" and for "billions in oil company tax breaks"
Ad cites Heck's votes against amendments to energy-water annual spending bill that would have increased funding for energy efficiency and renewable energy activities, while reducing funding for atomic energy defense activities
Winner will succeed retiring Democratic Sen. Harry Reid
OH: Republican Sen. Rob Portman and Democratic ex-Gov. Ted Strickland "accused each other of misrepresenting their records and telling flat-out lies," according to Columbus Dispatch report on their debate yesterday
PA: Republican Sen. Pat Toomey and Democrat Katie McGinty "each got in a few punches" during a debate yesterday in which they "rehashed the same accusations they've been making for months in speeches and television ads," Pittsburgh Post-Gazette reported

Toomey "painted" McGinty as an "untrustworthy, partisan liar who is too forgiving" of Clinton, while McGinty accused Toomey of "being too cowardly to take a firm stance" on supporting Trump, according to the newspaper
Senate Majority PAC, a Democratic super-PAC, released TV ad in Wilkes-Barre market attacking Toomey for voting for trade pacts "that cost us jobs"
Senate Leadership Fund, a Republican super-PAC, released TV ad attacking McGinty as "too big a risk" because she backs the "dangerous" Iran nuclear deal
Toomey had 49% to 45% for McGinty in Quinnipiac University poll conducted Oct. 10-16 of 660 likely voters (+/- 3.8 ppts); including that survey, Toomey has 44.4% vs. McGinty's 44.0% in RealClearPolitics polling average
WI: Republican Sen. Ron Johnson and Democratic ex-Sen. Russ Feingold will debate tonight at 9:30 p.m. Eastern time and 8:30 p.m. Wisconsin time at Marquette University Law School in Milwaukee; debate will air on WISN-TV and stream online

Feingold lost 52%-47% to Johnson in 2010 in bid for fourth term
HOUSE RACES (Republicans hold 246-186 majority)
FUNDRAISING: Democratic Congressional Campaign Cmte, the campaign arm of House Democrats, had >$45.5m cash-on-hand at end of Sept. after raising >$21m during the month, according to release

DCCC and the National Republican Congressional Cmte will release detailed reports of Sept. donors and spending to FEC by Oct. 20
IL-10: Democratic ex-Rep. Brad Schneider and DCCC released TV ad of Obama urging voters to "support Brad Schneider and the Democrats," while praising the party's support for abortion rights and curbing gun violence

Republican Rep. Bob Dold's campaign released TV ad featuring a Lake County woman who says "I almost always vote a Democratic ticket" but is backing Dold because of his legislative work to help children with epilepsy
Another Dold campaign TV ad referred to Schneider as a "partisan" who "voted down the line with his party bosses in Washington," while Dold has shown "courage" and "independence"
Dold needs many ticket-splitters to beat Schneider in a North Shore district that backed Obama with 58% in 2012
NY-01: Republican Rep. Lee Zeldin and Democrat Anna Throne-Holst will discuss environmental issues at a candidate forum tonight in Riverhead, Suffolk Times reported

Zeldin seeking second term in competitive district that includes the Hamptons and eastern Long Island
PA-09: House Transportation and Infrastructure Cmte Chairman Bill Shuster touted his panel's accomplishments in 114th Congress, according to press release

Shuster faces unusual re-election challenge from Art Halvorson, a conservative businessman Shuster narrowly defeated in the GOP primary; Halvorson became Democratic nominee after Democrats didn't field a candidate and Halvorson won more than 1,000 write-in votes from Democrats
WI-08: Democrat Tom Nelson and Republican Mike Gallagher "sparred over Social Security, terrorism and other issues" in a debate yesterday, Green Bay Press-Gazette reported

Nelson, a county executive, and Gallagher, an adviser to Gov. Scott Walker's presidential campaign, are seeking to succeed retiring Republican Rep. Reid Ribble
Before it's here, it's on the Bloomberg Terminal.
LEARN MORE