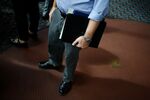 The fewest Americans in 42 years are filing applications for unemployment insurance, which on the surface looks like a sign of a historically hot U.S. labor market. The real picture is more complicated.

The decline does reflect overall improvements in hiring, and the headline numbers are impressive. Initial filings have remained below 300,000 for 84 straight weeks — the longest streak since 1970 — and continuing unemployment claims, at 2.05 million, are at the lowest level since 2000.
But the improved job market isn't the only force pushing down the numbers to historical lows. The proportion of jobless workers who collect benefits, or the recipiency rate, is also down, in part because states have scaled back assistance and new filing technology has adversely affected the number of applications.

New laws implemented across several states after the recession have cut the duration of benefits. Until 2011, all states paid at least as many as 26 weeks of aid to eligible, unemployed individuals, according to an August report from the Congressional Research Service. Now, about eight states have less generous plans in effect, ranging from as few as 12 weeks of aid in Florida and North Carolina, conditional on the state's unemployment rate. That makes it less attractive for people to file a claim to begin with. 


"Nowadays, there are people probably in a dozen states, in a situation where if they had become jobless in 2006 or 2007 they would have become eligible for more weeks of benefits than they are now eligible for under these new rules states have come up with," said Gary Burtless, a senior fellow at the Brookings Institution in Washington and former Labor Department economist.  "That's kind of a first."

Also, many states are in the process of modernizing their claims-filing technology, which has at times caused serious disruptions to requests, according to Claire McKenna, a senior policy analyst at the National Employment Law Project. The populations likely to experience the greatest difficulty with these new systems include disabled persons, individuals with limited English proficiency, older workers, and people with literacy challenges, she said.

Some of the drop-off does in fact point to job growth that's attracting Americans from the sidelines of the labor force.



As the blue line in the chart above shows, workers who previously left the labor force voluntarily, as well as new entrants, like fresh college grads — those for whom unemployment insurance is not designed — comprise a growing share of the nation's unemployed. So-called job losers meanwhile — those who involuntarily lost their last job and would be most likely to qualify for benefits — accounted for 49.6 percent of the 7.9 million unemployed in September, down from almost two-thirds in 2009.

The unemployment-insurance numbers are "not misleading if you compare today's claims with those of one, two or five years ago," Burtless said. "It's probably misleading if you compare with those of 15 or 30 years ago."


Before it's here, it's on the Bloomberg Terminal.
LEARN MORE