Thai Junta Cracks Down on Royal Insults After King's Death
Bloomberg News
Justice Ministry says it is setting up new monitoring team

Violators face up to 15 years in prison for each offense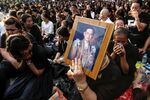 Thailand's military government said it is stepping up efforts to stamp out criticism of senior members of the royal family -- a crime punishable by years in prison -- following the death of King Bhumibol Adulyadej.
"The Justice Ministry has set up a team to oversee the breaching of Article 112," junta member and Justice Minister Paiboon Koomchaya said Tuesday, referring to the section of the criminal code that governs lese majeste. "We have worked on this issue all along, but we are obstructed by foreign laws."

Most governments refuse to fulfill Thailand's requests to return suspects accused or convicted of lese majeste, with many Western countries, rights groups and the United Nations having condemned Thailand's use of the law. Those found guilty of defaming, insulting or threatening the king, queen, heir apparent or regent face up to 15 years in prison, and the military government has vowed to show no mercy to offenders while also expanding the interpretation of what constitutes a violation.
Bhumibol, who was 88, passed away Oct. 13 after years of illness, marking the end of a 70-year reign that saw Thailand transition from an agrarian backwater to Southeast Asia's second-biggest economy. Bhumibol is widely revered, with many Thais referring to him as 'Father,' for his efforts to improve the lives of his subjects.
Media Censorship
Violations of the lese majeste law increased in the twilight of Bhumibol's reign as the monarchy's role in society was increasingly scrutinized during the political unrest that unfolded over the past decade. Most media in the country -- both local and international -- self-censor to avoid running afoul of the law.
Paiboon said the agencies involved will be the Ministry of Digital Economy and Society, the Ministry of Foreign Affairs, and the Department of Special Investigations, with the latter two monitoring international media coverage.
The move comes a day after Thailand's telecommunications regulator said it had sent letters to the local offices of Facebook, Twitter, YouTube and Line asking them to block access to websites deemed insulting to the monarchy, according to local reports. The regulator said it set a special office that will be open around the clock to monitor radio and television broadcasts in addition to social media networks.
The government issued a statement Saturday criticizing some foreign media for publishing what it said was "erroneous or false information and accusations that are of a manipulative and provocative nature."
— With assistance by Chris Blake
Before it's here, it's on the Bloomberg Terminal.
LEARN MORE