RBA Sees Reasonable Growth Prospects as Mining Headwinds Ebb
Benjamin Purvis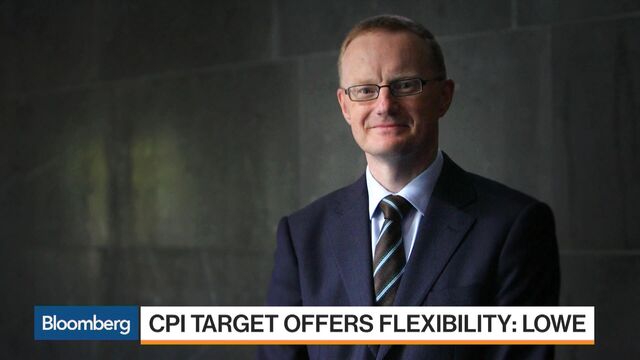 Australia's prospects for maintaining economic growth that will stimulate job creation and eventually higher wages and inflation are "reasonable," the central bank said.
Economic expansion is expected to continue at a moderate pace as headwinds from the drop in mining investment appeared to be waning, the Reserve Bank of Australia said Tuesday in minutes of its Oct. 4 policy meeting, when it left the benchmark cash rate unchanged at a record-low 1.5 percent. While there are signs that growth in employee earnings have stabilized, there was still uncertainty about jobs and housing, the RBA said.
The meeting was the first under the stewardship of Governor Philip Lowe, who took over last month amid falling unemployment and a rebound in commodity prices. The decline over recent years in export prices relative to import prices -- the so-called terms of trade -- has been a drag on incomes and a forecast stabilization would see an end to that, the RBA said. The minutes also noted that developments globally had been "slightly more positive."
"There was a reasonable prospect of sustaining growth in economic activity that would support further employment growth and, in time, a gradual increase in wage growth and inflation," the minutes said. "At the same time, however, there remained considerable uncertainty about momentum in the labor and housing markets."
Inflation Target
One of Lowe's key challenges, like that facing many of his developed world peers, is to generate inflation in an economy beset by muted wage growth. However, consumer prices are unlikely to be his only focus. In a speech earlier on Tuesday, the RBA chief underscored the flexibility available in the central bank's inflation target, saying employment and financial stability are also key factors in deciding interest rates.
Policy makers did note that they would have access to a fresh set of quarterly consumer-price data and updated forecasts at their next meeting on Nov. 1.
The improved outlook for the economy has prompted a scaling back of bets on another rate cut: swaps traders are pricing in a less than 35 percent chance of an easing through the end of next year. They're also influenced by Lowe's sharper focus on financial stability, suggesting he's unlikely to want to add further fuel to Sydney and Melbourne's rising house prices.
Another bugbear for Lowe is a stronger local dollar that's a headwind to currency-sensitive industries like tourism and education which are helping drive the post-mining boom recovery.
The Australian dollar bought 76.57 U.S. cents as of 11:36 a.m. in Sydney, compared with 76.47 cents prior to the report. The currency has risen almost 5 percent since Dec. 31 and is on course for its first annual gain in four years. The central bank reiterated Tuesday that an appreciating exchange rate could "complicate" matters.
Before it's here, it's on the Bloomberg Terminal.
LEARN MORE