Obama Says 'Not True' FBI And State Made Deal on Clinton E-Mails
By
President remarks on reports of quid pro quo between agencies

FBI documents released Monday detail discussions on e-mails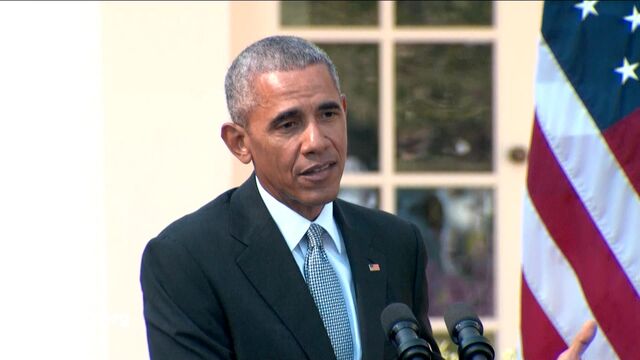 President Barack Obama said claims that officials at the State Department and FBI discussed a quid pro quo agreement over the classification of an e-mail on Hillary Clinton's private server were "just not true."
"Some of the more sensational implications or appearances aren't based on actual events," Obama said Tuesday during a news conference with Italian Prime Minister Matteo Renzi at the White House.
Republicans have seized on the controversy over the classification of the e-mail, which regarded possible arrests related to the 2012 Benghazi attacks, to argue Clinton's political allies attempted to shield her during the investigation into her e-mail practices. Clinton had initially claimed that none of her e-mails contained classified information. The FBI eventually recommended that federal prosecutors not seek criminal charges over her use of a private e-mail server, while warning that her practices placed national security information at risk.
"The Department of Justice, the State Department, and the FBI colluded, got together, to make Hillary Clinton look less guilty and look a lot better than she looks," Republican presidential nominee Donald Trump said in a video statement.
Interview notes released Monday by the FBI feature unnamed bureau officials describing perceived pressure from Undersecretary of State Patrick Kennedy to declassify an e-mail on Clinton's server.
In one document, an unidentified FBI official said he heard second-hand that the State Department had offered a "quid pro quo" in exchange for declassifying an e-mail. Another indicated that an FBI official told the State Department he'd look into the e-mail if State evaluated a request to house additional FBI personnel in Iraq.
Administration officials at the White House, FBI and State Department all deny that a quid pro quo was offered or accepted. The State Department accepted the FBI's determination that information within the e-mail was classified and redacted part of it before releasing it to the public. The FBI was not granted additional personnel in Iraq.
Obama said that inaccurate reports on the discussions have made "overly broad characterizations" of routine interactions between the two agencies.
On Monday, House Oversight and Government Reform Committee Chairman Jason Chaffetz, a Utah Republican, and House Intelligence Committee Chairman Devin Nunes, a California Republican, called for Kennedy to be removed pending a full investigation into the matter. The State Department said Kennedy would remain on the job and retained the full confidence of Secretary of State John Kerry.