Specter of Sanctions Hangs Over Russia as Merkel Hosts Putin
by and
Don't expect miracles from Putin trip to Berlin, Merkel says

Russia temporarily suspends bombing of Aleppo ahead of talks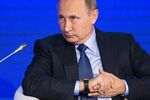 President Vladimir Putin's hastily-announced visit to Berlin comes on the heels of a temporary moratorium on Russia's bombing of Aleppo as its military actions in Syria invite more punitive action from the West.
Announced after days of diplomatic jockeying, Putin's visit will be his first to the German capital since Russia annexed Crimea and fighting between Russian-backed separatists and Ukrainian forces began in 2014. It came on the invitation of German Chancellor Angela Merkel, the Western leader he has the most affinity with. Russian relations with Europe and the U.S. have been at their lowest since the collapse of the Berlin Wall.
Putin decided to go so he would "not to be accused of unwillingness to have dialogue," said Alexei Chesnakov, a former Kremlin aide, in an interview. He added that he sees little to no chance of diplomatic progress on either Syria or a truce in eastern Ukraine, the chief topic at a four-way summit with French President Francois Hollande and Ukrainian President Petro Poroshenko.
Any high-level encounter with Putin is significant these days given the critical role he's occupied in the heated U.S. election campaign where he's accused of -- and has denied -- trying to influence the outcome in favor of Republican nominee Donald Trump with a string of hacks. Syria has eclipsed Ukraine as a diplomatic priority because the carnage there has sent waves of refugees into Europe, stoking populism.
Click here, for the case for more sanctions on Russia Over Syria bombing: Q&A
Merkel said sanctions against Russia for bombing Aleppo are an option, adding Syria to the agenda of the meeting on Wednesday evening in Berlin. For her, the face-to-face with Putin -- he speaks German, and her Russian is proficient -- is a means to talk about how Russian air strikes have made the suffering in Syria "even more disastrous."
"In my view, one can't take any option off the table, including sanctions," Merkel told reporters in Berlin on Tuesday.
The German leader "has a key role in relations with Russia," Horst Teltschik, Germany's national security adviser under former Chancellor Helmut Kohl, said in an interview with broadcaster Deutschlandradio. Putin, meanwhile, "has an incentive to reduce burdens" on Russia, including the cost of supporting the separatists in eastern Ukraine, Teltschik said.
Western allies have flagged the prospect of punitive measures against Russia if the bombing of Aleppo continues, but there isn't any agreement on how to move forward. Italy opposes further sanctions while the U.K. wants to add pressure. Any specific action will probably have to wait until a new U.S. president is sworn in.
Election Factor
Under Hillary Clinton, favored by polls to be the next commander in chief, the U.S. may opt for a more interventionist stance than the Obama administration. In her second debate with Trump, the Democratic nominee said: "I've stood up to Russia. I've taken on Putin and others, and I would do that as president."
An hour before the statement from Merkel's chancellery, Russia announced a temporary suspension of the bombing of Aleppo, calling for civilians and rebels to leave the besieged former commercial capital. Kremlin spokesman, Dmitry Peskov, called it "an absolute act of good will" that's not directly related to the talks.
Merkel is not under any illusions. Russia has refused to stop its campaign to capture Aleppo and this month vetoed a United Nations Security Council resolution that demanded an immediate halt to the air strikes.
She warned: Expect no "miracles" in Berlin.
Before it's here, it's on the Bloomberg Terminal.
LEARN MORE