Mario Batali Is Chef and Star of Obama's Final State Dinner
By
Beef braciole is the main course at dinner for Italy's Renzi

A bit of political symbolism will be served on the side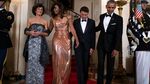 Molto Mario will serve some well-seasoned political symbolism along with his beef braciole at President Barack Obama's last State Dinner, where he will host Italian Prime Minister Matteo Renzi.

In Mario Batali, Obama and his wife, Michelle, have chosen as their guest chef not only one of the most famous cooks in the U.S. but also a political ally. The Food Network star behind some of the nation's most popular Italian restaurants is involved in non-profit work to help provide nutritious food to schoolchildren in the U.S. and South Africa, causes near and dear to Michelle Obama. He's also been active in a #ChefsForHillary movement on Pinterest to benefit Hillary Clinton's presidential campaign.
The Obamas have turned to celebrity chefs before for State Dinners, including Marcus Samuelsson for India and Rick Bayless for Mexico. Batali's high profile has helped to draw interest in the last such event of the Obama era.
Here's what's for dinner:
First Course: Sweet Potato Agnolotti with Butter and Sage, paired with a Palmina Vermentino "Santa Ynez" 2015
Salad Course: Warm Butternut Squash Salad with Frisee and Pecorino di New York, paired with a Villa Ragazzi Sangiovese 'Napa" 2012
Main Course: Beef Braciole Pinwheel with Horseradish Gremolata and Broccoli Rabe -- with a vegetarian option -- paired with a Ridge Vineyards Zinfandel "East Bench" 2014
Dessert: Green Apple Crostata with Thyme Caramel and Buttermilk Gelato "Celebrating Autumn's Harvest" and a variety of petits fours: Sweet Corn Crema and Blackberry Cup; Concord Grape Bittersweet Chocolate Leaf; Orange Fig Slice; Pumpkin Cranberry Tart Tiramisu
The three wines on the menu are accessibly priced California varietals. The white served with the first course isn't as well known in the U.S., but its makers say it's popular on the Italian island of Sardinia.