The March of Second-Generation Immigrants
The children of immigrants are going to be essential for the nation's economic health. Who they are—and where they live—matters.
By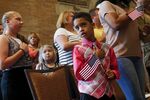 The children of immigrants face enormous challenges, especially these days. Almost 60 percent have a parent with limited English capabilities, so the kids assume the burden of serving as the translators between their families and the outside world. This can have serious academic and economic consequences. More than 40 percent also have a parent who's not a citizen, which, in the current anti-immigrant environment, can be emotionally stressful.
In a new research brief, the Urban Institute dives deep into the geographical and demographic characteristics of this segment of the U.S. population. "Schools and other institutions within cities are better prepared to serve immigrant families when they have an understanding of who they are and where they live," Devlin Hanson, lead researcher of the brief, tells CityLab.
But why should they—or we—care about serving them? Well, investing in children of immigrants bears big returns—not just for them, but for the American society as a whole. These kids "are among the strongest economic and fiscal contributors in the population," according to a recent analysis of the fiscal and economic impact of immigration by the National Academy of Sciences. They're poised to be the future of the American workforce—which means today's adults will be depending on them to fund their Social Security, among many other things.
Between 2006 and 2014, the number of children who have at least one foreign-born parent grew by 12 percent, the UI researchers found. Overall, they make up 24 percent of children in the U.S.; The vast majority—90 percent—are U.S. citizens themselves. And here's the really significant bit: These kids have driven the entire growth in the under-18 population in the 8-year period analyzed. (The number of kids born to U.S-born parents actually fell by 1.3 million in this time.)
So where do these kids live? UI's interactive map breaks that down by state and metro area. Of the areas that have seen the highest growth in numbers of second-generation immigrant children between 2006 and 2014, Texas stands head and shoulders above the rest. The state, which has always been a prime destination for immigrants, accounted for 21 percent of net growth. But this increase is not just limited to traditional immigrant destinations: Georgia has seen 8 percent of total growth and North Carolina accounted for 7 percent, for example. California, Rhode Island, and Arizona, on the other hand, saw declines (although the first two also saw an overall decline in the below-18 population). Here's a still map showing that distribution, from the brief:

This is a distinctly urban group: Kids of foreign-born parents much more likely to live in the top 100 U.S. metros (83 percent) compared to children of U.S.-born parents (62 percent), and almost half in live in the 10 major metros, 8 of which are traditional immigrant gateways like Houston and Dallas. Washington D.C. and Atlanta are exceptions:

What these and other maps in the UI visualization prove is that no matter what side of the political aisle you're on, these kids matter. And education, healthcare, and welfare policy needs to catch up to that fact.