Manhattan's Newest Office Tower to Be Among Priciest for Tenants
by
SL Green expects rents of $150 a square foot on average

One Vanderbilt skyscraper had groundbreaking ceremony Tuesday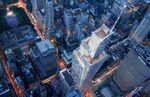 SL Green Realty Corp.'s One Vanderbilt skyscraper, which had a groundbreaking ceremony Tuesday, is expected to have rents that would make it among the priciest office buildings in New York City when it's completed in 2020.
The building, at Madison Avenue and 42nd Street just west of Grand Central Terminal, is likely to attract tenants paying about $150 a square foot on average, SL Green Chief Executive Officer Marc Holliday said in an interview Tuesday at the construction site. Rents near the top of the 58-story building probably will be around $200 a square foot, said Steven Durels, SL Green's chief leasing officer.

Such prices would make One Vanderbilt similar in cost to midtown Manhattan's most expensive office towers, including the General Motors Building. Rents for top-tier office space in Midtown averaged $88.72 a square foot at the end of the third quarter, according to data from brokerage Savills Studley.
The One Vanderbilt rent projection is "pretty much consistent with what the best buildings are getting today, only we're talking 2020 dollars, and what will be, I believe, the best building in Manhattan," Holliday said.

Toronto-Dominion Bank's TD Bank is SL Green's only tenant for the tower so far. It's taking about 200,000 square feet (18,600 square meters) of office and retail space in the 1.7 million-square-foot tower, including a store at 42nd and Madison. Its lease was signed in 2014.
At 1,401 feet (427 meters), One Vanderbilt will be New York's second-tallest office building, behind the 1,776-foot One World Trade Center. Last month, SL Green closed on $1.5 billion of construction financing for the tower, led by Wells Fargo & Co. Other banks in the lending group include Bank of New York Mellon Corp., JPMorgan Chase & Co., TD Bank and Bank of China Ltd.

CBRE Group Inc., the world's largest real estate services firm, was hired to find tenants for the building.
"The marketing process is really going to kick off in earnest in the second half of '17, and throughout '18 and '19," Holliday said. "The building is programmed for what we expect will be tenants ranging in size from anywhere from 50,000 feet to 250,000 feet. That's what we think the typical tenant" will be.
Before it's here, it's on the Bloomberg Terminal.
LEARN MORE