Asia Resilient Amid Global Bond Slump as Inflation Back on Radar
By and
Higher oil triggers drop in notes from Australia to Taiwan

Inflation expected to start creeping up, UOB's Yong says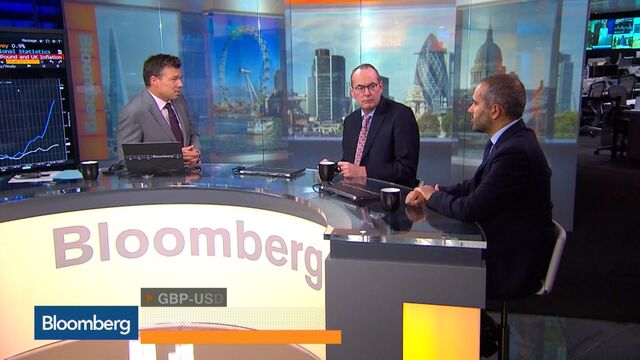 Asian bonds are outperforming their European and U.S. peers as yields climb on speculation higher oil prices will cause inflation to accelerate globally.
The aggregate yield on Asia-Pacific bonds has risen five basis points this month to 0.32 percent, according to the Bloomberg Barclays Asian Pacific Aggregate Total Return Index. In the U.S., where Federal Reserve policy makers are discussing boosting interest rates, the aggregate yield on Treasuries has risen 11 basis points, while that on European bonds is 13 basis points higher.
"If you looked at the U.S. you would say they are sending the signal from the Fed that they may well still hike rates in December, despite the fact the data isn't very robust, whereas in Asia you have policy pretty much on hold," said Robin Marshall, director of fixed income at Smith & Williamson Investment Management in London.
Global bond yields are climbing as a rebound in crude oil boosts the outlook for inflation. The yield spread between two- and 10-year Treasuries has widened to 95 basis points from 83 at the end of September following a plan by the Organization of Petroleum Exporting Countries to reduce output for the first time in eight years. Crude oil in New York climbed above $50 per barrel in October, from as low as $26.05 in February.
"It's a global repricing," said Victor Yong, an interest-rate strategist in Singapore at United Overseas Bank Ltd. "Yield curves have been steepening as well. Inflation can be expected to start creeping up again. At this point last year, energy prices had been dropping rapidly and now oil prices have stabilized."
Yields on 10-year notes rose to the highest since at least June in Australia and New Zealand on Tuesday, while those in Taiwan surged by the most in three years. The moves came a day after the yield on similar-maturity South Korean debt reached the highest level since June.
Australia's 10-year yield closed at 2.33 percent on Tuesday, the highest since May 19, while that on New Zealand's securities climbed to 2.61 percent, the most since June 9. The yield on Taiwan's similar-maturity bonds, which is the lowest in Asia after Japan, jumped eight basis points to 0.90 percent, the steepest increase since September 2013, exchange data show.
In European and U.S. markets, yields are comparatively lower. German 10-year yields are at 0.05 percent while those on similar-maturity Treasuries are 1.77 percent.
Consumer prices in New Zealand rose 0.2 percent in the third quarter from a year earlier, a report showed Tuesday. Inflation exceeded the 0.1 percent median forecast of 17 economists and matched the August forecast by the Reserve Bank of New Zealand.