In Search of the Never-Trump Ticket-Splitters
In states like Arizona, New Hampshire, and Ohio, voters who can't abide the top of the GOP ticket but support it down-ballot may decide who occupies the White House—and controls the Senate.
By and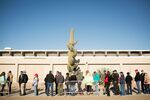 ­­­­­­­Even before the blizzard of sexual-assault accusations leveled against him, Donald Trump made Republicans nervous about their chances of maintaining control of the Senate. Now, with the Republican presidential nominee's poll numbers sinking in key battleground states, the GOP's down-ballot candidates have begun searching for a species of voter long thought to be moving toward extinction within the nation's polarized electorate: ticket-splitters.
Ticket-splitting has been on a steady decline since 1972, when 28 percent of voters divided their votes between the two major parties. That year, as Republican President Richard Nixon won a landslide re-election against George McGovern, Democrats increased their Senate majority by two seats. Four years ago, 11 percent of Americans cast simultaneous votes for at least one candidate from each party seeking federal office.
But as with so many things this cycle, Trump has upended the equation. His abysmal numbers with college-educated voters, and specifically the kind of center-right women that have long been the core of the GOP's support, means that GOP senators and congresspeople at odds with the nominee—John McCain in Arizona, Kelly Ayotte in New Hampshire, and Rob Portman in Ohio, among many others—find themselves in an accidental alliance with Democratic presidential nominee Hillary Clinton's turnout operation. And where both sides once may have been reluctant to acknowledge a shared aim, the release of Trump's 2005 Access Hollywood video has led many Republican officeholders to declare, explicitly, that their goals do not include electing Trump.
Trump's refusal to build an organization to rival the Clinton campaign's juggernaut has made him more reliant than past nominees on the field strategies and targeting decisions of various state parties, which are also responsible for getting Senate, House, and even city council candidates elected. But the events of the past week have revealed the danger of that strategy.
This weekend, the Trump campaign cut ties with Ohio Republican Party Chairman Matt Borges, lambasting the state GOP official for duplicity in his recent outspoken criticisms of Trump. It's no wonder: the Ohio Republican Party and Governor John Kasich, who has persistently refused to endorse Trump, have for months been more focused on re-electing Portman, along with other down-ballot Republicans, than sending their presidential nominee to the White House.
Republican operatives are facing similar decisions, even in states where the party organization remains committed to Trump. "I don't ignore the Trump stuff, but my job is to get out the vote to benefit my county candidates," said Bill Beard, chairman of the Pima County Republican Party, which includes one of the most liberal areas in Arizona, where McCain unendorsed his party's nominee this month. "We're all pulling in the same direction, we just have slightly different goals."
McCain is one of the nine senators who withdrew support for Trump after his vulgar hot-mic video surfaced. Some Republicans in toss-up races have stood by Trump, while a couple senators who abandoned their nominee this month—John Thune of South Dakota and Deb Fischer of Nebraska—sheepishly re-endorsed him just days later after backlash from constituents. Senator Pat Toomey of Pennsylvania, considered one of the most vulnerable Republicans this cycle, still hasn't made up his mind with less than a month left before Election Day.
Even as Democrats see new opportunity for the four-seat gain that will give them Senate control, some down-ballot Republicans are hoping Trump's troubles increase so-called "balance voting," in which people vote for down-ballot candidates they believe will provide a check on the party viewed as most likely to win the White House. This could be what's happening in Wisconsin, where Clinton's lead appears to be growing at the same time Democratic Senate candidate Russ Feingold has seen his edge shrink to within the margin of error against incumbent Republican Ron Johnson, who still supports Trump. 
With our partners at Clarity Campaign Labs, we identified potential ticket-splitters this year by starting with a count of individual voters in each battleground state likely to identify as a Democrat or Republican. We then compared those results to a different model that predicts the likelihood that the same voter will pick either Clinton or Trump. (The model uses data collected in some 82,000 interviews in order develop a granular statistical profile of a candidate's backers. It uses algorithms—weighing hundreds of variables from individual voting histories, past consumer activity, and neighborhood-level Census records—to determine how much voters resemble typical Clinton or Trump supporters.)  

By looking at the gap between these two projections, we can identify voters less likely to support the party's nominee than his or her partisanship would indicate. (We used a gap of at least 15 percentage points as our standard.) In Arizona, for instance, 8 percent of registered voters are significantly less likely to vote for Trump than they are to vote for other Republicans on the ballot. In other states, that number ranges, from 3 percent in Nevada to 10 percent in New Hampshire. 
Arizona

As Clinton's team expands its efforts to states that have long been out of Democrats' reach, campaign manager Robby Mook told reporters on Monday about plans to up their TV ad buy in the Grand Canyon state by $2 million in the final weeks of the election, citing Trump's "hateful rhetoric and deeply disrespectful remarks about Senator John McCain." Senator Bernie Sanders is scheduled to campaign for Clinton in Arizona on Tuesday, followed by the nominee's daughter, Chelsea, on Wednesday and first lady Michelle Obama on Thursday.
When the Arizona Republic endorsed Clinton last month, it was the first time the newspaper—which used to be called the Arizona Republican—has ever backed a Democratic presidential candidate in its 126-year history. And it was just one of several mixed messages Republicans in the state have been getting about their party's nominee. 
After months of insisting he would back Trump, McCain renounced the real-estate developer and TV personality, declaring that he and his wife, Cindy, would "write in the name of some good conservative Republican who is qualified to be president." That decision has drawn some high-profile counter punches from Trump, who has had a longtime antagonist in junior Senator Jeff Flake and said recently that he regretted endorsing McCain in the primary.
Yet, the Arizona GOP chairman, Robert Graham, has been one of Trump's fiercest defenders in recent days. Last week Graham, who is considered a possible rival to Borges to succeed Republican National Committee Chairman Reince Priebus, released a scathing statement condemning the RNC for not standing behind Trump more aggressively during this time of crisis for his campaign.
Other than in 1996, when Bill Clinton won Arizona by 2 percentage points, the state has not voted for a Democratic presidential candidate since 1948. This year, with a different Clinton on the ballot, the party's base is 30 percent smaller than the Republicans'. Even though talk of Democratic expansion into Arizona has mostly centered on the mobilization challenge—to register and turn out the 2.1 million Hispanics who make up about a third of the state's population—it alone is unlikely a deliver a victory to Clinton. She has nowhere near enough get-out-the-vote targets to make up the 200,000-vote base deficit. Clinton could mobilize all of her get-out-the-vote targets, win every persuadable voter in the state, and still fall short by roughly 30,000 votes.
Needing more defections from the Republican ranks, Clinton will likely look first towards right-leaning Hispanics who may have been alienated by Trump's harsh immigration rhetoric. While there are more than 250,000 Hispanic voters already within the Democrats' coalition, the Clinton campaign will also target the nearly 70,000 who consider themselves Republicans or independents. Many of them may be voting for McCain, who's been, compared to his party, an immigration moderate. A poll this month from Emerson University shows half of Hispanic voters in Arizona backing the incumbent GOP senator.

More generally, among registered voters, Arizona has close to 300,000 potential ticket-splitters. Many of them are independents or Democrats who would have already voted for Clinton while potentially being open to voting for McCain, as well. But about 95,000 come from within the Republican coalition and their demographic make-up matches many of the groups that have been Trump holdouts across the country: 54,000 are women and nearly half are under the age of 50. And 83 percent of potential Republican ticket-splitters are likely to have college degrees.
Clinton may also lean on Arizona's more than 400,000 members of the Church of Jesus Christ of Latter-day Saints, many of whom live in the Mesa area. Political leaders of the Mormon faith—including 2012 Republican nominee Mitt Romney, Flake, and several Utah elected officials—have called for Trump to bow out of the race. 
But everything will come down, as it always does in Arizona, to Maricopa County. Sixty percent of Arizona's registered voters live there. President Barack Obama lost the county by double digits in 2008 and 2012.

It is also home to the controversial and highly competitive re-election battle of Sheriff Joe Arpaio, who regularly appears at Trump's side, frequently battles with McCain, and has been one of the loudest and abrasive anti-immigration voices in the country. There is no other candidate on a ballot with Trump anywhere in the country who so naturally shares his coalition, making this local race perhaps the clearest proxy for the Republican presidential nominee's chances. A recent analysis by the progressive strategy center Project New America found falling support for the embattled, tough-talking, Trump-stumping sheriff of Maricopa County. In a survey by the group last month, Arpaio lagged behind his Democratic opponent, Paul Penzone, by 8 points, and trailed among white voters.
If Clinton turns out her own coalition and converts every potential Republican-leaning ticket-splitter in Maricopa County and across the rest of the state, she could win less than half of persuadable voters and still turn the state blue.
This month, the Emerson University survey has Clinton leading Trump by a narrow 2 points, even as McCain carries a 16-point edge against his Democratic challenger, Representative Ann Kirkpatrick.
Despite current polling, Republican officials like Beard dismiss the Clinton campaign's expansion plans. He cites anecdotal evidence that Trump is attracting supporters who don't get picked up by public surveys, and argues that local parties don't need to fear that they will end up turning out anti-Trump ticket-splitters. "There may be some grumbling, there may be some verbal fisticuffs, but at the end of the day folks who are registered Republican will vote Republican regardless," he said. "If there was that much energy and enthusiasm on the Democratic side, I would see it. I do not."
This is the sixth in a series of eight Battlegrounds 2016 stories on the unique arithmetic that governs presidential elections in battleground states. Read more about how the battleground game is played.

—With assistance from Andre Tartar.
Before it's here, it's on the Bloomberg Terminal.
LEARN MORE