Hammond Scraps Plan to Let U.K. Retirees Sell Annuities for Cash
By
Says cannot guarantee consumers will get good value for money

Decision marks further break with George Osborne's legacy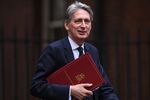 U.K. Chancellor of the Exchequer Philip Hammond scrapped proposals made by his predecessor George Osborne to allow retirees to cash in their pension annuities.
The proposals were aimed at extending new pension freedoms to people who have already retired and exchanged their savings for an annuity, a guaranteed lifetime income from an insurer. 
But in a statement Tuesday, the Treasury announced the government is ditching the plan because the consumer protections required to set up a secondary annuities market could undermine its development.
"Allowing consumers to sell on their annuity income was always dependent on balancing the creation of an effective market with making sure consumers are properly protected," Economic Secretary to the Treasury Simon Kirby said in a statement. "It has become clear that we cannot guarantee consumers will get good value for money in a market that is likely to be small and limited. Pursuing this policy in these circumstances would put consumers at risk."
The decision was welcomed by the Association of British Insurers. "This is the right decision for the right reasons," Rob Yuille, the lobby group's head of retirement policy, said in a statement. "We agree with the government that the secondary annuity market came with considerable risks for customers, including from unregulated buyers."
The move marks another break with Osborne's legacy, Hammond already having scrapped his predecessor's commitment to deliver a budget surplus by the end of the decade.
Osborne sent shock waves through the insurance market when he announced in 2014 that retirees would no longer be required to buy an annuity and could spend their savings as they wish. It representing the biggest shake-up of the industry for almost a century.