Gunvor CEO Tornqvist Says OPEC Has Put a Floor Under Oil Market
Javier Blas and Andy Hoffman
Tornqvist Expects 2017 Oil Price Range of $50 to $55 a barrel

Refining margins likely to drop with oil market tightening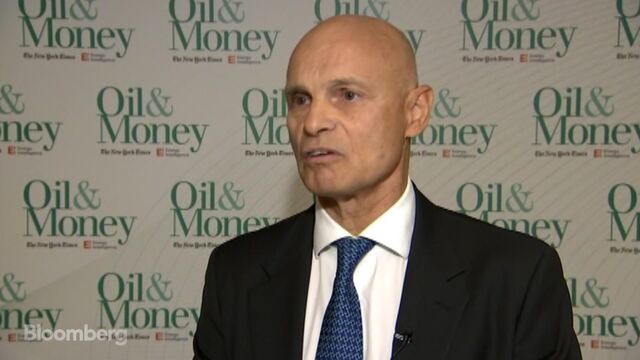 Torbjorn Tornqvist, head of one of the top four independent oil traders, expects crude prices to range from $50 to $55 a barrel next year as OPEC's preliminary agreement to freeze production puts "a floor on the oil market."
OPEC's decision to intervene and constrict crude supply is "a bit of a game-changer," Gunvor Group Ltd. Chief Executive Officer Tornqvist said in a Bloomberg Television interview Tuesday from London.
"Whether they will drive prices higher with a cut remains to be seen," he said. Prices could spike as high $60 a barrel in 2017, Tornqvist said.
Benchmark Brent crude is up about 12 percent to $51.41 a barrel since OPEC reached a preliminary deal in Algiers on Sept. 28 to manage supply. Tornqvist's comments come as officials from Saudi Arabia and Kuwait said at the annual Oil & Money conference in London that crude at $50 to $60 a barrel would ensure adequate global supply, setting out a potential price band for OPEC before its meeting in Vienna next month.
On a panel discussion at the conference with fellow trading-house chiefs, Tornqvist predicted that Brent would climb to $54.98 a barrel by October 2017, 1 cent lower than the forecast of Vitol Group CEO Ian Taylor. Daniel Jaeggi, president of Mercuria Energy Group Ltd., expects to see crude at $58.
Refining Margins
Under Swedish national Tornqvist's leadership, Gunvor has diversified its energy trading business to acquire three refineries in Europe with a total capacity of about 300,000 barrels a day. As oil prices have increased, refining margins have declined, but remain strong, he said.
"Tightening of crude oil will probably drive down margins somewhat, but I don't think we will see the bad margins we saw five years ago," said Tornqvist.
With major trading offices in Geneva, Singapore and Dubai, Gunvor handles more than 2.5 million barrels of crude oil and petroleum products a day. Bloomberg News reported in June that the trading house would open a U.S. office in Houston. Gunvor said this month said it had borrowed $500 million to fund the new U.S. gas and oil-product trading unit.