Gold Seen Climbing in 'Mildly Bullish' Scenario on Low Rates
by and
Bullion to increase about 7% by October next year: survey

Low or negative rates and economic woes boost gold holdings
Gold is set to rise about 7 percent by the time of the London Bullion Market Association conference in October 2017, according to a survey of people attending this year's gathering in Singapore. Silver will gain 18 percent.
The yellow metal will trade at $1,347.40 an ounce in a year's time compared with $1,262.40 on Wednesday, while silver will change hands at $20.90 an ounce from $17.65, the survey showed. Last October, attendees predicted the price would be $1,160 in 12 months' time, about $100 less than it is now.
Bullion rallied 25 percent in the first half of 2016 after three years of losses as investors sought a haven amid low or negative interest rates globally, worries that central bank bond-buying was failing to revive economies and after the U.K. voted to leave the European Union.
"The forecast was mildly bullish," Adrian Ash, head of research at BullionVault, told Bloomberg on Tuesday. "It's very much in line with what we're hearing from the wider market. The investment-focused presentations seemed to hint that all roads lead to gold again. But if you look at all the consumer markets, India is dismal and China clearly remains at risk. That doesn't bode well."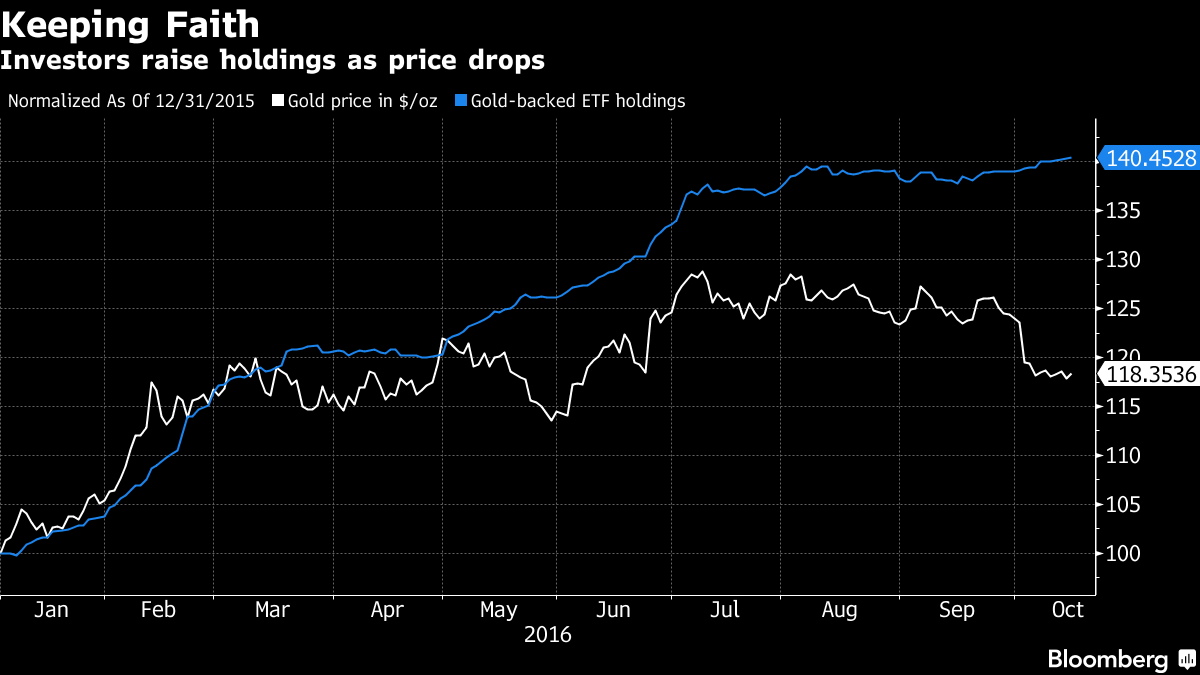 Gold may surge to $1,400 in 2017 as the Federal Reserve holds back from further monetary tightening in at least the first half after an increase in December, said Dick Poon, general manager at Heraeus Metals Hong Kong Ltd. "There are way too many problems in the world -- financial, geopolitical -- which would prevent gold from going much lower from here," added Hans-Gunter Ritter, global head of trading at Heraeus Metals Germany GmbH & Co.
Bullion will benefit as the market realizes traditional methods aren't working when it comes to monetary policy, said Terence Kooyker, portfolio manager at Blenheim Capital Management LLC. Investors should boost the share of gold in portfolios, said Ray Eyles from Millennium Capital Management, while even at zero interest the metal's a high-yielding asset these days, said Eric Robertsen, head of global macro strategy and forex research at Standard Chartered Bank.
While investors in exchange-traded funds are taking the long view, pushing up holdings 40 percent this year to the highest level since 2013, money managers and other large speculators have cut net-long positions the past two weeks by the most in data going back a decade.
Indian Demand
On top of that, there's concern over demand in India, the biggest user after China. Consumption, usage, saving and investment won't be close to numbers seen in the past after the imposition of a goods and services tax next April, Rajesh Khosla, managing director of MMTC-PAMP India, said at the conference.
India and China accounted for more than half of bullion consumption in 2015, according to the World Gold Council. The first half of this year saw the lowest level of gold jewelry consumption in India since 2009, data show, following the jump in prices, weaker rural incomes and government regulation.
Platinum will trade at $1,055.30 an ounce in a year's time compared with $944.65 now and palladium is set to be at $752.50 an ounce from $641.17, the survey showed. More than 700 people from banks, mining companies, retailers and exchanges attended the two-day meeting in Singapore which ended on Tuesday.
Before it's here, it's on the Bloomberg Terminal.
LEARN MORE