For Poland's Answer to Inflation, Osiatynski Sees Past Rates
by
Central banker appeals to government action to avoid rate hike

Inflation may return or exceed goal in a year, Osiatynski says
Polish central banker Jerzy Osiatynski thinks the government needs to be his country's first line of defense against inflation.
While Poland is still haunted by its longest stretch of price declines in at least six decades, the central bank has raised the possibility of policy tightening when inflation pressures emerge. For Osiatynski, the rate-setting council's only remaining member after this year's changeover, higher borrowing costs may be the worst option, but one that the central bank will resort to unless the government finds a way to keep a lid on wages.

"If there won't be any progress in that area from the government, a rate increase is the only tool I'm left with," he said in an interview in Warsaw. "I'd like to avoid a situation in which the council raises rates even as investment is performing badly and the economy expands at the current rate."
Paychecks are soaring across the European Union's former communist east, a dilemma for central banks that have kept rates at historical lows to escape the grip of deflation. Poland's government has shown little concern for inflation after sweeping into power last year on promises to boost welfare spending and protect poorer voters. Meanwhile, even with unemployment falling to a record and wages spiking, economic growth has disappointed.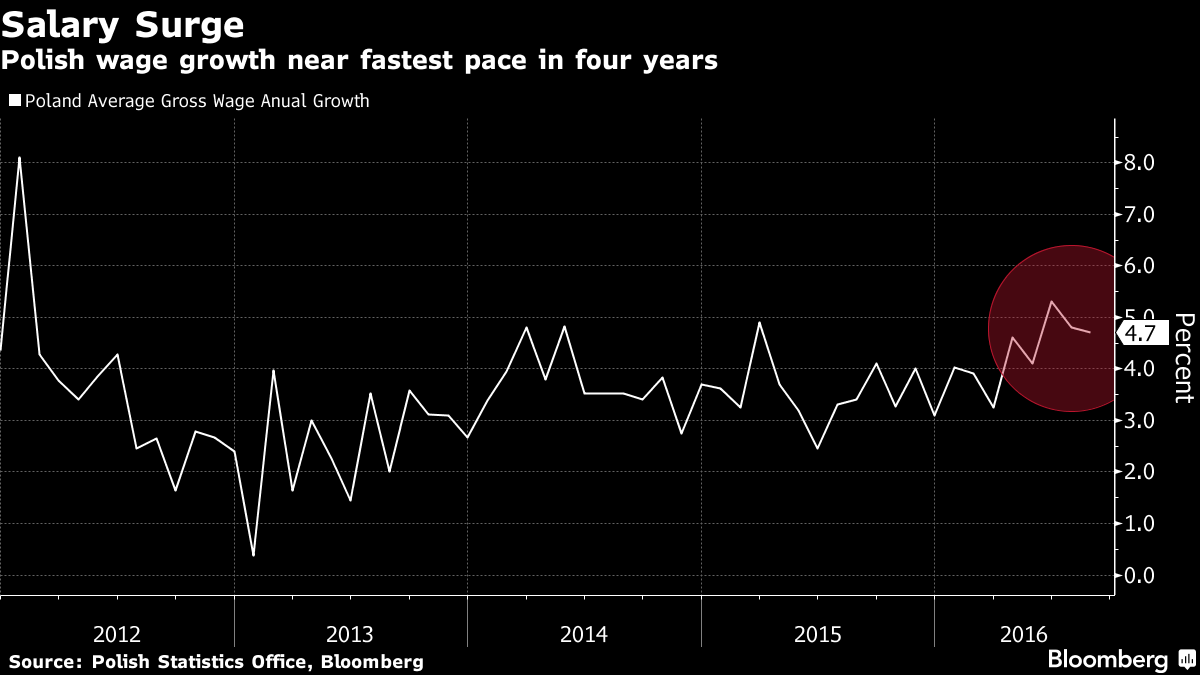 Derivatives traders have scaled back their wagers on changes in monetary policy and now see it on hold over the next 12 months. The zloty was little changed against the euro in Warsaw on Tuesday, while the yield on the government's 10-year bond dropped four basis points to 3.03 percent.
Growth in Polish corporate wages accelerated to an annual 4.3 percent in the second quarter, the fastest in four years, while salaries in the public sector -- which employs more than 8 percent of the total workforce -- soared 6.5 percent, the most since the start of 2011. The government earlier this year raised the minimum wage to 2,000 zloty ($509) as of 2017, an increase of 8.1 percent from 2016.
Employment in September gained 3.2 percent from a year earlier, more than forecast by economists, and wage growth slowed to 3.9 percent after an increase of 4.7 percent in August, the Central Statistical Office said on Tuesday.
'Strong Support'
"While the real wage bill declined, it still stayed at a high level, confirming the labor market's strong support for domestic private consumption," said Piotr Piekos, a senior economist at Bank Pekao SA.
Although that's helping Poland catch up with richer neighbors in the west, productivity gains haven't kept up, meaning there's a greater risk that companies will have to raise prices to cover higher labor costs. For a model that could shape the government approach, Osiatynski points to Scandinavian countries or Germany, which he said succeeded in the past by finding a social compromise and containing wage growth for the sake of price stability.
"Without any fiscal tightening -- and the government seeking to tame wage growth through a compromise with other social partners -- increasingly higher growth of unit labor costs has to be passed on to prices, causing an acceleration of inflation," Osiatynski said.
Next Move
Polish Monetary Policy Council member Eugeniusz Gatnar has already cited rising wages among the key reasons that the end for deflation is near, signaling the next move in borrowing costs will be up. With the benchmark on hold for 18 months, Governor Adam Glapinski has indicated the central bank is moving closer to its first rate increase since 2012 and said in October that early 2018 was the likely time for the start of policy tightening.
"While cutting rates doesn't bolster economic growth in the current environment, increasing the benchmark rate would definitely cool down the economy," Osiatynski said.
The central bank governor's rationale for tighter policy is strong economic growth. Gross domestic product expanded by at least 3 percent every quarter for the past two years. Deflation in September eased to this year's low of minus 0.5 percent from a year earlier as global oil and food prices recovered.
Investment Headwinds
The economy isn't in the clear yet as weak capital spending remains a drag after the worst investment slump in four years. The central bank forecasts that GDP in the third quarter probably expanded at a pace similar to the previous three months, when its annual gain of 3.1 percent missed estimates and prompted a series of downward revisions for the rest of 2016.
"In light of a serious problem with investment, the pace of GDP expansion and its quality should be of great concern to everyone overseeing the Polish economy," Osiatynski said.
What's not in doubt for Osiatynski is that the path to monetary easing is closed. Inflation, which has missed the central bank's target of 2.5 percent since December 2012, will return or even exceed the goal in a year, he said.
Deflation "is fortunately nearing its end," Osiatynski said. "Factors that could lead to a consideration of rate cuts have faded away."
Before it's here, it's on the Bloomberg Terminal.
LEARN MORE